Opera Tosca (ROH)
In his latest review, Ceasefire's opera critic, Paul Guest, gives his verdict on a production of Tosca at the Royal Opera House.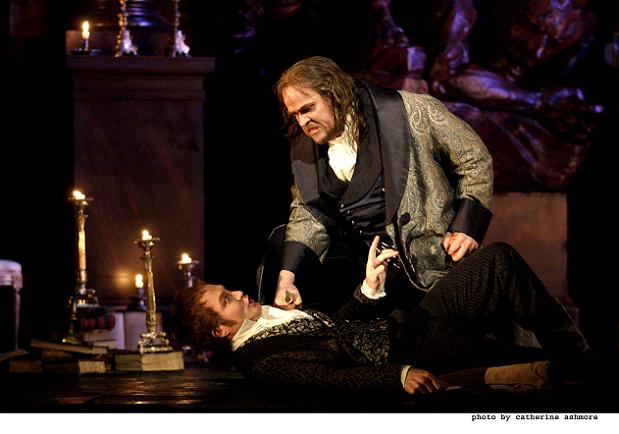 By Paul Guest
Tosca, Royal Opera.
Revival. Melodramma in three acts.
Giocomo Puccini.
Monday 20th June
Antonio Pappano, conductor.
Ducan Macfarland, director.
Marcello Giordani, Martina Serafin, Juha Uusitalo.
Orchestra and Chorus of The Royal Opera House.

I was disappointed.
This is a piece that I know Antonio Pappano can thrive on, but unfortunately it seemed the orchestra had to take a step back to make room for the incapability of the singers.
The set, design and direction were typical of a production by Jonathan Kent, grand and classic. In this revival, directed by Duncan Macfarland, however, I saw a lack of dramatic power, a big lack.
Appaling, actually. During the scene at the end of Act Two, where Tosca dramatically stabs the villain Scarpia, whom all of Rome fears, there was little drama. Serafin's operatic screams were not effective nor did she display much emotion. At this point I should inform readers that she was suffering from an ear infection; my ears were aching too with her flimsy voice barely projecting over the pit and a pitiful rendition of Tosca's crowing aria 'Vissi d'arte' that received minimal applause.
The same too with Uusitalo singing the role of Scarpia; the voice just got lost and there were moments were I really just couldn't hear what on earth he was singing, especially 'Tre Sbirri Una Carozza' which is Scarpia's crowning piece and is well known in the repertory; I just got nothing from him His voice and vocal quality seemed fine, actually quite desirable, unfortunately the power and projection were entirely lost. The tenor Giordani wasn't in fine voice either with strained top notes and what sounded like a very tired voice.
The orchestra, well, they were on top of the score under the baton of Music Director Antonio Pappano who always conducts with clarity and demands precision and emotion. The Chorus too, were undoubtedly weak.
The good news is that Pappano can let rip when Jonas Kauffman, Angela Gheorghiu and Bryn Terfel perform as the second cast on the 14th and 17th of July- Now that will be an experience you won't forget.
Remaining performances on the 23rd, 28th, 30th June with the second cast taking to the stage on the 14th and 17th July. Book online at www.roh.org.uk. The second cast will be filmed and it will be in cinemas in November 2011.
Paul Guest is Ceasefire's Opera critic. He also writes for Classical Music Magazine, Gramophone and is the resident interviewer at Opera Britannia.
Photo credits: © The Royal Opera / Catherine Ashmore.
1 Comment
Leave a Reply