Opera Two Boys (World Premiere, ENO)
In his latest review, Ceasefire's opera critic, Paul Guest, gives his verdict on the world premiere of 'Two Boys' at the English National Opera.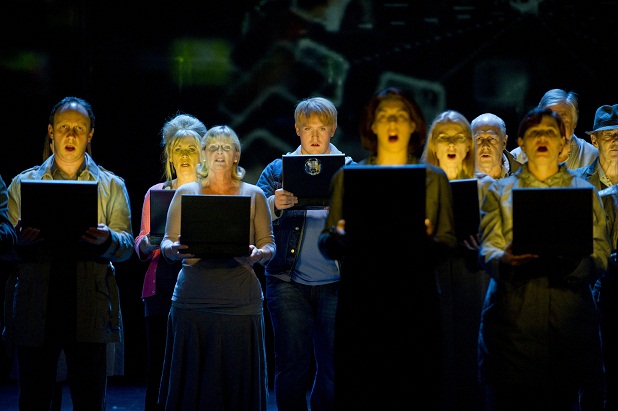 By Paul Guest
Two Boys (World Premiere) English National Opera
Nico Muhly
Rumon Gamba, conductor.
Bartlett Sher, director.
Susan Bickley, Nicky Spence, Mary Bevan, Joseph Beesley.

I thoroughly enjoyed this piece. The opening chords took us into a world of dissent and crime with the oboe giving us hints of melodic charm and the low brass managing to create this eerie atmosphere; indeed an "operatic version of Prime Suspect", as Nicky Spence told me earlier this week.
Susan Bickley, in her role as the detective Anne, is the Glenn Close of the operatic world. Vocally, she moves with ease in a very simple line with small intervals; this is entirely true to her character as a woman who has no life, romantic or otherwise and is a complete workaholic, slaving over this case of which she doesn't quite understand; in moments of revelation she excels when the line wanders up and down the stave.
Bickley's vocality and immense dramatic presence was second to none. Nicky Spence too, sang a wonderfully dramatic tenor line that filled the auditorium nicely, his wig to his voice were superb. Joseph Beesley sings the Boy, indeed a boy soprano, which presented a somewhat dramatically awkward situation in a Brian's [Spence] bedroom but a marvellous voice with was greatly applauded.
The visuals were also fantastic with a set designed by Michael Yeargan and awesome projections and video designs by Fifty Nine Production which filled the stage and created the cyber electronic world; this is a highlight from what has been a very technological season at the English National Opera.
The drama is somewhat stilted in places however I believe this is entirely purposeful to portray the real sense of the dangers of the Internet and online activity: a world of instant messaging, e-mailing and chat rooms is emotionless. I thought Bartlett Sher's direction was also brilliant and the entire creative team brought us an innovation in the way of operatic production.
Nico Muhly's composition is dark and sinister perfectly conveying the narrative of Craig Lucas' libretto and the story itself. Muhly was especially triumphant in one particular aspect and that was his writing for the chorus. His sense of harmonic injection into the chorus parts is astoundingly wonderful; the chorus really intensifies the music and narrative like I never heard before. You can instantly tell he was a chorister and the chorus, who acted as the millions of people around the world sat in virtual conversation with each other are truly a great, great chorus of singers.
You could hear other composers in there too, some of the choral aspect of the score in fact sounded almost Brittenesque where the tenor vocal line had a John Adamsesque feel. I heard a lot too from Muhly's score for the film 'The Reader' especially the ring of the tuba and low brass followed a shot of melodic outcome from the high strings which features so prominently in his score for that film. But there was lots of fascinating orchestrations, sounds and colours coming from the pit.
Conductor Rumon Gamba led well from the pit with tricky rhythms and syncopated beats as well as much melodic goodness delivered brilliantly by the orchestra.
I found that, actually, it was quite an intense evening of music which was dramatically well paced. I must say again how I admire Muhly's writing for the chorus: it was an incredibly compelling story; a story of our time.
But whatever your opinion on the opera itself, the real champion here is 29-year-old Nico Muhly who has showed us that the classical music and opera industry has a new generation emerging into the limelight, moving everything else with it into the future. Muhly is very central in this movement and, I'm sure, will continue to be. His first opera, a co-production between two of the world's greatest opera companies, has given hope to the thousands of music students longing for success in this difficult industry. Muhly has stormed the classical world with his compositions, and although I did enjoy this piece, his finest hour is surely yet to come.
Having said that, I personally wouldn't go and see it for a second time nor would I buy a recording of this opera, I'm not so sure of its place in the repertory, perhaps this is way opera will continue to go but that is my only concern. This is becoming a common theme throughout modern opera with the exception of John Adams and I'm yet to decide whether that is a good thing or, indeed, a bad thing.
Two Boys runs on various performance dates ending on the 8th July 2011. This was a co-production with the Metropolitan Opera in New York.
Paul Guest is Ceasefire's Opera critic. He also writes for Classical Music Magazine, Gramophone and is the resident interviewer at Opera Britannia.
Photo credit: © Richard Hubert Smith
Leave a Reply