Books | A resonant poetry of survival: Shareefa Energy's Galaxy Walk
The poems in 'Galaxy Walk', Shareefa Energy's debut collection, come together to form a picture of a woman whose writing has offered her a way to live in a traumatic and complicated world, writes Rachel Seoighe in her review.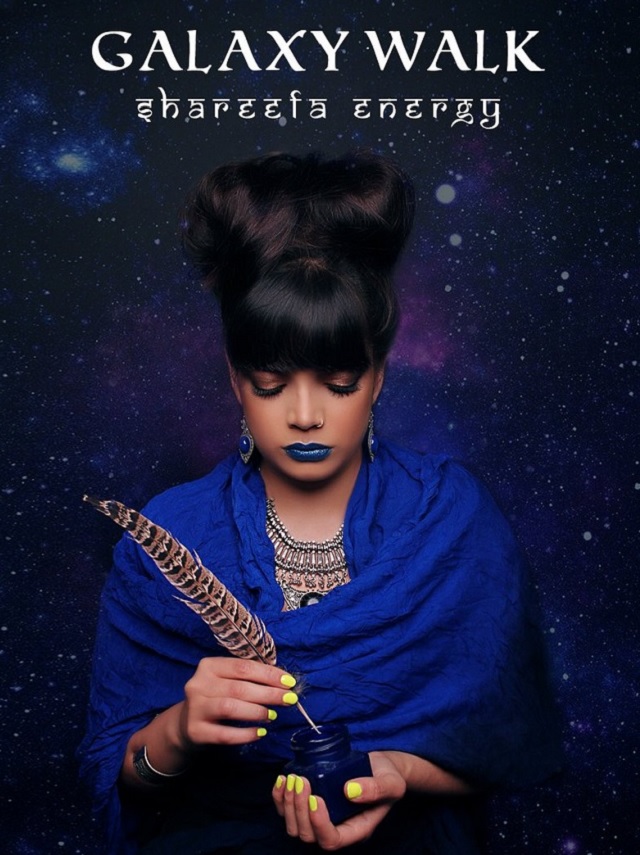 The poems in Shareefa Energy's debut collection Galaxy Walk traverse many worlds and bring worlds together. She speaks of complex emotional landscapes, spiritual journeys and intimate relationships, with others and with self. She speaks of religion, of martial arts and healing, of feminine power and intuition. She recalls family memories both warm and devastating, at once universal and unique to her Gujarati heritage. She tells us, with humour and generosity, what it is to be a young, diasporic woman in working-class Leicester and London. She narrates the traumas of austerity Britain and horrors elsewhere, capturing the violence of the contemporary moment with biting insight, urgency and a critical, decolonial analysis that feels authentic to its core. Her poems are moving, political and beautifully paced – some written with luxurious flow, some abrupt and arresting.
Shareefa's poetry is infused with politics, from the global to the very personal. Hers is a politics first felt, then observed and clarified in words. It is a politics built from relationships with others and a commitment to speaking her truth. The friendships she describes in 'Sweet Salone' summon a world of conversations across and beyond cultures, as a British Asian – a "small small pikin" – welcomed into a Sierra Leone community. In 'Jabal Al-Zaytoun,' she imagines walking through Jerusalem with a Palestinian friend, reflecting on how the privilege of a British passport offers her freedom to explore his homeland, while he cannot walk there without fear and harassment. She is exhausted, in 'Tired,' by "all-day, every-day liberals, assuming charity is enough" in our deeply unequal and neo-colonial world. She is exhausted by racism, structural discrimination and police violence.
Yet still, hers is a poetry of survival, a poetry of indignation and hope. It is poetry that resonates deeply with the current political landscape. From a moment of devastation and hardship, particularly for marginalised communities, Shareefa's poetry reminds us that we can soften the world around us, for one another. She is deeply committed to addressing injustice, from Grenfell to neo-colonial development to gender relations; she gently unravels prejudices, stereotypes and myths. This begins personally and echoes outwards to wider cultural tropes: in an ode to her father, she dismantles the negative stereotypes of "oppressive, aggressive" Muslim fathers. Her poetry sets out complex ideas and emotions with care and clarity.
Her relationship with God, outside of patriarchal social expectations and pressures, free of judgement and shame, is gracefully described in 'Submission.' Her faith is grounded in intuition and connection, in her communication with "the divine power, the divine force, the epitome of Love." A sentiment familiar to the religious and the loosely spiritual, her account of God as the voice of her intuition, as a guiding force, as the "symbolic language of the universe" is powerfully personal and resonant.
Her spirituality is also drawn from a narration of feminine power that feels both ancient and revolutionary – the "transmitter of power" and "life force" in 'Yoni Verse.' The integration of faith (in God and in herself), divine feminine power and sexuality across the collection is confident and self-aware, summoning a vision of a woman who understands the place of love, compassion and connection across her relationships.
Tracing the scars of difficult relationships, some of the most vulnerable and moving poems explore the necessities and traps of self-protection against predatory and damaged men. Despite the hurt, her response to male aggression, impatience and sex bordering on coercive is generous. Naming and challenging the toxic masculinity that can overwhelm and inhibit intimacy, she calls for sensitisation, for sensuality and connection:
Men deserve to experience
A softer world.
Shareefa's poems distil the duality of London: its violence and vitality, its embrace and brutalisation of communities. It is a city of diasporas and the displaced, where people build homes and communities, where people comfort each other. She is entirely of the city.
'Eyewitness Report' captures the rush and panic of the night of the Grenfell fire, the visceral sensory shocks, the disbelief, the immediate apprehension of the months ahead: "how long will this trauma grip / what will the funerals look like/"
In 'One Year Later,' the trauma experienced by families and neighbours is laid bare:
Did they tell you the aftermath feels like remnants
Of a warzone.
The poems in Shareefa's debut collection come together to form a picture of a woman whose writing has offered her a way to live in a traumatic and complicated world. She ran writing workshops with the community affected by Grenfell and facilitates workshops with young people on themes of self-esteem, mental health and creativity. She puts her faith in words, in creativity as a nourishing and healing practice. She is compelled to write, as she describes in her introductory text, 'Life Force Resuscitates.' She encourages others to nourish themselves with writing, to release emotional blockages and ease out of stagnation, to channel inner power into words: "Speak with conviction, like someone's life is depending on the echo of your words."
In the collection's final poem, 'Phoenix Rises,' Shareefa is hopeful and self-healing, reflecting on summoning empathy to challenge violence, and determined to shape her own future. She expulses pain, trauma and negative energy from her "mind, body and memory." Writers, she says, should be "intent that writing and reciting be our medicine" rather than a way of re-treading "war stories." Her voice is grounding and uplifting at once. Her narrative of the world, so beautifully and generously presented in these poems, offers coherence despite the world's chaos, and inspires a commitment to nourish one's self and others.
Shareefa Energy will be performing pieces from Galaxy Walk on Dec 5th 2019 at The Turner Collection, Clore Gallery (20.00–21.00). She will also be having a book signing in the Tate Shop. For details please visit the 'Late at Tate Britain' events page.
1 Comment
Leave a Reply