Interview | Yousef Al-Helou "Attacking the media is not something new to us in Gaza"
Prior to last night's ceasefire, media buildings and personel in Gaza had been tagreted by Israeli airstrikes for four consecutive days. Yesterday, independent journalist Yousef Al-Helou, who had been reporting on the events, spoke from Gaza City to Ceasefire's Alessandra Bajec.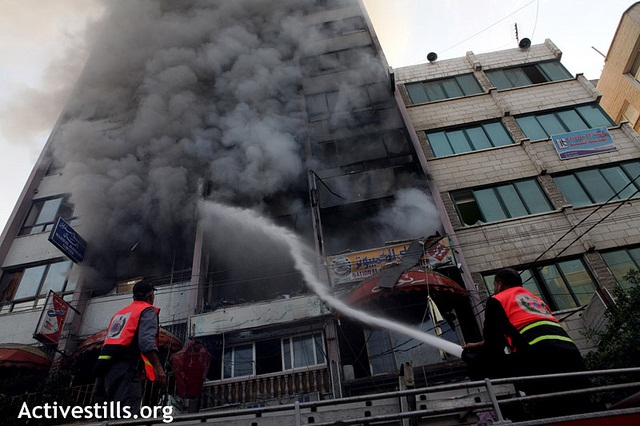 Prior to the announcement, last night (Wednesday 21st November), of a ceasefire, media buildings had been hit by Israeli airstrikes in Gaza City for a fourth consecutive day. The offices of AP, Agence France-Presse and Al Jazeera were dammaged, several press reporters have stated. Yesterday's bombings had concluded a series of attacks, directed at media offices, since last Sunday 18th November. These latest strikes also followed three deadly attacks on Palestinian journalists on Tuesday 20th.
Yousef Al-Helou, an independent journalist from Gaza, covered the events during Operation Cast Lead. This week he had been reporting during Operation Pillar of Defense. Al-Helou spoke from Gaza City – whilst under fire – to Ceasefire's Alessandra Bajec.
Alessandra Bajec: On Sunday early morning, Israel launched missiles that hit two media buildings. Six journalists were reportedly wounded. On Monday, Israeli warplanes bombed a media building, injuring two journalists. Where were you at the time of the strikes, and what did you experience?
Yousef Al-Helou: On Sunday, I was about 200m from the al-Shawa and al-Shuruq buildings. I witnessed three rounds of bombings, I saw smoke coming from the rooftops of the buildings. I was left in shock, I felt it was dangerous. One cameraman lost his leg among the six journalists wounded in the attack on the al-Shawa tower.
On Monday, I was reporting from the media company where I'm based, as normal. I heard that one of the same media complexes was targeted, we all went up to the roof and saw fire engulfing the building. Some journalists initially couldn't leave the block due to the smoke, as one missile had hit the second floor.
AB: On Tuesday, two al-Aqsa TV cameramen were killed in an airstrike, on a car, near al-Wihda towers. The director of Al-Quds Educational Radio was killed in another airstrike, in his car, in Deir al-Balah. How do you comment on those attacks?
YAH: It was the worst of these recent media attacks. The two cameramen were driving, in an Al-Aqsa TV car, to Shifa hospital to film victims of casualties resulting from earlier bombings in Shajaya neighbourhood, in which many children had died. It was shocking to hear that a missile was aimed at the TV car, marked with a press sign, and killed two journalists who clearly had their press vests on. Whether they worked for Al Aqsa or another channel, they were journalists at the end of the day.
AB: Following Sunday attacks, the Israeli Defence Force (IDF) said the media centres hosting Al Aqsa and Al Quds TV stations, were legitimate targets as Palestinian militants had placed communication equipment on the buildings' rooftops. The IDF claimed the communication devices were used by Hamas to carry out terror activity against Israel. On Monday, the Israeli army stated that Palestinian militants of Islamic Jihad were targeted in the rocket strike, killing two people inside the building including an Islamic Jihad commander. How do you react to these statements?
YAH: Even if Israel claimed they were targeting a communication antenna on Sunday, or they were aiming at a media office belonging to Islamic Jihad, on Monday, there were no armed men in the media buildings. The Islamic Jihad leader who was killed in Monday's bombing, from what I heard, was not armed and was in the building to be interviewed.
AB: Israel accused Gaza militants of hiding among civilians, including journalists, to avoid attack. What's your view on that?
YAH: I think it's not acceptable that a militant from any faction uses a media office as a hideout. We don't allow anyone to put our lives in danger. It is forbidden to let strangers into our building, regardless if they are armed or not. Besides, we don't want Israel to claim that fighters are hiding among us.
AB: Do you think these attacks directed at media complexes were deliberate?
YAH: I cannot say they were deliberate. I consider them indiscriminate killings. Although the missiles launched on Sunday, for example, were aimed at a communication antenna on the rooftops of the buildings, I find it scandalous that rockets are fired at buildings just to destroy an antenna. What if any journalist appears on the roof or is nearby at the time a rocket hits the rooftop?
Israel has the technology to assassinate individuals while walking in the streets. They could aim at their targets once they leave civilian areas or media buildings.
And, even if the Israel army has to target communication equipment used by militant groups, they should warn or inform journalists that they have to evacuate the building, at least. Indiscriminate attacks are against international humanitarian law. Attacking without warning is a crime.
AB: The press buildings that were hit in this series of air strikes host a number of TV news stations and radio stations, including several international media besides Palestinian news agencies. What do these direct attacks on the media mean in Gaza right now?
YAH: Tuesday's attacks killing the three journalists were a direct attempt to silence the truth, to prevent those cameramen from reporting the atrocities committed by Israel. Attacking the media is not something new to us in Gaza. We have lost numerous colleagues during the 2008-2009 war. Even in 'quiet times', cameramen have been killed in Israeli tanks shelling while they were filming.
These attacks are aimed at scaring journalists, for example we are now afraid to report from the border areas. But believe me, at the same time, we are even more determined to continue our mission to expose these crimes. Before being journalists, we are humans. When you see small bodies of children torn into pieces or burnt to death, we have a responsibility to report what's happening. So we hope that Israel respects our right to inform.
AB: Israel warned journalists to 'stay away' from targets. But how would journalists be able to do their job if they keep away from their offices which are hit by Israel?
YAH: I have interviewed a number of foreign journalists who came to our office on Tuesday. They were panicking after they saw images on TV and heard loud bombings, they were afraid to go out and had to be reassured.
AB: How have journalists including yourself been carrying on with your work since the attacks? In what conditions are the media operating right now?
YAH: I know that some news agencies have set up their equipment on the streets, hired spaces in safer areas, near hotels, along the coast.
As a correspondent, I'm in a safer position as I stay inside the building most of the time, sending breaking news, writing scripts, conducting interviews. But I also have to go to outside locations to conduct interviews, and film my statements in front of the camera.
Cameramen are the bravest, they take a very high risk while battling through bombardments. Being on the frontline, they are exposed to even harsher images. Every time they go out, they know they may not come back. They say their lives are not more valuable than those of innocent children killed.
AB:  Israel's airstrikes aimed at civilian facilities like media offices are a war crime and a major violation of the Geneva Conventions, but also a grave attack against freedom of information. Would you say Israel is trying to prevent accurate reporting from the ground, or even 'silence' media in Gaza?
YAH: Yes, Israel wants to scare the population and kill the spirits of Gazans. We are used to Israel's use of disproportionate force aimed at scaring the population. Previous experience has taught us that even journalists could be targeted. As for the attacks on the media buildings, Israel perhaps wanted journalists to stay away from offices that belong to Palestinian resistance groups. However, we sometimes need to interview spokespersons of these factions.
As more civilian lives are lost, minute after minute, the death toll keeps rising. As journalists, we have the duty to show to the world the crimes inflicted on the population of Gaza, we have to be the voice of the voiceless.
We need to address to the international audience, because people here have lost faith in the Arab world. [sound of bombing] People ask me to continue reporting in English language because Palestinians want the world to know what's going on, and get the message out that we don't live a normal life.
AB: Thank you for speaking to Ceasefire.
Leave a Reply