Blog | A moral course: Alan Dershowitz defends targeted assassinations
Alan Dershowitz's latest attempt to bring his usual "proportionality" to a farcical New York Times "debate" on extra-judicial killings leaves Peter Warren unimpressed.
By Peter Warren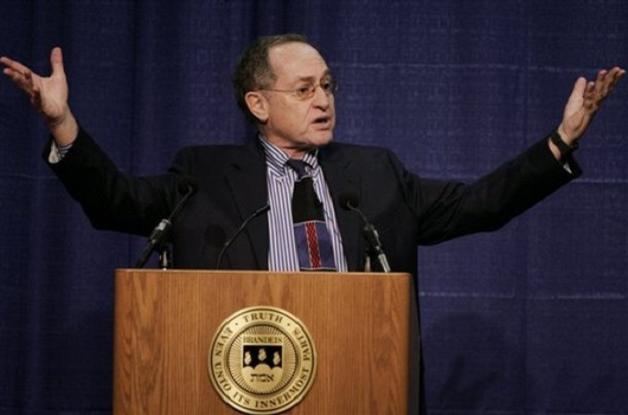 Never one to shy away from an opportunity to defend murder carried out by Israel's army, Alan M. Dershowitz has thrown his tuppence-worth into the ring with regards to the targeted killing of former Hamas military chief Ahmed Jabari last week.
Regurgitating a line he has previously used to advocate the introduction of "torture warrants" that would allow the authorities in the United States to do "everything necessary to prevent a catastrophic terrorist attack" (not much reading between the lines required there), Dershowitz uses a platform in the New York Times to argue that "targeted assassination" is "often the least bad alternative in an inevitable choice of evils".
Far from being merely the result of a difficult choice between evils, however, Dershowitz – arguably the most prominent lawyer in the United States – affirms that such assassinations are, in some (and no doubt a great many) cases, "the preferred legal and moral course".
Scoffing at the "absurd" notion that such actions amount to "extrajudicial killings" and are therefore unacceptable, he points out that "killing in self-defense" (which in no way, shape or form describes the targeting of Jabari) is not sanctioned by law either. Besides, "all military deaths are extrajudicial", and if there's one thing you're in no danger of hearing Dershowitz criticise, it's a killing at the hands of the Israeli army.
As with his arguments in favour of rolling back the clock a few hundred years to legitimise and normalise the practice of torture, Dershowitz recommends forcing the government or military of the state in question – in this case Israel – to seek from its own courts a "judicial warrant setting out the basis for why the target is an appropriate one". He says that this could even be obtained "after the fact" as a means of introducing "a more neutral decision maker into the balancing process".
A truly faultless idea. I'm sure the Israeli judges who routinely make Palestinian families homeless by authorising house demolitions in the occupied territories because the occupants (of the houses) haven't obtained planning permission – the West Bank equivalent of finding a four-leaf clover – would be licking their lips at the prospect of rubber stamping such noble excursions.
Quite why anyone would seek moral guidance from a man who, among a long list of similarly objectionable professional pursuits, worked on the legal defence of notorious serial child sex offender and hedge fund mogul Jeffrey Epstein – despite voluminous evidence substantiating the latter's guilt – is beyond this writer's comprehension. Dershowitz's depravity even extended as far as engaging in character assassination against Epstein's teenage victims – a task no doubt aided by years of taking part in similar smear campaigns against the Palestinians.
What's more, Dershowitz told his wife that he was so fond of his pal Epstein that he would "absolutely" remain "close" to his client even if the latter had no money whatsoever: "I would be as interested in him as a friend if we had hamburgers on the boardwalk in Coney Island and talked about his ideas," Dershowitz is quoted as telling his wife. Touching, and in that sense not dissimilar to the massages from naked, underage girls for which Epstein himself is known to have such a penchant.
Perhaps Dershowitz's actions in support of the likes of Epstein and the Israeli state are understandable, when considered in the context of a quote from the Harvard lawyer's book, The Best Defense. In the tome, he remarks that "[a]lmost all criminal defendants, including most of my clients – are factually guilty of the crimes they have been charged with. The criminal lawyer's job, for the most part is to represent the guilty, and – if possible – to get them off". Not wishing to indulge in Dershowitz-style hypocrisy, it should be pointed out that the above quote first came to this writer's attention in Norman Finkelstein's Beyond Chutzpah.
3 Comments
Leave a Reply