Special Report India: "progress" before people
This week, thousands of people in two rural districts of India's eastern Orissa state are losing their homes and livelihoods, their land forcibly bought by South Korean steel mining giant POSCO after five years of Indian government deliberation. Juliet Whitley reports for Ceasefire.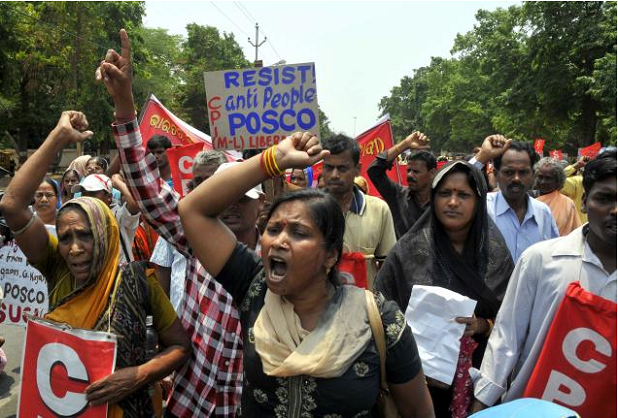 By Juliet Whitley
Thousands of people in two rural districts of India's eastern Orissa state are losing their homes and livelihoods. Their land is being forcibly bought by South Korean steel mining giant POSCO after five years of Indian government deliberation and pressure from a significant grassroots protest movement in the districts of Jagatsinghpur and Gobindhpur.
Jairam Ramesh, the Minister of Environment and Forests, finally gave way this year, allowing what has been cited as India's biggest ever foreign investment deal at $12 billion. It's easy to see what's so appealing to the Indian government and the Orissa state administration: it's lucrative, it's development, it's progress.
The POSCO steel plant is the most recent controversy in India's rush to achieve rapid economic growth. It is accepting foreign investment from all corners and attempting to capitalise as much as possible on its vast mineral resources, all the while promising rich returns for India's people.
But while industry profits and GDP grows, inequality is expanding and the poor and disenfrachised are seeing little of the promised benefits of India's so-called 'development'. They are the victims of this rapid and untempered growth, having the least to begin with but everything to lose. They are the people whose protest voices are strangled by the state, soon to be forgotten after factories replace their ancient forests and toxic by-products are poisoning the land, the animals and the people for miles around.
Orissa, one of India's poorest but most rapidly industrialising states, is at the epicentre of the country's development 'war', which is so far overwhelmingly being won by capital interests. The state is home to some of the country's most fragile and biodiverse areas – huge stretches of coastal mangrove forests, rare species of birds, the world's largest nesting site for Olive Ridley turtles, and thousands of square kilometres of ancient and sacred woodlands. Orissa also houses a large population of 'adivasis' – indigenous tribal peoples. Many of these groups still have little contact with the outside world and retain their traditional self-sufficient way of life. They live in sustainable coexistence with their land, relying on the forests for food, health and protection. Yet deep beneath their feet lie minerals, such as bauxite and iron ore, that are of no value to the adivasi but are heralded as a key to India's future position as a world economic powerhouse.
Protection of the adivasis' right to their land has been set in legal stone – the 2006 Forest Rights Act states that forests cannot be cleared for an industrial project without the explicit approval of villages that claim the land as their own. There are also federal and state environmental protection laws, as well as the Orissa government's internationally-hailed Climate Change Adaption Plan which aims to protect forest reserves, limit emissions from coal-powered plants and green Orissa's industry in general.
But it appears the government is willing to be flexible with the law when it comes to a $12 billion Foreign Direct Investment deal. Apparent consultations with affected villages have been disregarded and a blind eye is being turned to the felling of 280,000 trees and threats to crucial turtle nesting sites that the POSCO site poses, which environmental laws should protect against. The government is also denying the presence of tribal communities in the 4,000-hectare site area, even though they are registered in the 2001 census.
So what would India actually get in return for the mega steel plant, other than environmental degradation and displacement of thousands of vulnerable people? POSCO has hyperbolically claimed that up to 900,000 jobs would be created by the plant; more sober estimates put the figure at 48,000 jobs. The National Council of Applied Economic Research failed to admit that a key study listing many apparent benefits from the project was paid for by POSCO.
Minister Jairam Ramesh recently said: "there is no contradiction between India's environmental and its developmental imperatives." But in October 2010, three of the four members of a committee set up by the Ministry of Environment and Forests to review the POSCO project found that it was illegal and that its impacts on water, air pollution and the coastline were never properly evaluated; this is the second committee to have come to such a conclusion. In the summary of its report, the committee stated:
"The POSCO project is an example of how a mirage of 'development' can be used in an attempt to bypass the law. Such attempts, if allowed to succeed, will result in neither development nor environmental protection, but merely in profiteering. This will cause immeasurable harm to the nation and to the rule of law and justice in our society."
The blatant illegality of the POSCO deal has been met by the resistance movement with understandable outrage and this week's land acquisitions have faced heated protest. POSCO Pratirodh Sangram Samiti (PPSS), the group spearheading the protest movement, claim facts and figures have been suppressed in a deal it calls a deliberate collusion between federal and state governments to ignore illegalities in favour of private profit over the rights of its citizens. POSCO will be rewarded for this social, environmental and legal calamity with a 10-year tax break.
Interestingly, a group formed by district locals who initially supported the development, United Action Committee (UAC) have now u-turned, beginning their own protests against land acquisition last month. They say their support was dependent upon certain demands which were not met in the April deal. But, already its members protests are being bought off by cheques of up to 3 lakh Rupees (around £5,000). The original buy-out figures were much less, amounting to just one third of a yearly income, offered in return for permanent displacement.
Predictably, the protest movement has been met with intense force from state police who have moved in over 700 officers this week to ensure land grabbing can go ahead smoothly. Despite protest being overwhelmingly peaceful, in the form of sit-ins, police have responded with arrests and violence. In June 2008, local villager Dula Mandal was killed by a bomb during a clash between critics and supporters. In May 2010 rubber bullets were fired by police, wounding at least 20 protesters. It is also claimed by local activists that 'thugs' have been hired by POSCO to intimidate anyone who opposes the project.
POSCO plan to take the land they need for the plant over the course of the next few weeks. Protest is hotting up and around 32 members of UAC were arrested on Thursday for staging a road blockade to prevent the entry of district officials and police personnel to continue land acquisition at the project site, though they have now been freed. Hope now lies in a petition to the High Court of Orissa which on Friday issued notices to the state and federal governments and to POSCO alleging illegal forest clearance, with the matter to be heard again next week. If the law is upheld then the POSCO development cannot go ahead.
"If the government violates its own law, then where is the value of democracy and who will believe in constitutional laws?" said activist Gopinath Majhi in a press conference last Thursday. The POSCO controversy is part of a wider problem: the sacrifice of the Indian government's already fragile democratic legitimacy on the altar of economic development.
Juliet Whitley is an activist currently living and working in Orissa, India.
Leave a Reply