Blog | "A Real Man": Alaa Abdel Fattah writes from prison
We publish our translation of Egyptian blogger and revolutionary Alaa Abdel Fattah's latest letter from prison, where he remains detained for "insulting" the Egyptian military.
This is a translation (from Egyptian Arabic) of this letter, by Egyptian blogger and revolutionary Alaa Abdel Fattah, who remains imprisoned on charges relating to "insulting" the Egyptian military.

You can also check this alternative translation by Sultan Alqassemi and Mina Naguib.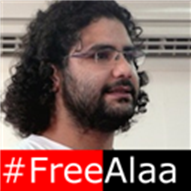 I am writing this note with a deep sense of shame. I have just been moved from Ist'naf (appeal) prison, at my request and insistence, because I simply couldn't withstand the difficult conditions there: because of the darkness, the filth , the roaming cockroaches, crawling over my body night and day; because there was no courtyard, no sunshine and, again, the darkness.
However, what I couldn't stand, above all, was the revolting toilets. I just couldn't do it, I couldn't navigate my way around the filthy, door-less, overcrowded toilets. So I spent my first five days simply "keeping it in". Until I could take no more.
I found Nouara's piece, celebrating my "manliness", confusing, but Najlaa Budeir's article reminded me how, in my previous stint here, my blog was my refuge, the sanctuary where I could be brutally candid with myself.
So yes, I couldn't do it. I couldn't "man up" and bear it, even though I knew only too well that thousands were bravely and stoically enduring far worse conditions, even though I never had to suffer the untold horrors of military prisons, nor was I ever subjected to the torture meted out to those comrades of mine who had been sent down to the military courts.
And so, I let my Maspero protest comrades, my fellow prisoners facing the wrath of the ministry of defence, as well as other political detainees, down. I let down all those prisoners who had been moved, upon seeing the mayhem and fracas that my presence had been causing, to come and speak to me, sharing their tales of the horrors endured at the hands of the interior ministry, all so that I could tell the outside world about it. They were overjoyed that someone was going to speak up about the baltagia and the gangs.
Yet, I left them behind, because of dirty toilets.
Instead, I traded the company of convicts, loud and boisterous youths, for that of white-collar dullness: miserable, sad, and lifeless. Before, I was everyday faced with an important new case of grave flagrant injustice, for instance the security officers jailed for taking part in their first ever demonstration, accused of burning their ministry. In the past, I had never taken seriously anything relating to them, until I met and spoke to them. Or Tamer Rashwan, who has been seemingly framed into such a sinister and mysterious plot that I've come to suspect the security services are experimenting with new ways of punishing troublemakers instead of simply arresting them; not to mention the scenes I have witnessed, of people being tortured and left to rot in their cells, stories I had been collecting and waiting to share with you all upon my release.
Clearly, it wasn't just the prisoners who thought me capable of playing a role inside, anyone suspected of having spoken to me was routinely roughed up and questioned, informants abounded, my every word seemed to find its way back to those in charge.
And yet I left all that behind, and for what? For a clean, spacious, well-lit cell. Because I simply couldn't handle a prison's dirty toilets. That was the extent of my capacities, of my limits. That was my weakness.
Even my decision to refuse questioning by a miltary court, which so many of you have celebrated and praised, that too came with a grain of cowardice. The day we had met to take the decision, I was not brave enough to seek my wife Manal's opinion on the matter, even though I knew full-well I would be leaving her on her own, through the final days of her pregnancy; even though I knew I would be leaving her to face, on her own, the trials and tribulations of running our life, starting with overseeing the workers currently preparing Khaled's room; even though I knew full-well the daily hardships and humiliations she would have to endure while running around trying to address my daily requests and needs, the paperwork for prison visits, all while playing a central part in the campaign for my release.
And yet, I dropped this on her, taking my decision after consulting my revolutionary comrades rather than listening to her. Because I knew, and took for granted, that she would support my decision, whatever it may be.
Having said that, I am also proud. It is true that I am not the "Real Man" Nouara believes me to be, but I am no coward either. I had received an offer, through a prominent figure of the revolution, to seal a deal that would guarantee me a swift release: "You can leave, just don't insult the Field-Marshall". That was it, the simplest of compromises. But I refused. After all, how was I ever going to face my people had I accepted?
So let us start again from the beginning: How are you? My name is Alaa, a foot soldier of the revolution, many are those who have sacrificed far more than I have, many are those who have been far braver than me, and many are those who have played far bigger roles than I have.
My name is Alaa, and I am immensely proud that I am doing all that I can, often surprising myself at how much it is I find myself capable of doing. Yes, I know myself, and I know my limitations. But I try my best to stand and be counted, to never stay behind. I try my best to keep fear at bay, and to always be there on the front lines.
If you see bravery, or honour, or gutsiness in me, know that they stem from my mother and from my little sisters. Know that they come from my wife too, the separation from whom has been the cruellest and most painful hardship prison has ever inflicted upon me.
Day 5, first night in cell 1/6, Ward 4, Tora Investigative Jail
3-November-2011
Alaa Abdel Fattah
@Alaa
2 Comments
Leave a Reply