Blog | Zainab Al-Khawaja: how one woman stood up to Bahrain's rulers
Unable to keep her silent, the Bahraini regime has detained Zainab Al-Khawaja for the past ten days. Will it get away with it?
By Hicham Yezza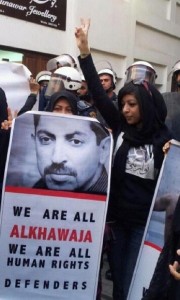 Now that the Formula 1 circus has left its shores, Bahrain has swiftly receded back into the mainstream media's tenebrous hinterlands. This is despite little having changed over the past week or so, quite the opposite.
On 21 April Zainab Al-Khawaja was arrested for taking part in a peaceful protest against the continuing detention of her father, prominent Bahraini activist Abdulhadi Alkhawaja. Once at the police station, female officers turned off the security cameras and proceeded to deliver a beating, kicking and shoving her against the walls, suffocating her with batons while watching male officers insulted her. She was denied visits for more than a week, her family finally getting access last Sunday, 29 April.
Over the past two days (Wednesday 1st and Thursday 2nd May), Zainab was sent before the courts, where she discovered the state had not one but four charges ready for her: that she verbally insulted an officer, that she assaulted another at an "illegal gathering", that she "obstructed traffic" and, finally, that she verbally assaulted yet another officer. She was declared not guilty of the first offence but had all her other cases postponed to next week.
These is not the first time she's dragged before the courts. Indeed, she is still facing earlier charges – of "assaulting an officer", "illegal gathering" and "inciting hatred against the regime" – dating from Dec 2011, after taking part in another protest.
A few days ago, faced with the serious prospect of Zainab's father, Abdulhadi finally succumbing to his hunger strike (which had lasted more than 80 days so far), the Bahraini regime removed him from his hospital bed and kept him incommunicado for a week; rejecting all requests from his family and lawyers to see or talk to him. When he was eventually allowed to communicate with them three days ago, he revealed that he had been forcibly-fed (a treatment that falls under the Geneva convention's definition of torture).
The bahraini regime must release Zainab Al-Khawaja and drop all its absurd charges against her, as well as release all political prisoners in its jails. If you want to help achieve this, please visit the Bahrain Human Rights Centre website. And spread the word about what is happening in the country. The Al-Khawajas' courage is a testament to human dignity in the face of oppression, the least we can do is tell the world about it.
See Also:
Editorial | Bahrain: on the unintentional eloquence of press releases
Politics | Al-Khawaja: Bahrain's peaceful resistance, the world's shameful silence
4 Comments
Leave a Reply