Special Report | World Social Forum 2013: An Algerian Perspective
Two weeks ago, thousands of activists gathered in Tunis for the 2013 edition of the World Social Forum, the first time the landmark global event was held in an Arab country. Meriem Ais, Ali Meziane and Amine Mouffok report for Ceasefire on their WSF experience, particularly on the Algerian presence - and absences - at the event and what this presages for the future.
By Meriem Ais, Ali Meziane and Amine Mouffok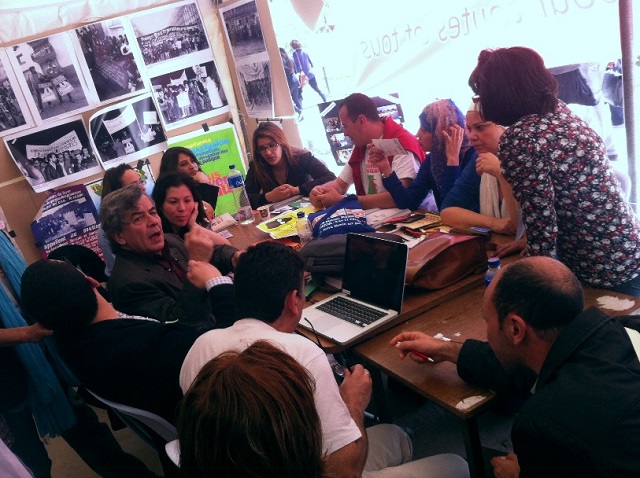 Emergency meeting called for by ACDA to discuss and take action on the border incidents. (Photo: Algerian Cultural Collective)
"Each generation must, in relative  opacity, discover its mission, fulfil it, or betray it". So said Frantz Fanon, and it is in this spirit that we set out  from London to Tunis for this year's World Social Forum (WSF), the  first to be held in an Arab country. And not just any country; one that deposed a 23-years ruling  dictator through a home-grown revolution, and inspired a wave of uprisings  throughout the Arab world and beyond. Even more significantly for us,  a country that shares a border with our country of origin, Algeria.
This proximity, we reasoned, would enable us to meet many Algerian civil  society organisations and activists who would not otherwise have had  the opportunity to attend such a forum, often due to travel restrictions and lack of means. As UK-based organisations, the Algerian associative landscape had remained largely unknown to us (bar its most well-known  actors, whose news reach us through press reports or increasingly, although  in a more limited capacity, through social networks). There is, however, a vast  gap between 'hearing about' and 'knowing'. As such, meeting local activists was an opportunity we couldn't miss.
The WSF – widely seen as the ideological alternative to the exclusivist World Economic Forum-  has grown out of the alter-globalisation movements of the 1990s, seen  as the conjunction of western currents that are critical of capitalism  and neo-liberalism, and anti-imperialist ones in the Global South. It was  born 11 years ago in Porto Alegre, Brazil, and has grown to become the  largest gathering of social movements and activists in the world. This  year rallied over 4500 organisations and 30,000 attendees from 127 countries.
'Dignity' was this year's title-theme: a watchword of the Tunisian revolution, it resonated far wider too, including anti-austerity discussions taking centre-stage in many  of the forum's activities. The vast programme of activities included the future of revolutionary  processes and uprisings, food sovereignty, development goals post 2015, feminist  movements, as well as religion and extremism (e.g. in the form of an excellent  talk by Tariq Ramadan). So vast was the programme that frustration inevitably ensued; with an average of 350 activities per day, one needed  to be intransigent with one's interests. This is the price to pay  for direct-democracy in action: the ability for any of the participating  4500 organisations to propose any activity of their choosing, guided  by 11 core thematic axes. When we got lost trying to find an activity because of poor signage, we reminded ourselves of what an extraordinary feat the WSF's preparation and organisation must have been. We quickly gave up on feeling frustrated and – bar a few sessions here and there – decided  to focus our efforts almost exclusively on meeting Algerian organisations  and activists.
Where did all the Algerians go?
Amidst hundreds of posters lining the Al-Manar university Campus where the forum was held, one jumped  out: "Algerians: meeting at 6:30pm at the FALDI tent, Zone B" –  there was our first ad-hoc rendez-vous. The meeting had already started when we arrived: a dozen people were engaged in a highly energetic discussion. We were promptly informed that they were putting together a denunciatory statement against what had happened to some of them at the Algerian-Tunisian  border. The signatories, composed mostly of union activists, feminists, youth, and human rights activists, were on board of two buses which successfully crossed the Oum Tboul border. However, a few minutes after crossing over to the Tunisian  border post of Melloula, they were caught-up by the Algerian chief of police who, only a few minutes earlier, had authorised them to leave  the territory. Upon finding out that they weren't a simple touristic  caravan, the latter hurriedly crossed the border, ordering them to go  back. The delegation was then faced with a barrage of questions: "what  is this story about the forum?", "where are you going exactly?", "are you trying to stir up trouble in our country?". The Algerian  activists -now on the Tunisian side- refused to go back, however. They collected their luggage, and decided to make their own way to the forum,  arriving there -through sheer determination and despite limited means- 33 hours after first reaching the Algerian border post. Their buses  returned to Algeria, empty.
We then learnt that another delegation of non-governmental  organisations, composed of 96 human rights activists, members of the Algerian League for Human Rights (LADDH), the National Committee for the Defence of the Rights of the Unemployed (CNDDC), and the National  Autonomous Union of Public Administration Staff (SNAPAP) went through the same ordeal at the border post of Layoun (Tébessa, Algeria); it  also included Hacen Ferhati, member of SOS Disparus who was denied exit twice: first by land and then, a few days later upon attempting to travel to Tunis, by plane. No valid reason had been given to them on why they had been  forbidden to leave the country.
This clear attempt by the Algerian authorities to  illegally restrict, and thereby violate, the liberties and legitimate  activities of human rights and civil society activists reverberated outside of Algeria, and was loudly denounced by Human Rights Watch and Amnesty International, whose Deputy Director for the Middle East  and North Africa observed "Placing travel restrictions on  civil society activists is a blatant attempt to prevent them from meeting  and discussing with fellow groups from all over the world, and in so doing to isolate them. Ironically, such practices are reminiscent of the travel restrictions placed on Tunisian human rights activists under the Ben Ali era. While Tunisia is experiencing tremendous change and is hosting the 13th World Social Forum in Tunis, the Algerian authorities  continue to rely on old repressive tactics and seem to not have learnt the lessons of the recent uprisings in the region."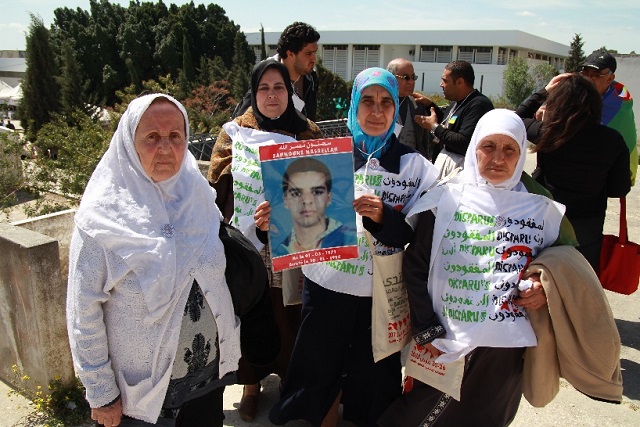 Mothers of the disappeared, and representatives of SOS Disparus who managed to make the forum. (Photo: Algerian Cultural Collective)
The dark side of the Algerian delegation
There were, however, other Algerians  who managed to get through. As it turned out, the Algerian government  had sent its own 'official delegation' to participate in the forum. Masters of propaganda but lacking somewhat in subtlety, some were easily spotted through their overzealous nationalistic displays; with flags adorning nearly every bodily extension (caps, bandanas, wristband, you name it). A great part of their job seemed to consist of spreading the good news that all was great in the land of the free (the  harrowing tales of the mothers of the disappeared – from SOS Disparus-, or the presence of one of the representatives of the recent mass protests  of the unemployed youth in the Algerian South, were clearly products of our  collective hallucination).
This was confirmed to us a few days  later, when the Algerian Press Service (APS) – effectively, the  government's mouthpiece- published its blandly generic report of the 'Algerian delegation's participation at WSF', without a single  mention of the border incidents that left most of its independent delegation stranded back home. Algeria was painted as a country at the forefront of the solidarity movement with oppressed people and their right to  self-determination. We had indeed observed how the Western Saharan cause in particular found itself torn in a pitiful political tug-of-war between the Algerian and Moroccan official delegations. Worth mentioning in passing that the occupied Western Sahara's own official delegation (the Polisario Front) had benefited from significant logistical travel support from Algeria to attend the WSF. The future of "Le Maghreb des peuples" (Maghreb of the People) looked sadly  like a far-fetched dream from this vantage point. In contrast, there had thankfully been, in many other respects, a coming together of the Maghreb's civil society. This was most notable in the organisation of the forum where, had it not been for the encouragement and support of their Maghrebi counterparts, the Tunisian organisers – still reeling from the shock that had been the assassination of prominent Tunisian  opposition figure, Chokri Belaid – would have cancelled it altogether.
Back to the Algerian 'official' delegation…  some of its other jobs when not busy spreading pro-government propaganda was to attend the "non-official" delegation's organised sessions (notably, the one presented by the highly motivated Youth Action Rally (Rassemblement Action Jeunesse, RAJ, a youth movement founded in 1992) and throw in  bizarre deviations from the main debate topics, as well as attempting to collect email addresses from the audience. When the sessions were too heavily attended (as in RAJ's screening of Habiba Djahnine's documentary "Before Passing the Horizon Line" on the struggles and challenges faced by activists in Algeria post the 1988 uprising) they peeked their Big Brother eyes through the door but didn't dare come in. They did well not to; emotion among audience members was at its highest…
Our Algeria-based counterparts advised us this is something they were all too familiar with; the mechanisms of propaganda and disinformation used by Algerian state institutions are varied. They range from official press and communication bodies, to the infiltration of independent organisations, or their outright cloning (with the aim of creating confusion and distrust, or used by the government to represent the interests and claims of Algerian 'civil society'). The term 'securitocratic' is an apt description of the Algerian regime in this context, where repression is not always necessarily visible  but where complex mechanisms of surveillance and control operate.
Thus, there were other reasons why  there weren't many independent organisations at the WSF. In addition to the existing restrictions of the activities and freedom of assembly of existing organisations, the latest law on Associations in Algeria 12-06 (2012) was highlighted to us as the latest onslaught on  freedom of association. This law was denounced by Maina Kai (the UN's  Special Rapporteur on the rights to freedom of peaceful assembly and  association) who stated "[it] imposes new controls and restrictions  on the formation of associations, as well as their access to finance. This is a significant step back compared to law 90-31 (1990), which  was in force until now". In the same vein, Human Rights Watch, in its latest report on civil liberties in Algeria, observed  that:
"The new Association law contains many new provisions that give  sweeping powers to the government to control associations. The new law maintains the existing regime of prior approval of associations and gives authorities wide discretionary powers to refuse to grant legal status to new associations without first seeking a court order. They  can, for example, reject an association whose purpose or goals are deemed 'contrary to public order, public morality, and the provisions of existing laws and regulations." In addition, they can dissolve associations on broad grounds such as "interfering with the internal affairs of  the country", "harming its sovereignty," receiving foreign funding without prior authorisation, and exercising activities outside of those  provided for in their statutes. Involvement in a non-recognised, suspended, or dissolved association can result in imprisonment."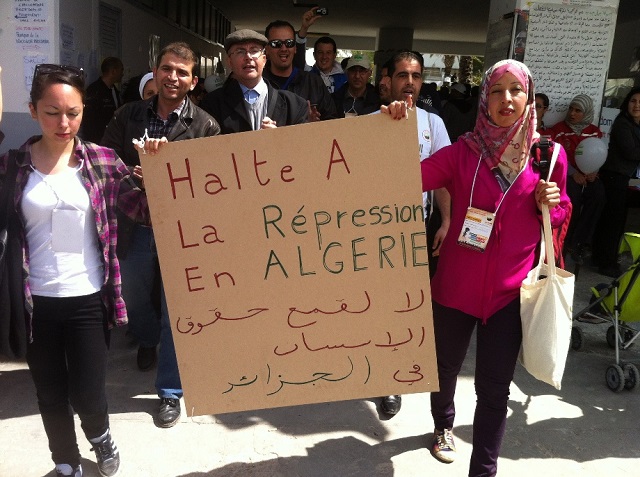 Makeshift banners denouncing the border incidents and calling for the "end to repression and violation of human rights in Algeria". (Photo: Algerian Cultural Collective)
"Step by step, stone by stone, hand in hand for a united Algeria"
Despite these setbacks, we were left with a feeling that something of significance had been achieved at the WSF. We'd headed to this forum in great part aiming to take stock of the situation in Algeria, meet the people on the ground, and build links. That is indeed what we've achieved, even though we didn't get to meet as many as we'd hoped we would.
It was clear to all independent organisations present that this was only the start of a journey; that there is an imperative for a strong and united social  movement in Algeria, and that much work was needed to make this happen. One of our main criticisms for the independent Algerian delegation at the forum was that there wasn't on this occasion an Algerian vision developed by all the organisations that were due to attend it (many of whom already knew one another). It was a missed opportunity of communally analysing the state of social struggles in Algeria, and working together on how they could be furthered. There was much talk of problems (of which there are, indeed, a great deal), but not enough time was allocated to starting a conversation around developing alternatives and a vision of a holistic societal project (and strategies to implement them).
An Algerian Social Forum was on everyone's lips however; such a platform for exchange, debate, and action is much needed and certainly seemed the logical next step for all involved. The world social forum has demonstrated the capacity of independent Algerian organisations to overcome significant  barriers through sheer will, and organise and assert their presence without the official stamp of the authorities. Indeed why should they need it? A fundamental principle behind the World Social Forum is to enable spaces of expression to individuals and groups lacking these in their own countries. Could such a vision be allowed to take place back home however? To us, it's not a matter of 'can', but of 'must'.
What is needed now is the continuation of this momentum. It has been a couple of weeks since we've got back, and encouragingly we have been in constant contact with the people we've  met at the WSF. As part of a discussion organised on Shale Gas (a potentially highly  environmentally-destructive project around which there has been an utter lack of transparency on the part of the Algerian government) we invited an expert on the subject (who'd attended the forum) to join us via Skype. We are in the process of organising a demonstration – scheduled for tomorrow, Monday 15th April, in London – and have released a statement on the issue, for which we gathered  support from most of the organisations we met at the forum, making the appeal far wider and stronger than we would have otherwise achieved on our own.
It's up to each one of us to keep  the spirit alive, and we remain determined to play our part in bringing about peaceful and democratic change in Algeria. Judging by the extraordinary motivation and tenacity of the people we met at the forum, we retain  great hope that the revolutionary spirit that inhabited our forebears still shines through this generation. Our mission and key challenge is to nurture these sparks within us, spread them far and wide, and work together, Algerians and non-Algerians alike, in solidarity.
The authors are Agerian activists based in the UK and jointly organised  the Algerian Cultural Festival that took place in London in October  2012.
9 Comments
Leave a Reply