Why Avatar is a truly dangerous film
Avatar is widely seen as a 'progressive' film. In fact, argues Hana Shams Riazuddin, it is a classic tale of popular Orientalist discourses on colonialism - where the natives must rely on the white anthropologist to become fully human.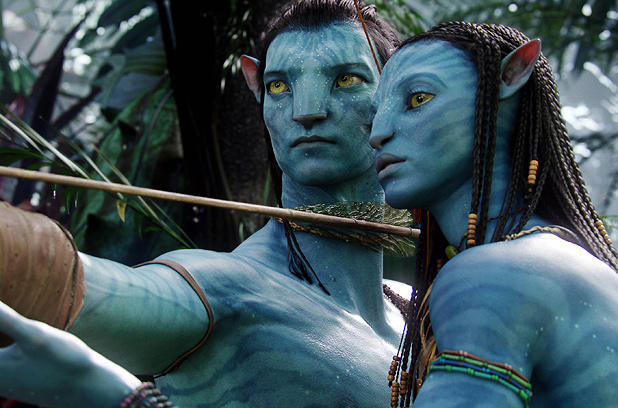 Hana Shams Riazuddin
When James Cameron's Avatar hit American cinemas in December 2009, it saw unprecedented global box office success and critical acclaim. The film's commercial achievements led to its nomination for nine Academy Awards, including Best Picture and Best Director. It eventually won three for Best Cinematography, Best Visual Effects, and Best Art Direction, becoming a renowned visual experience for both its 2D and 3D viewers.
Set in 2154, the film explores the mining of precious minerals called 'unobtanium' on the moon of a gas giant. But the human expansion of the mining colony becomes problematic when it begins to threaten the existence of a local tribe of Na'vi, a sentient humanoid species, indigenous to Pandora.
A team of researchers develop and use genetically engineered Na'vi-human hybrid bodies, called avatars, to interact with the natives of Pandora. The avatars eventually become intrinsic to the resistance and survival of both the tribe and their ecological environment determined by the Tree of Souls.
For Cameron, the film forces watchers to think about the ways in which we interact with nature and our fellow man as the "Na'vi represent something that is our higher selves" and the humans "represent what we know to be the parts of ourselves that are trashing our world and maybe condemning ourselves to a grim future." But this action-packed tale of self-discovery is clearly embedded within a framework and discourse familiar to many across the Third or Developing worlds: that of age-old colonization and imperialism.
Although not new to Hollywood, why is this in fact a much more subtle yet problematic telling of colonial history through animation than its previous counterparts – such as Disney's Pocahontas?
The humans arrived on Pandora divided by the imperial and colonial mission: on the one hand, we see those who advocate a brute force, a type of direct colonization of the 'natives' who live there (in this case the Na'vi), waging war against them in order to extract resources. On the other, we have the employment of an administrative body that is required by the former to produce a type of colonial knowledge that enables the fulfilment of this mission.
This institution is bound in anthropological ethnographic work that allows the researchers to learn the Na'vi with the hopes of producing a type of power-enhancing colonial knowledge. Two characters in particular embark on this journey and occupy a crucial role in the film as imperial scientists and informants, Jack and Grace, who in collecting knowledge simultaneously construct the 'other', or more commonly understood by postcolonial critics as the 'Oriental' (as defined by Edward Said).
When Neytiri, a female Na'vi, rescues Jack from predators in the forest and brings him to her clan's dwelling, what initially struck me was not the image of a ten-foot-tall blue skinned figurine, but the tribal jewellery, African accents, braids, rituals and religious constructions centred around the understanding of nature, mother earth, spirit and energies that are often associated with tribal notions of 'traditional' African peoples, 'indigenous' Indians across the Americas and the 'aboriginals' of Australia.
Such imagery here is not only familiar but in fact assumed in the 'other', and the beautiful graphics fail to go beyond our own imagination, instead reaffirming our premeditated constructions through a familiarized imagery of what 'tribal' peoples look like.
Similarly, we only learn about the Na'vi through their interaction with the avatars, in which, shown through Jack's eyes, we are taken 'back' to a time of harmony and peace unlike the human destructive forces. The Na'vi in all their tribal glory invoke a sense of nostalgia; a nostalgia that simultaneously homogenizes them whilst depriving them of their ability to tell their own story.
Along the way, a few of those undertaking ethnographic research get drawn in and, in anthropological terms, 'go native'. In seeing these natives as people, as humans who have the right to exist by their own ways of living, their own rituals and religious beliefs, they ultimately get caught in between the colonizer and the threatened colonial subject. As all out war is declared, they are forced to choose between the Na'vi and the 'Sky' people (i.e. humans), eventually betraying both sides.
In siding with the 'natives', Jack and Grace play a central role in what can essentially be deemed as a form of anti-colonial resistance. What is crucial in this telling for the fight for Na'vi tribal and ecological survival is the ways in which anti-colonial resistance becomes legitimized through the 'other' becoming human.
This humanization process, however, is only possible through a colonial informant. Jack falling in love with Neytiri comes as no surprise and is seemingly deliberate. The unavoidable and problematic love story allows for an emotional attachment to the characters whilst instantly humanizing the Na'vi people through love.
Love, after all, is an emotion reserved for people as opposed to objects; it is in fact what makes a human a human and not an animal or an alien. Thus Neytiri, like her fellow Na'vi clansmen, only becomes human when Jacks sees her as so, when we the viewers begin to see them as people who have feelings, emotions and lifestyles that are both authentic and legitimate.
The colonial informant simultaneously creates the agency in which this humanization process is able to occur; he establishes the grounds and justification to fight against his own, moving beyond the barbarism or savagery reserved for the Na'vi that the avatars were initially warned of in earlier scenes.
In humanizing the 'other' through his accounts of the Na'vi people, Jack plays a dual role: he provides a force for condemning the colonial and imperial force whilst maintaining and constructing an understanding of the 'natives' as both romantic and ahistorical.
His attempt to regain the Na'vi's trust, forces him into taming a powerful flying predator, uniting thousands of warriors from different Na'vi clans and leads them out to battle. The attempt on behalf of the humans to destroy the hub of Na'vi religion and culture, the Tree of Souls, is the final straw, and Jack submits and assimilates into the Na'vi by responding to a ritual performed by the clan.
The defeat and expulsion of the humans, however, allows Eywa, the mother goddess, to permanently transfer Jake's human body to his Na'vi avatar. As spectators, we finally see him wearing the insignia of the Omticaya leader, presenting the conditions required for decolonization to ultimately materialize.
The Na'vi, like other colonized peoples, are denied of their own agency, and resistance only becomes valid and possible within a colonial paradigm of acceptability. As a result the Na'vi become dependent on Jack, the white, male, human, ethnographic anthropologist as saviour, leading them to a freedom in which he had helped threaten in the first place. There is nothing truly outrageous here even by Hollywood's standards, but what in fact becomes key is that such accounts create a single story of the Na'vi where the 'oriental' is romanticized and ahistorical; the Na'vi come to exist suspended by space, time and tradition and the role of Jack and Grace as anthropologists too occupy a place in colonial history that play into both liberal and much more conservative agendas.
Avatar is a truly dangerous film. With its beautifully shot scenery, seductive graphics and a love story set to melt the hearts and minds of both children and adults alike across the globe, it allows for a successful transmission of a single story that should be familiar to us all: that of colonization and imperialism told by the Western liberal.
It is a constant reminder of the ways in which people of colour have been deprived of agency and thus their ability to tell their own story. Instead they are left in the margins, and not entirely unlike accounts such as the abolition of slavery (that was only awarded meaning through British men like Thomas Clarkson and the 1833 Abolition of Slavery act), they remain peripheral to their own fight for liberation.
Media is undoubtedly the most powerful medium in our life time, capable of transmitting and normalizing global hierarchies into daily life of an overwhelmingly large and varied audience like never before. If we teach our children to critically think beyond the exciting graphics and images sold to them, they will begin to a decipher a story that is very much attempting to socialize them into feeling powerless, that forces them to give into a single story told about them and that is enforced upon them. Only then can they resist such colonial images in order to create their own agency, to search for their own history and most importantly to ask 'who am I and where do I exist?'
Despite Cameron's intentions and my fellow spectators who insist it is just a film, Avatar for me is a constant reminder of the amnesia that accompanies accounts of Western colonial and imperial histories, dictating my place in this world. So no, for me Avatar is not just a film, and I will not switch off to switch onto a few hours of mind-numbing entertainment that undermines my existence.
My ability to critically think is, indeed, worth much more than that.
23 Comments
Leave a Reply