Arts & Culture | Wake On The Wild Side: Lou Reed memorial held in London
On Sunday afternoon, friends and fans gathered in London for a memorial service in honour of Lou Reed, Legendary frontman of the Velvet Underground, who passed away last week.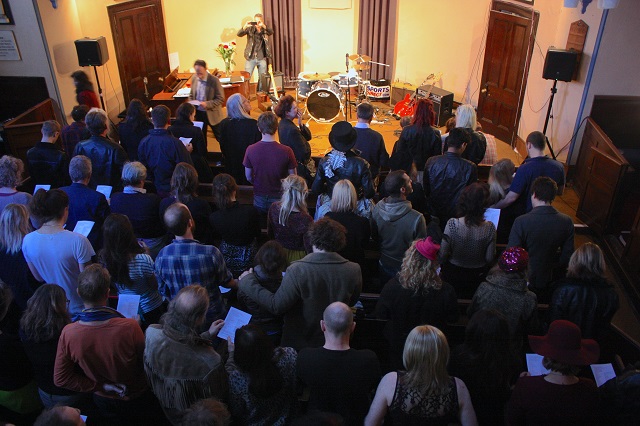 "When the smack begins to flow, then I really don't care anymore" a man recites in front of a packed chapel in north London choking back the tears. This is not your ordinary Sunday afternoon church service. Instead it is a memorial for Lou Reed, held a week after the musician's death.
The hastily organised service – dubbed the Wake On The Wild Side – drew 160 people from across the country many of whom performed Lou Reed songs, recited his lyrics or shared memories of the Velvet Underground front man.
Beginning with a heartfelt rendition of Perfect Day, sung by two sisters accompanied on the piano, and finishing two hours later with a rousing sing-along version of Sweet Jane, the Wake on the Wild Side was a surprisingly uplifting celebration of a remarkable man.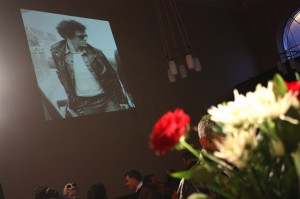 Readings were interspersed with performances by bands and musicians with song sheets given out for audience members to sing along to Satellite of Love, Sunday Morning and Walk on the Wild Side. Performers who had known Lou Reed took to the stage. People who had worked with him or known him personally spoke from the floor. At one point meditation music made by Lou Reed was played and the congregation closed their eyes, concentrated on their breathing and meditated.
There was something fittingly subversive listening Lou Reed's gritty tales of drug pushers, junkies, drifters and prostitutes in a beautiful 18th century chapel whose walls had been decorated with Lou Reed posters, messages of remembrance. and 30ft images of the singer projected onto the chapel's walls.
It had all begun a week earlier with a tweet posted by the chapel's atheist minister Andy Pakula which read: "Would anyone like to organise a rocking memorial service for Lou Reed? I'll supply the north London church." I responded to the Tweet we had met the next day to turn the idea into a reality.
Places for the free event were booked-up in under 48 hours and Lou Reed fans ranging from young hipsters to aging punk-rockers came forward to help put the wake together. Some set-up the sound system and projector whilst others built the stage and decorated the chapel. A local pub offered to host an after party and a DJ turned up there with his decks and a seven hour playlist. Nick Cave sent his apologies and Salman Rushdie tweeted on Tuesday to say that he would not be able to attend as he was in New York.

"What made this event so powerful was that it gave people a chance to say goodbye to someone who had played an important part in their lives" said Andy Pakula after the service. "A lot of the people here today felt that Lou was talking to them and he made it OK for them to be themselves. He also taught people to live the whole thing. The parts that suck and the parts that are painful. The part where we live and the part where we die."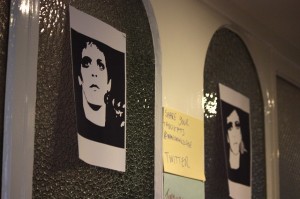 This was reflected on the wall of remembrance which was filled with over one hundred messages to Lou Reed. One man wrote: "In my darkest moments and in the lightest moments of my life Lou Reed's music spoke to me, soothed me and made me feel at peace with myself." A woman wrote: "How beautiful you were Lou. You were totally out there and not afraid to take it right to the edge. You helped us explore the darkest corners of our minds and souls and brought it back to us with fresh eyes and said 'this is real.'"
Another man wrote:"When I listen to Heroin it articulates so poignantly so many things inside of me, encapsulating all of the anger, frustration, chaos and ecstasy that bubbles under my skin. I have a job that I don't really like but I put on Heroin and turn it up really loud and it is like nothing else matters."
A bigger Wake on the Wild Side is being planned in London for 2014. Follow @wakeonwildside
(Photos credits: Neelam Vela)
1 Comment
Leave a Reply