Special Report | The UK's invitation to Narendra Modi is an endorsement of human rights abuses
The forthcoming visit to the UK by Narendra Modi, one of India's most controversial politicians, sends the wrong message about the UK's respect for human rights.
By Aisha Maniar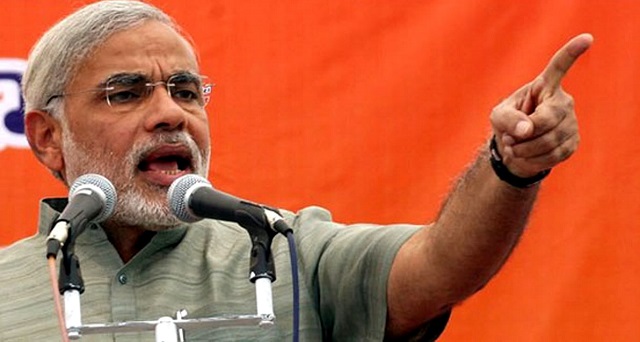 In 2011, the British government passed a new law restricting the issue of arrest warrants for foreign officials visiting the UK who are accused of war crimes and other crimes against humanity, under what is known as "universal jurisdiction" in international law. This political interference in the judicial process was a response to the issue of arrest warrants on two occasions for Israeli officials, including former foreign minister Tzipi Livni, for war crimes against Palestinians. Although the change to the law was clearly prompted by Israeli pressure, campaigners at the time warned that war criminals from other states would also benefit from the impunity this law offers.
One person who may well benefit, should he accept his invitation to address the House of Commons, is Indian politician and Chief Minister of the west Indian state of Gujarat, Narendra Modi. Considered by many to be "one of the most polarizing political figures in India", he represents the hard-line Hindu nationalist BJP (Bharatiya Janata Party, Indian People's Party), India's second and main opposition party, which owes it success to divisive politics, attacks on and discrimination against India's minority groups, singling out Muslims in particular.
As chief minister of Gujarat, a post he has held since 2001, he is widely considered to be the main architect of the violence that took place over several months in the state in 2002, leading to the deaths of at least 2000 people and the displacement of almost 200,000 more, mainly Muslims. On 27 February 2002, a train carrying Hindu pilgrims was attacked and set on fire in Godhra, killing 59 people. Reports spread that Muslims had set fire to the train, leading to months of anti-Muslim rioting across the state.
In February 2011, a Gujarat court convicted 31 Muslims and acquitted 63 others of involvement in the attack, even though the cause and facts of the attacks on the train have yet to be conclusively established. A commission set up by the state government backed up its version of events, whereas two independent inquiries, one led by a former judge, found the fire to be accidental and to have started inside the train, but were rejected.
Far less effort has gone into investigating and prosecuting the ensuing violence. Eyewitnesses, police officers, investigators and others have reported that the violence was not a spontaneous response, but was orchestrated by a number of Hindu fundamentalist groups and facilitated by the state authorities. In some cases, the police are reported to have watched as property was burned and individuals were brutally murdered.
One of the more vicious aspects of the violence was the systematic and brutal gang rape of hundreds of Muslim women and girls, many of whom were later burned alive. More than a decade later, at least 16,000 displaced people remain in makeshift relief colonies, often without basic amenities, such as sanitation, electricity and roads. Many are still too frightened to return to their towns.
In a report last year to mark a decade since the violence, which many have called a "pogrom" and even "genocide" due to its systematic nature, Human Rights Watch (HRW) accused the Gujarat state authorities of "subverting justice, protecting perpetrators, and intimidating those promoting accountability." HRW reports that lawyers and investigators have been intimidated, as have witnesses.
Where prosecutions have been successful – and these have been far and few between – they have either been facilitated by the Indian Supreme Court or held in the neighbouring state of Maharashtra. Some prosecutions have been of senior political and police figures and many cases have set legal precedents. There have been inadequate reparations for victims. Several attempts have been made to prosecute Modi too for his part in the violence, but remain unsuccessful to date.
Communal violence is not uncommon in India; Sikhs, Christians and lower-caste Hindus are also victims. However, the violence in Gujarat in 2002 set a new yardstick in terms of scale and organisation. The state authorities' refusal to investigate and establish the facts of what happened have not resulted in overall acceptance of its narrative and, instead, has allowed conspiracy theories to flourish, fostering further community conflict and division. Indeed, many believe the attack on the train in Godhra itself was orchestrated to set the resulting planned chain of events into motion. The situation has not improved for Muslims in Gujarat in the past decade or so, or for other minorities. Attacks on Christians are reported to have increased and discrimination against minorities remains in housing, education, employment and access to basic facilities.
Narendra Modi is also accredited with the success of Gujarat in India's economic miracle, opening up the state to foreign investment and the growth in the manufacturing sector. However, the BJP's traditional focus on discriminatory policies against minorities and victimising Muslims cannot cloud the fact that Gujarat's economic success has not translated into progress for the overwhelming majority of its population. With respect to its growth rate and GDP, poverty rates remain very high and many residents do not have access to basic amenities or adequate roads and medical care and education. The situation of women has not improved and farmers are also unhappy with Modi's trade plans that see agricultural lands sold cheaply to foreign companies.
With parliamentary elections due next year in India – which would see Narendra Modi become the prime minister of the world's largest democracy should the BJP win – he has been on a PR offensive for the past year. This has included his efforts to make amends with all communities, including Muslims. Many remain unconvinced nonetheless. Modi denies discriminating against minorities and in June, the BJP president called on Muslims to forget about the riots – impossible to do when so many still live with the consequences.
In spite of the aggressive media campaign, Mr Modi remains a divisive figure. Needing as much support as he can get, he has turned abroad, seeking to boost his reputation within the Indian diaspora and potential trade partners. Lobbying by BJP supporters has worked in some places, with the European Union withdrawing a travel ban in March and the UK lifting a 10-year travel ban in October 2012. A ban remains in place in the US.
For the British political establishment, trade trumps all human rights concerns, as amply demonstrated by Britain's relations with the former Gaddafi regime in Libya. The invitations recently extended to Modi by Brent North MP, Barry Gardiner, whose north London constituency includes a sizeable Gujarati community, both Hindu and Muslim, to address a meeting at the House of Commons on the future of modern India, and by Shailesh Vara, Conservative MP for Cambridgeshire North West, probably come on the back of lobbying by BJP activists in the UK. For British politicians, it is all about trade.
This invitation, tantamount to an endorsement of Mr Modi's policies, comes at a critical conjecture. Whether or not he accepts it, it will help to raise huge funds for his campaign as well as drumming up support both at home and abroad. In spite of the alleged anti-colonial roots of the Hindu nationalism he espouses, this endorsement from the parliament that once controlled India will no doubt reflect as positive support at home, lend legitimacy to his policies, and help to boost his reputation as an international player.
While the UK denies this is an endorsement of his past actions and human rights violations, there is also a benefit for Mr Gardiner in currying favour with sections of his own constituency, both in terms of votes and donations, with the campaign starting to warm up for British parliamentary elections in 2015.
In view of similar human rights abuses continuing to take place in neighbouring Myanmar and Sri Lanka, on different scales, and the Sri Lankan government's refusal to investigate and own up to its human rights abuses against Tamils in the recently-ended civil war there, this invitation sends the wrong message to the whole region. Indians in the United Kingdom, of different religions and none, have already raised their objections to the invitation of Narendra Modi, a politician who on many occasions has been likened to Hitler, both within and outside India.
A petition has been set up asking British political leaders to withdraw the invitation: and a demonstration will take place outside Barry Gardiner's surgery on Monday 9 September at 11:30-1pm at the Brent Civic Centre in Wembley:
2 Comments
Leave a Reply