Comment | The tone-deafness of privilege: Justin Timberlake at the Super Bowl
Justin Timberlake's Super Bowl performance last night was a bitter reminder of the American cultural establishment's shameful mistreatment of an iconic black female artist, and his complicity in it, writes Ali M. Latifi.
By Ali M Latifi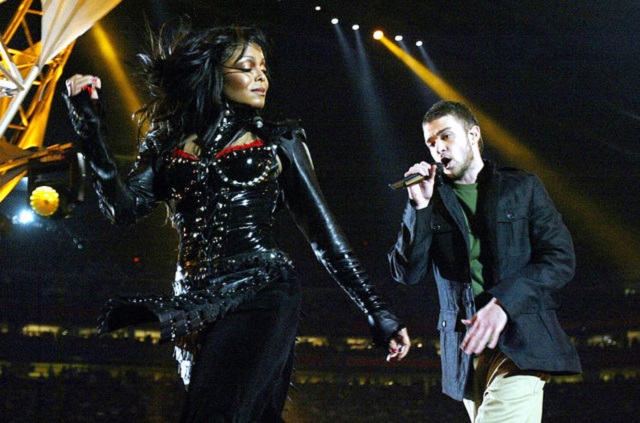 For much of the past 14 years, Janet Jackson has been plagued by taunts, jokes and references to the 2004 Super Bowl, when the course of her iconic career was forever changed during a performance of Justin Timberlake's 2002 single Rock Your Body.
In the final seconds of her headlining performance at the Super Bowl XXXVIII halftime show, the ex-boybander ripped a piece of Janet's Alexander McQueen-designed bustier, leaving the megastar's right breast momentarily exposed. It was a single moment lasting less than a second, but it had a devastating impact on Jackson's career.
The fallout was immediate. Janet was quickly banned from performing at the Super Bowl again, disinvited from the 46th annual Grammy Awards that year (where she had been asked by her one-time duet partner Luther Vandross to introduce a tribute to him), and was blacklisted from MTV, CBS and all Clear Channel Communications-owned outlets.
While Jackson was left to suffer the blowback, Timberlake refused to acknowledge his role in an incident that would derail Janet's career for nearly a decade. Speaking to reporters before the Grammys, to which he was still invited, Timberlake showed few signs of contrition. "I'm frustrated that my character is being questioned. And the fact of the matter is, you know, I've had a good year, a really good year, especially with my music," he said.
He went on to try and pass the blame onto Janet. "I was under the impression of what was going to be revealed was a red brassiere, a bustier," he said while explaining that he had been on tour in the lead-up to the Super Bowl and only found out about the "costume reveal" before the show itself.
MTV's then-Chief Executive, Tom Freston, tried to accuse Janet of "orchestrating" the so-called "wardrobe malfunction," even though in the footage it is quite clear that both she and Timberlake were shocked when her breast was exposed. After all, Janet quickly covered her breast, an act which seems to fly in the face of claims it was all a publicity stunt.
With each passing year, it became increasingly evident that the music establishment — which, for decades, had helped propel Janet's legendary career — had turned their collective backs on her. Her flourishing career had been dealt a seemingly irreparable blow. Prior to the Super Bowl, she was riding high. Her 2001 single, 'All For You', earned Janet the title of "Queen of Radio" by MTV after it was added to every pop, R&B and urban radio station in its first week of release. That unprecedented feat was followed-up by a seven-week run at the top of the Billboard Hot 100. The single later went on to win Best Dance Recording at the 44th Grammys. The follow-up single, 'Someone to Call My Lover', spent three consecutive weeks at number three on the Hot 100. Practically every outlet that had banned Janet following the Super Bowl were in full support of her career only a few years prior.
Justin Timberlake, the white male pop star whose song was being performed at the time of the controversy, faced no such backlash. Not only did his career go on to flourish, but he was the headliner for the 2018 Super Bowl halftime show last night, also releasing new music ahead of the performance.
The October 22 announcement of Timberlake as Superbowl headliner led to an immediate outcry, especially among Jackson's fan base who felt Timberlake, then still a fledgling solo star, sold out the woman he himself recognized as an icon in a 2001 MTV special. Angry fans immediately took to Twitter with the hashtag #JusticeforJanet.
To add insult to injury, Timberlake's 2018 performance included 'Rock Your Body', the same song that almost destroyed Janet's career. Just before he reached the lyric where the controversial episode occurred in 2004, he shouted 'Stop', winked and moved on. There was no apology and no acknowledgement. The whole thing was treated as an in-joke.
At the heart of the issue for many of Jackson's longtime supporters, of course, is the fact that the white man responsible for ripping the garment during a performance of his song, was quickly forgiven, while the black female legend saw her career nearly destroyed by the controversy.
The racial implications of the difference in treatment of the two pop stars did not go unnoticed. For years, Timberlake had to face charges of being an arbiter of "blue-eyed soul," which some see as a form of appropriation of traditionally black music by white artists. From the onset of his solo career, Timberlake had to deal with accusations that he borrowed too much from the playbook of Janet's older brother, the King of Pop, Michael Jackson.
Timberlake's clumsy, wish-washy attempts at half-apologies over subsequent years did little to help matters. In a 2007 interview with MTV (from which Janet was still banned), he had this to say about the event that would forever be known as "nipplegate":
"In my honest opinion now … I could've handled it better. I'm part of a community that consider themselves artists. And if there was something I could have done in her defense that was more than I realized then, I would have … I probably got 10 percent of the blame, and that says something about society. I think that America's harsher on women. And I think that America is, you know, unfairly harsh on ethnic people."
In an odd semi-admission, Timberlake seems to acknowledge his privilege, while simultaneously putting it on full display by using the term "ethnic people" to describe one of the most famous black entertainers in music history.
But, the truth is he did nothing to help a woman who had done so much to support his own career.
Remember, it was Janet who gave NSYNC (Timberlake's pre-solo band) an opening slot during her 1998 Velvet Rope World Tour. Janet also appeared on his 2002 solo debut, Justified. Michael Jackson, another of Timberlake's idols, appeared during NSYNC's performance at the 2001 MTV Video Music Awards. The Jacksons, it seems, were in full support of Justin and his bandmates, but in subsequent years it became readily apparent that Timberlake was not nearly as dedicated to returning the favour.
There was even speculation that part of Timberlake's verse in Timbaland's 2007 single 'Give It To Me' was meant as a diss towards Janet and her explanation of the so-called "wardrobe malfunction." In what Nelly Furtado, who was also featured on the single, called "the first ever pop dis song," Timberlake sang:
"Could you speak up and stop mu-mumbling, I don't think you came in clear,
When you're sittin' on the top, It's hard to hear you from way up here,
Now I saw you tryin' to act cute on TV, 'Just let me clear the air…'
We missed you on the charts last week, Damn, that's right you wasn't there."
Timberlake's verse also led to another controversy in the song (which Furtado now says she regrets recording) when it was alleged that the line "Now if se-sexy never left, then why is everybody on my shi-i-it? Don't hate on me just because you didn't come up with it," was directed at Prince. Once again, Timberlake was accused of being ungrateful to his pop idols.
In yet another ironic twist, Timberlake held the release party for his Man of the Woods album at Prince's Paisley Park estate. Timberlake's performance at the 2018 halftime included a Prince projection, after initial rumours it would be a 'hologram' (leading to anger from Prince's family), which again confirms Timbelrake has no self-awareness.
As Maeve McDermott of USA Today put it, "Timberlake needs to apologise because he played a role in hijacking" Janet's pop legacy. Not only did the controversy surrounding the Super Bowl end Janet's streak of number one albums — her 2004 album Damita Jo, released a month after the performance, debuted at number two — but her follow-up, 2006's 20 Y.O., opened with lower figures than its predecessor. Again, the singles failed to gain proper airplay on radio and on MTV, due to the ongoing blacklisting.
All this came at a time when Timberlake's career was skyrocketing. His second solo album, FutureSex/LoveSounds, released the same year as Janet's 20 Y.O., went on to sell four million copies and produced three number one singles.
In 2014, after nearly a decade of backlash and ridicule aimed at Janet, former Federal Communications Commission chairman Michael Powell admitted to ESPN that the commission he headed at the time had treated Jackson "unfairly."
"In reality, if you slow the thing down, it's Justin ripping off her breastplace," Powell said.
But by then, his words were too little, too late. In recent years, Janet's career saw some slow recovery, and her iconic status is once again beginning to be recognized, but Timberlake has done little to make good on his 2007 statements.
For many of Janet's fans, Timberlake's white privilege once again poked its head in his response to a speech by actor Jesse Williams during the 2016 BET Awards. Accepting the Humanitarian Award, Williams had said: "This is also in particular for the black women in particular who have spent their lifetimes dedicated to nurturing everyone before themselves. We can and will do better for you."
Timberlake, with seemingly little sense of the irony, tweeted that he was "#inspired" by Williams' comments. It didn't take long for the clap backs. One user asked Timberlake if he enjoyed Williams' reference to "white people stealing from us."
"That should resonate with you," the commenter said in reference to the accusations Timberlake has long faced of appropriating black musical styles and culture. Then came the references to Janet.
Journalist Ernest Owens put it quite simply, when he tweeted at Timberlake: "So does this mean you're going to stop appropriating our music and culture? And apologize to Janet too."
Rather than copping to leaving one of his idols out to hang, Timberlake turned the tweet into a "Twitter war" that once again highlighted his lack of acceptance of responsibility for the Super Bowl fiasco and the subsequent damage to Janet's career.
But the embarrassment from his complete lack of self-awareness didn't end there.
Last month, Timberlake faced yet another backlash when he posted a picture with his wife, Jessica Biel, on the way to the Golden Globes with the caption: "Here we come!! And DAMN, my wife is hot! #TIMESUP #whywewearblack."
The backlash was immediate. Some users referred back to the 2004 Super Bowl. Some pointed out the ironic misogyny of his comment about his wife while donning a #TimesUp pin. Others pointed out Timberlake's willingness to work with Woody Allen, who's been accused of molesting his adopted daughter, Dylan, in 1992, when she was seven-years-old.
The most epic burn, however, came from Dylan herself. When Timberlake sent another tweet asking the meaning of the saying "have your cake and eat it too", Dylan replied:
"The saying means, for example, you can't support #TIMESUP and praise sexual predators at the same time. You can't retain your credibility as an activist (i.e. – retain the cake) and, at the same time, praise a sexual predator (i.e. – eating the cake)."
Now, 14 years after Justin tore Janet's bustier, he was rewarded with his third opportunity to perform at the Super Bowl Half Time show, all without ever issuing a clear apology to one of his idols, a woman who had been so supportive of his career.
Meanwhile, the NFL, it seems, has yet to let go of its grudge against Janet, a fact that was pointed out by her sister LaToya after Coldplay's performance at Super Bowl 50 in 2016.
"The energy of #SB50 #PepsiHalftime show was great! Beyoncé Coldplay and Bruno Mars!👏🏽👏🏽👏🏽 But what happened to Janet Jackson in the montage," she tweeted shortly after the broadcast.
Still, there may be a silver lining. Timberlake is currently receiving some of the worst reviews of his career for his new album Man of The Woods. In an ironic twist, he has also had to deny rumours that Janet would be joining him at the U.S. Bank Stadium in Minneapolis.
The merits of Janet's performance prior to that single second in 2004 have been erased, while Timberlake is yet again being rewarded without ever truly being held to account for a controversy he helped create during a performance of one of his songs. Janet's breast may have been exposed for a brief second, but that one moment managed to put Timberlake's white male privilege on glaring display for more than 14 years now.
Leave a Reply