Theatre: 'The Duchess of Malfi'
"After seeing a man strangle a woman with a telephone cord he then dragged me into a room, locked the door behind us, he then sat me in a chair, took off my mask and stared into my face. I had actually paid for this experience, and this is exactly the kind of thing I was hoping would happen." Catherine Oshea reviews the 'Duchess of Malfi', the latest offering in 'immersive' theatre production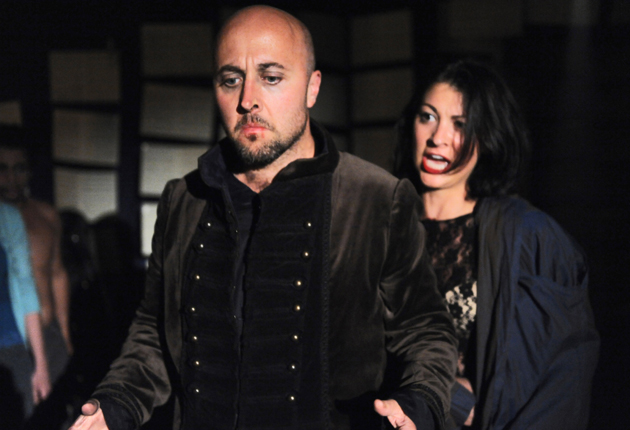 'The Duchess of Malfi'
Eno & Punchdrunk
13 Jul – 24 Jul 2010
by Catherine O'Shea
After seeing a man strangle a woman with a telephone cord he then dragged me into a room, locked the door behind us, sat me in a chair, took off my mask and stared into my face. I had actually paid for this experience, and this is exactly the kind of thing I was hoping would happen.
On the 24th July I had gone to see Punchdrunk and the English National Opera's new collaboration 'The Duchess of Malfi'. Since 2000, Punchdrunk have been producing site-specific immersive theatre and have attracted a cult following. The tickets for this production sold out in one day, during most of which the website crashed with people trying to get tickets. It's the kind of following more often associated with music than with theatre.
To see the show you got the Docklands Light Railway to practically its most easterly point, Gallions Reach station, and then follow a map to a disused office block a few streets away. On your way in you are given a white, rather grotesque looking, mask to wear as you explore the performance space. This gives you as an audience member anonymity, and you have the freedom to explore the entire building. The space is decorated in an incredible amount of detail. At first you walk into various different rooms where there are pictures, desks covered with papers, science laboratories. There are various articles about lycanthropy – the condition where a man thinks he is a werewolf – and then there is a room with scratches across the wall where some kind of human has been contained. I wandered for a while through these rooms up into one of the central areas where there are church pews and then through forests created out of sheets of music. I saw a man in a lab coat with no mask and followed him for a bit (the performers were starting to filter in). I then watched a man and a woman, in a version of period dress, dance against each other through the glass partition which – clearly – used to section off someone's office. For me it is the physical elements of Punchdrunk's way of working as well as the incredible sets that are most effective.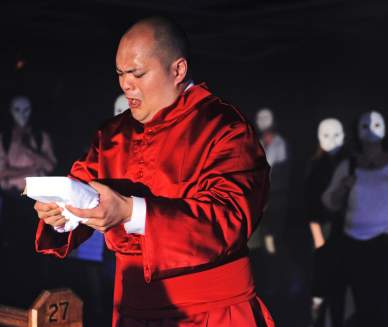 I wandered a bit more and saw the orchestra members taking their places. This production included a 69-piece symphony orchestra whose members also roamed the space alongside the many opera singers and performers. The orchestra took off their black masks and prepared to play. (It temporarily ruined the illusion for me that some of the orchestra did not look engaged with what was happening: as they were preparing to play a key dramatic scene from Torsten Rausch's score and as the performers were about to sing from Ian Burton's libretto, an orchestra member in the front row yawned and scratched her foot. When everyone you can see forms part of the experience it is vital that everyone follows the aesthetic. Some of the orchestra members were, however, very involved, a clarinettist played a vital part as a performer and I saw her at various points interacting with other performers while playing the clarinet.)
I spoke to a few people afterwards who thought the opera did not work as well with Punchdrunk's usual style. But though perhaps strange at first, I did find the use of opera very effective: for me it is always the smaller moments in a Punchdrunk show that I enjoy most. Although the moments of big dramatic spectacle surrounded by a big crowd are affecting, I prefer it when I have followed one or two performers into a small space and witness something up close. Such as the moment I described at the start where the Cardinal threateningly dragged and locked me in a room. The fact that he was singing opera to me only added to the horror. A similar thing had happened when I was watching Punchdrunk's 'A Masque of the Red Death' and got into a physical struggle with a performer, also in a locked room.
I heard in advance that to follow the story you should follow the orchestra conductor. For me Punchdrunk's work is not about following one central story but about the stories you hunt out for yourself. And though I do know the plot of 'A Duchess of Malfi', I wasn't thinking about which part I was witnessing, or how it fits together, but was focussed on the individual experiences. The final moment of this production, when the audience is led into a big hall, was truly impressive and cinematic in scale. I left this office block in Newham with a feeling of awe, blinking to be out in the sunlight again.
Catherine O'Shea is a playwright. She works for Greenwich and Lewisham Young People's Theatre writing plays and teaching drama and creative writing. She has recently completed the Royal Court Young Writer's Programme. Her play 'Fit for Purpose' on British detention centres will be on at the Edinburgh Fringe in August 2011.
Leave a Reply