Theatre Review: All My Sons (Apollo Theatre)
The latest production of Arthur Miller's All My Sons is a "revival of a revival", by the same team that produced its previous National Theatre staging in 2000. It is a tale of two grieving parents (David Suchet and Zoe Wanamaker) of a World War II pilot assumed dead in combat seven years previously, who have to face up to the truth of their past over the course of a single day. The production has received impressively unanimous critical acclaim. Gareth King went to see it and discovered why.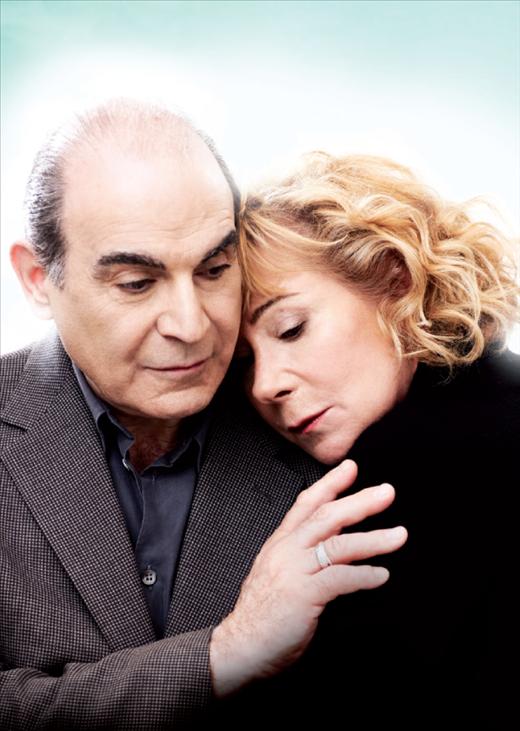 All My Sons Apollo, London Until 11 September Box office: 
020 7494 5070
By Gareth King
I am actually going to begin this piece by saying that, should you already plan to see All My Sons, then read no more and just go. I won't be dropping in any major plot points, but this is best seen totally afresh and you could probably get the main jist of what I'm about to say by digging out your thesaurus and looking up the word 'brilliant'. This is, hands down, one of the finest productions I have ever seen at the theatre. I wholeheartedly agree with the gushing raves from many critics, and judging by the rapturous standing ovation at the end of our performance I was not the only one to feel this way.
This is actually a revival of a revival, with director Howard Davies and much of the same creative team having helmed a similar production of Arthur Miller's 1947 play at the National Theatre in 2000. Back then it was James Hazeldine and Julie Walters who took on the roles of Joe and Kate Keller, the grieving parents of a Word War Two pilot assumed dead in combat seven years previously, who have to face up to the truth of their past over the course of a single day. Now it is up to David Suchet and Zoe Wanamaker to fill their shoes, something which they do with great aplomb.
Suchet has the larger role of the two, and as the kindly lynchpin of both the Keller family and the local neighbourhood he excels in what could well be a difficult role in lesser thesp hands. Like many people I mainly know him as Poirot, and shamefully thought he could well be a moustache-twiddling one trick pony, but in this he was unrecognizable. I can't quite remember seeing a finer performance on stage, and if they can't start engraving his name on the Olivier award right now I would be very surprised.
Similarly Zoe Wanamaker – best known to this philistine as both Madame Hooch from Harry Potter, and for grinning and bearing it in the sitcom My Family – is fantastic as Kate. The opening scene involving solely her is pure theatre magic, and she manages to add a very real human element to the areas of the script when her character may otherwise become somewhat melodramatic. The fact that she manages to hold her own against Suchet is achievement enough.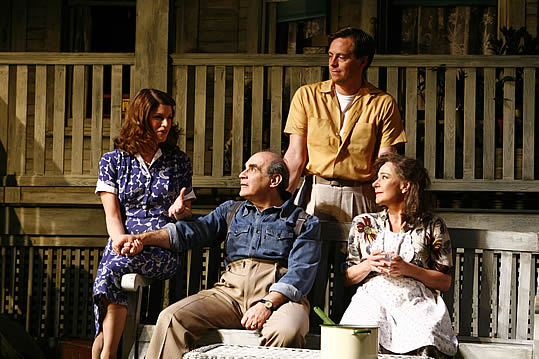 Although the cast feels luxuriously large, the other roles of major size are that of the Kellers' remaining son (played by Stephen Campbell-Moore), and his new fiancé (Jemima Roper), who was previously engaged to his deceased brother. Campbell-Moore took a while to grow on me, although it's not until the after the interval where he was truly allowed to shine. He also had my sympathies for wearing the most hideous and unflattering pair of trousers I have ever seen on a man, something which may or may not have helped him bring such authenticity to the later emotional scenes.
Jemima Roper also puts in a decent performance, but she did begin to grate on me after a while – something which I can't quite work out if it was down to her or the character. She's a good actress, but this was the only part I found myself thinking of alternative casting for (I might have given Gemma Arterton's agent a call, if I was in charge of that sort of thing).
Kudos should also be given to the magnificent set, which brings the Keller's back yard perfectly to life and really helps you think that you are there with them. Designer William Dudley has done absolute wonders, and after the huge success of Jerusalem the Apollo continues to corner the market when it comes to great plays with real grass.
For those unfamiliar with All My Sons I won't spoil any of the final revelations, but what unfolded left me as a weeping wreck of a man. I've not cried at the theatre since a (frankly irresponsible) trip to Phantom of the Opera when I was seven, yet here I wept bucketloads and I certainly wasn't the only one.
The power of the script, performances and this production combine to make All My Sons the theatre ticket of the year so far, and I would urge anybody to see it if they get the chance.
All My Sons is booking at the Apollo Theatre on Shaftesbury Avenue until October 2nd.
Gareth King, a writing student and theatre fan, graduated from the MA Scriptwriting Course at Goldsmiths.
Leave a Reply