Theatre Review: Clybourne Park (The Royal Court)
Bruce Norris's new play, currently showing at the Royal Court theatre in London, examines the intersection between race and property by focusing on one Chicago house over a 50-year period. It's an intriguing set-up, but does it work? Musab Younis, Ceasefire's Deputy Editor, went to find out.
Theatre - Posted on Sunday, September 12, 2010 6:06 - 0 Comments
CLYBOURNE PARK
THE ROYAL COURT THEATRE
26 August – 2 October
By Musab Younis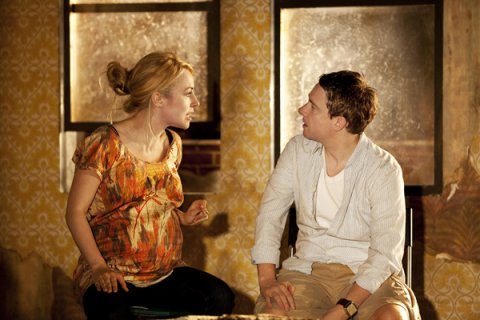 How many times have people complained about the failure of the black or Asian communities in their city to "integrate" – and then put up a 'For Sale' sign at the first hint that one of these families might be moving into their area?
It's quite rare to catch this kind of thing in action, but the BBC did in an intriguing episode of Panorama aired in 2007, which looked at racial segregation and racism in Blackburn, Lancashire.
During the episode, a man is interviewed at his front door about why he is moving out of the area. "My daughter was offered a place at the local school," he says. "We felt that would have been an inappropriate setting for her. She would have been in a class largely with … children from Asian backgrounds." To which the presenter responds: "So you're part of a process of white flight?" The man shrugs. "If you want to put it that way."
White flight, and its symbiotic opposite, gentrification, are the subjects of a superb new play by Bruce Norris, Clybourne Park, currently showing at London's Royal Court.
It's 1959 and a white couple, Jim and Bev, are selling their house for reasons which revolve around their son, who fought in Korea and did not benefit from the experience. The place is going cheap, which means a black family have been able to afford it – the first black family to move into the area. They haven't moved in yet though, and Jim and Bev's neighbours are determined to reverse the sale. Fast-forward fifty years to the second act, and another white couple, Lindsey and Steve, are planning to buy the same house in a now mostly-black area, demolish it, and build another in its place. The black neighbours aren't happy about the plans, ostensibly because the new house will tower over the old ones. But bubbling under the surface is resentment at the gentrification of the area.
The Royal Court has a reputation for taking on fairly risky material, and in the scheme of things Norris's play is, though excellent, inoffensive. But I think they still deserve some credit for putting this on pretty much directly after the end of their extended run of Roy William's Sucker Punch, which was also 'about' race – something other established theatres would baulk at (especially if, like the Royal Court, they were located in Sloane Square). With this, the Royal Court continues to build on its deserved status as the premier location for new material that is both socially-relevant and high-quality – and they've done well to maintain this in the face of detractors.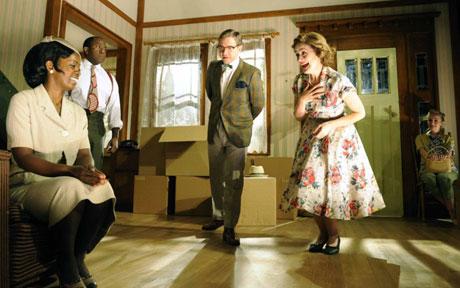 I say inoffensive, but I mean that in the kindest possible sense. While the direct issue at hand – that of the house sale – only emerges gradually in the first act, the gently patronising attitude of Bev toward her black domestic worker, Francine, is immediately evident. A few decades later and the laboured racial divisions are gone – or at least, they appear to be.
It's here that Norris's skill in subtly unwinding subtext becomes apparent. The stiff politeness of the fifties black couple is well scripted and acted, but few people in today's audiences are likely to have lived in societies of open and legally-entrenched segregation. It is by extending the play to the present that Norris makes his bravest move. The formality is now gone, but is Kevin, the black neighbour, a little over-friendly? And is his wife, Lena, a little uncomfortable? As the act unfolds itself, these niggling tensions flower in ways that are both unexpected and unsurprising: a testament to the strength of the writing.
This production is crammed with strong performances, but Martin Freeman (perhaps most well known for his role as Tim in BBC's The Office) is really exceptional in both his roles. He gets many of the self-incriminatingly funny lines that Norris loves to write, and delivers them with real understated panache. As Steve in the second act – a white liberal who is uncomfortable with racism, but feels somewhat hounded by political correctness – he is superbly, rather uncomfortably, accurate. Sarah Goldberg is also excellent, especially as Steve's pregnant wife Lindsey, and Lucian Msamati gives a direct and very funny performance as both Albert and Kevin. Designer Robert Innes-Hopkins and Lighting Designer Paul Constable should be credited for stage design that is visibly careful without being at all obtrusive.
It would be remiss of me to leave the review at that, because it would imply an altogether too serious production. Clybourne Park deals with serious things, but it is very entertaining and amusing throughout – I've been to stand-up comedy nights which drew less laughter from the audience than this, and the second act especially becomes quite raucous. As long as you don't spend time wondering whether one or two audience members are finding a couple of the jokes a little too funny, you'll have a great time seeing this. As you should.
Musab Younis is the Deputy Editor of Ceasefire.
Leave a Reply