South of The Border – The view from Latin America
In the news this week in Latin America: Trouble on the Colombia-Ecuador border, Journalists get caught up in Mexico's drug war, Chile's trapped miners continue to wait for freedom and much more. Ceasefire correspondent Tom Kavanagh delivers his weekly round up of what's been going on south of the border...
By Tom Kavanagh
18 FARC guerrillas killed in confrontation on Ecuadorian border; 22 die in subsequent bombing raid
At least 18 militants from the Revolutionary Armed Forces of Colombia (FARC) were killed by state forces in a battle near the San Miguel river in the state of Putumayo in the Ecuador border region on Sunday. General Óscar Naranjo, the director of Colombia´s police force, travelled to the region in the company of defence minister Rodrigo Rivera in order to assess the situation. The dead are presumed members of the FARC´s Front 48, which claimed responsibility for a 10 September attack on a local police barracks which killed eight officers.
The United Nations had accused the FARC of war crimes following the attack on the barracks, with allegations that guerrillas used explosive gas cylinders to attack the police compound, placed explosives on the corpse of a dead officer and planted landmines prior to retreating. The UN expressed concern that guerrilla-related violence was apparently on the rise in the south of the country, with at least 56 police, military and guerrillas killed and 52 wounded in the first half of September, the majority of them state troops.
Later on Sunday afternoon a bombing raid by the Colombian Air Force killed at least 22 militants in the same region, with Defence Minister Rivera affirming that the operation "is still developing", confirming that he would move control of any action taken against armed groups from Bogotá to an undisclosed location closer to the theatre of conflict in the country´s south. Colombian armed forces bombed at least three separate rebel encampments in an area of dense jungle, with the possibility that the number of deceased will rise in the coming days. President Juan Manuel Santos congratulated those who had taken part in the air raid, saying that "this shows the country, but overall it shows the outlaws, that the political forces are not letting their guard down, on the contrary, we are responding to their intention to harm us and to look like lions when we know they are rats who use terrorism to make a lot of noise."
Santos´ government had commended Ecuadorian collaboration in the raid, but just hours later diplomatic representatives from Quito were denying that Rafael Correa´s government had played any part in the bombings. Ecuador´s Security Minister, Miguel Carvajal, denied that his government had been involved in providing logistical support to Colombian forces. "We did not intervene in any operation, we maintained our presence in our territory and there were no joint activities", said Carvajal.
In a related story, Colombian President Santos publicly praised his Venezuelan counterpart Hugo Chávez following the capture of wanted fugitive Alberto "Beto" Marín Zamora on Venezuela´s Margarita Island in the Caribbean Sea. Marín, a drug trafficking kingpin who was considered one of the world´s most wanted men, was apprehended by Venezuelan authorities on the island, with Santos receiving a phone call from Chávez on Friday night informing him of the news. His detention marks the culmination of months of investigations on the part of Venezuela´s National Anti-drug Office (ONA) and the country´s National Guard. Santos confirmed that the Venezuelan president had also reaffirmed his commitment to root out drug traffickers operating out of Venezuela, which has been used increasingly in recent years as a stop-off point for Colombian narcotics en route to Europe via West Africa.
Marín has long been sought by Interpol, and is suspected of prolonged involvement with Colombian paramilitaries and Mexican drug cartels based in Tijuana. Venezuelan Interior and Justice Minister Tarek El Aissami decried the trafficker, for whose capture the United States government was offering a bounty of US$5 million, as one of the heads of Colombia´s infamous North of the Valley cartel. Santos´ words of praise come in the wake of comments made by senior figures in the Obama administration which criticised the Chávez government for not doing enough to combat drug trafficking in Venezuelan territory. Venezuelan authorities retorted that the United States is the world´s principal market for illegal drugs, and called the insinuation that Venezuela is opposing anti-drug efforts "immoral".
The illegal drug trade is worth an estimated US$500 billion at least to the U.S. economy annually, with significant quantities of this money passing through U.S. banks and financial institutions. In 1999, then president of the New York Stock Exchange Richard Grasso visited senior FARC paramilitaries in the Colombian rainforest, imploring them to begin investing their cocaine trafficking-related profits in the NYSE. Grasso, who was photographed embracing a FARC commander decked in full camouflage and carrying a rifle, invited FARC leaders to Wall Street, "as soon as possible… so that they can get to know the market personally. I truly hope that they can do this."
Photographer shot dead in Ciudad Juárez as journalists pay the price in Mexico´s ongoing drug war
A photographer was shot dead this Thursday as the car he was in pulled out of a shopping centre car park in the violence-stricken city of Ciudad Juárez in the northern state of Chihuahua. He was named as an employee of local newspaper El Diario (The Daily), and according to eyewitnesses was shot several times as armed men surrounded the car he was sitting in, which was marked with the newspaper´s logo. Luis Carlos Santiago Orozco was just 21 years of age, and his murder constitutes the sixtieth assassination of a journalist in the country in the last decade. An additional 11 journalists have gone missing since drug-related violence began to escalate in the country in 2006.
State District Attorney Carlos González said it would be "premature" to talk of an attack specifically targeted at a member of the press, however the editor of the newspaper for which Orozco worked, Pedro Torres, disagreed, stating that "we consider this an attack on the paper and on the journalistic profession in general". The newspaper´s deputy editor also called attention to the fact that another journalist working for El Diario was murdered as he drove home in 2008, with that crime as yet unsolved. A colleague of the murdered photographer who was travelling in the same vehicle also received gunshot wounds, but managed to successfully escape the car and sought assistance in the shopping centre.
Ciudad Juárez currently ranks as one of the most dangerous cities on the face of the earth, with 2,650 murders registered in 2009 in a municipality with a population of around 1,400,000. The city´s close proximity to the United States makes it a hotly contested territory for drug cartels, who use Juárez and its environs as launching points for smuggling large quantities of cocaine and marijuana over the border, with violent incidents inside U.S. territory also having drastically increased since 2006.
Ecuadorian state oil company suspends 10% of workforce on suspicion of corruption
The Ecuadorian state oil company, Petróleos del Ecuador, announced the suspension of 628 employees on Saturday in a move targeting apparent corruption within the organisation. The company employees around 6,400 people, and following a report from the country´s Transparency Secretary which revealed irregularities in a petrol distribution deal signed with a private company, Petroecuador took the unprecedented step of suspending nearly 10% of its workforce.
Those under investigation are all thought to be shareholders in the company, Gasolinas y Petróleos SA (Gaspetsa), with whom the contentious deal was signed in 2005. The company was awarded a 10-year contract to produce and provide petrol to independent fisherman in the north-western province of Esmeraldas, with Gaspetsa selling around 12 million gallons of petrol a year. The company is accused of using funds accrued under this agreement to build a hotel in the province, with Ecuadorian president Rafael Correa calling the revelations that employees of a state company had personally benefitted from the misuse of public funds "disgraceful".
Correa announced that criminal charges would be filed against those accused of appropriation of state money, with employees of state companies forbidden from obtaining personal financial benefit deriving from their positions under Article 31 of Ecuador´s Law of State Businesses. The president charged that those under investigation had abused their power and would be punished accordingly. Gaspetsa officials deny the charges, saying that under the contract the Ecuadorian state benefitted to the tune of 48 million dollars. Those suspended are prohibited from returning to work for 30 days, pending the result of inquiries. The Ecuadorian president will undergo a third operation on his right knee on Monday, and will have to spend a projected five days under observation. Although previous treatment was carried out in Cuba, Correa has elected to stay in Quito for this round of surgery.
Four die as Rio de Janeiro Military Police shoot it out with armed gang
At least four people died on Saturday evening following a shootout between Brazilian Military Police and a suspected drug gang in Rio de Janeiro´s north zone. Police reported that a routine patrol was fired on at around 8pm, with agents returning fire and killing four presumed gang members in the process. Police spokesman, Colonel Henrique Lima Castro, said that despite a spate of similar incidents, there are no suspicions that groups have been specifically coordinating attacks against police targets. Castro said that the attacks against law enforcement battalions were being treated as "spontaneous".
Police remain on high alert after two men on a motorbike shot at a car containing two officers on Governor´s Island, also in the north of the city later the same evening. This attack was the fifth such incident recorded against police patrols in a period of just 48 hours. No officers were injured although the windscreen of their patrol car was smashed following the confrontation in the vicinity of the Rosa Beach favela. In an incident later the same evening, two suspected thieves fleeing the clutches of pursuing officers threw a homemade grenade in the direction of a squad car, with the resulting explosion damaging a nearby bus and leaving at least one person injured.
Police in the city began invading favelas in order to root out drug trafficking gangs and install police stations in previously unpatrolled territories in December of 2008, with the program initiated in an attempt to overthrow the rule of armed gangs who had previously dominated entire communities which police were unable to enter. The city´s government is trying to clear up the lingering problem of violent crime in Brazil´s former capital prior to the World Cup in 2014 and the Olympic Games which will be held in Rio de Janeiro in 2016.
Critics of the Pacifying Police Units programme (UPP) say that it is simply moving the problem of armed gangs to outlying slums away from the city centre, and that the conditions which lead young people to join gangs, such as high unemployment and a paucity of adequate education, are not being properly addressed by authorities. Many have criticised the heavy-handed manner in which large squadrons of armed officers have descended on communities in order to round up and arrest suspected traffickers, with numerous documented incidents of innocent civilians being killed in crossfire between gangs and officers. Police stations have been constructed within the confines of several favelas in order to prevent gangs from returning to take control.
IN BRIEF
Honduras: A report issued this week by the Honduran Human Rights Platform organisation revealed that 779 children and youths have been killed in violent fashion since the June 2009 coup which toppled President Manuel Zelaya. The report was issued in the wake of a massacre last week in San Pedro Sula in which 18 people died when four armed gang members opened fire in a shoe factory, with the country's Ministry of Security confirming that Honduras has one of the highest murder rates in the world; 57 for every 100,000 inhabitants. UN statistics show that 12 people are murdered every day in the country, with statistics having worsened since Zelaya's overthrow. Around 98% of crimes are never solved, and the HRP said that protection from Honduran security forces in the streets is "nonexistent".
Mexico: Eight police officers were killed and one was seriously wounded following an ambush in the southern state of Guerrero, with their bodies turning up on Saturday morning in the town of Acapetlahuaya after an attack on the state district attorney´s office. The officers had been investigating a murder and were reportedly about to apprehend a suspect when they were kidnapped by 30-strong an armed gang prior to being shot dead and left by the roadside in a state where rival cartels are constantly vying for dominance.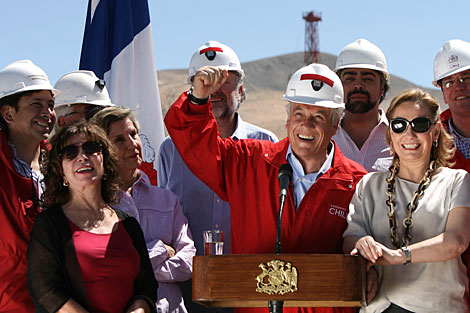 Chile: President Sebastian Piñera announced the third attempt at rescuing 33 miners who remain trapped underground at the San José site in the Atacama Desert on Sunday. "This is my fifth visit. I hope that next time I can embrace the 33 miners as president in the name of all Chileans. I want to take this opportunity to send a message, that I hope that the spirit that lives in the San José mine illuminates us in this third century of independence", he said. Piñera was accompanied by author Isabel Allende, with the pair holding a videoconference with the trapped miners to reiterate their support.
Tom Kavanagh, a writer and activist based in Argentina, is Latin America correspondent for Ceasefire. His column on Latin American affairs appears every Monday.
6 Comments
Leave a Reply