Shawerma Republic Against segregation in mosques
After a recent trip to Bosnia, where Muslim men and women pray in the same shared space, Ceasefire columnist Ruqaya Izzidien asks why things can't be the same in the UK.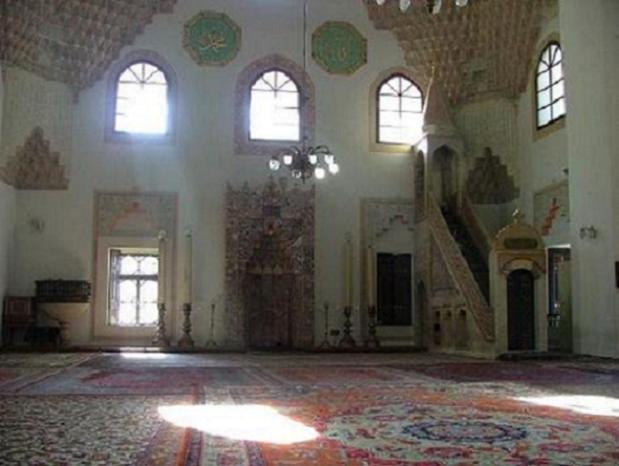 By Ruqaya Izzidien
Separate prayer rooms are against the essence of Islam
I recently returned from a holiday in Bosnia and Herzegovina and, when not steadily upping my chances of winning the Fatty of the Year title by shamelessly devouring countless Sarajevan pastries, I was invariably to be found in one of the country's typically jovial mosques.
Stepping into one of Bosnia's mosques is like being transported into an oyster; they are cosy, inclusive and elegantly understated.
The pearl of these mosques, however, is their community. You regularly strike up conversation with other people, and (shock, horror) even with members of the opposite sex, while waiting for your turn to make wudu. As a rule, the women of these mosques pray in the same room as the men, either in a designated section at the back, or on a large balcony that overlooks the men's area. Together in one room, the women and men are joined together in one prayer and a single community.
This is what is fundamentally lacking in numerous mosques across the United Kingdom: community.
Muslim women in Britain are typically separated from the men by the kind of wall which would make the Minuteman Project proud. It is hard for a woman to find a sense of belonging in her mosque and community when she is stuck praying in the broom cupboard, grazing her forehead on yesterday's Iftar crumbs. There is a reason that every congregation has an imam; it gives you someone to follow.
The pseudo-Islamic attitude of incarcerating Muslimahs in the mosque dungeon is not only alienating, but it is also impractical; for those of us who don't have heat-vision goggles to hand, following the congregational prayer -or jama'ah- is often impossible. In rural areas of the UK it is not unusual to be the only woman present at congregational prayers. I have arrived late on occasion and found myself praying solo in the women's section, at a loss and unable to coordinate my prayer with the rest of the jama'ah. The stress of it alone is enough to make you break your wudu.
Women are one half of the mosque, in essence if not always in numbers, and we have the right to be able to follow the imam. Even at al Haram mosque in Mecca, women aren't shuffled into the shoe cupboard. All the oldest mosques in the world are open and undivided. Yet still this modern segregation is commonly perceived as more Islamic. When did man decide that instead of following the blueprints outlined by the first Muslim generations, he'd trump these with an all-new design of his own, that excludes the mothers and sisters of Muslim society?
The solution is simple and necessary if British Muslims wish to reverse the dwindling number of Muslimahs who frequent their mosques. Install a divider that covers half of the women's area, leaving a designated section completely open so that those who want to participate in the jamaa'ah in front aren't restricted from doing so. Women who wish to pray in privacy would be able to do so behind the barrier.
There are those who argue that it is anti-woman to settle for praying directly behind men. "You should seek to be equal with men," they tell me. After spewing my characteristically infantile knee-jerk reaction of "Muslimahs have a little more ambition than that," I attempt to reclaim some credibility by explaining that, in theory, we already are equal to men; we have rights over them and they have rights over us, that is how Islam, and indeed society, works. But there is an elementary difference between seeking to be, in practise, equal to men and seeking to be men. To request to pray with men is to create an issue where one doesn't exist. Why would you desire to pray amongst men unless you aren't comfortable being a woman? To aspire to join the male congregation is to commit the ultimate sexist act; implying that there is something innately superior associated with being amongst- or simply being- men.
Where you happen to stand in the congregation is irrelevant as long as you are able to follow it. There is no need for women to pray at the front, unless they are using the mosque for anything other than its intended purpose. (Yes, I'm talking to the ruthless husband-shoppers.)
British Muslims have a lot to learn from their Bosnian counterparts. My trip to the country's mosques led to my befriending a mueddhin, climbing a minaret and meeting countless welcoming worshippers. Most importantly it reminded me of the essence and the community that mosques are required to have. Being part of the cacophony of 'Ameen's' brought back tingles I haven't felt in years. This is what it's about; community.
Praying directly behind the men in mosques does not lead them to try to steal your handbag, hijack your oestrogen or propose to you just because you happen to be praying behind them. The worst it will do is lead other worshippers to greet you with a 'salaamu alaykum' on your way out, and we could all do with a little more peace in our lives.
Ruqaya Izzidien is a writer, cartoonist and a spoken word artist. Her column, 'Shawerma Republic' appears every other week.
12 Comments
Leave a Reply