Arts & Culture | Interview: Fear of a Brown Planet [Video]
Currently on a UK tour, 'Fear of a Brown Planet' has taken the British comedy circuit by storm with its irreverent and lucid take on race, politics and art. Ceasefire's Adam Elliott-Cooper reviews the show and talks exclusively to FBP's Aamer Rahman.
By Nidal Hajaj, Adam Elliott-Cooper and Usayd Younis
Be sure to check out our latest interview with Aamer Rahman here.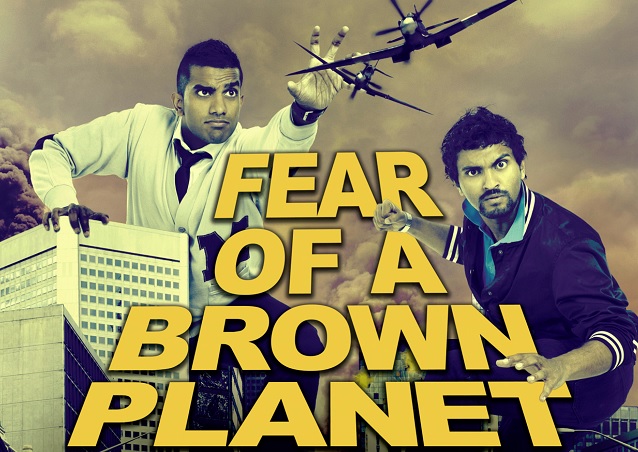 Fear of a Brown Planet is exactly what a typical comedy audience at the Soho Theatre in central London is afraid of. Aamer Rahman and Nazeem Hussain turn mainstream comedy on its head in a scene where jokes about rape, terrorism or the disabled are considered the most bold and cutting edge. Instead, this duo make those in power feel uncomfortable. White Australian culture (usually called 'culture') and White assumptions of Black and Brown people (commonly known as simply 'assumptions') are problematised, deconstructed and mocked with a fantastic insight that leaves the audience hanging on every word. The usual mantra about 'supporting the troops even if you don't support the war' is a classic example. Troops in Afghanistan can't be soldiers as they are not in direct combat, making them illegal immigrants engaging in violent crime – the worse type of immigrants. White liberals don't get away unscathed, as we're reminded how confused they look whenever a Black or Brown person is critical of Obama. "Why are you angry at Obama? We thought this is what you wanted. Do you know how hard we had to look to find a Black guy with a Muslim father?!" Rahman then points out that Obama's historic election proves that if you have a dream, then you can achieve any goal you set for yourself… as long as you're willing to sell your soul to corporate America.
Black and Brown comedians are often expected to ridicule themselves – the backwardness of the countries of origin, or their strict parenting is what most (white) audiences think of when these often tokenistic stand-ups appear on TV's Mock the Week or Comedy Roadshow. This led The Telegraph to describe the show as a "very different point of view". "Different" in the world of comedy, but not so for your average Black or Brown person, who've sold out the Soho Theatre and forced Rahman and Hussain to add two extra dates to their UK tour. Their performance in traditional stand-up style, is a breath of much needed fresh air.
1 Comment
Leave a Reply