Arts & Culture | Exibition | Coldharbour: Beneath the skin of Brixton
Stefan Simanowitz visits the Coldharbour exhibition — featuring photography, oral history recordings, music and poetry — which launched in Brixton this week as part of Black History Month.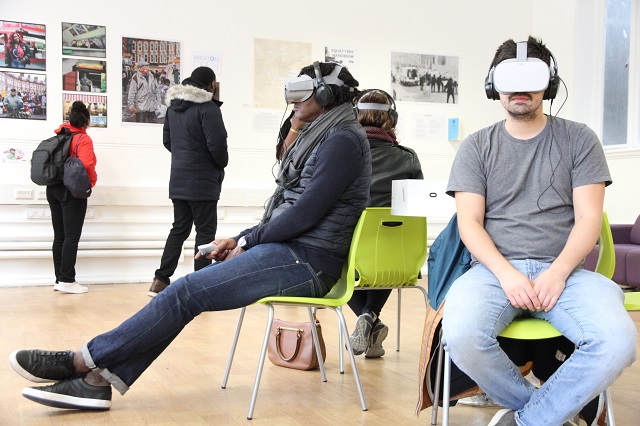 "Go to any part of the world and mention Brixton and it resonates. It stands for something. It is a beacon of what's possible," says Paul Reid, one of dozens of Brixton residents who feature in a virtual reality documentary that takes viewers beneath the skin of Brixton.
The twenty-minute immersive film, watched on one of twenty VR headsets, forms the centrepiece of the Coldharbour exhibition, created and produced by Charlotte Knowles (Independent Film Trust) and Michael Groce (Booted and Rooted), which launched in Brixton this week as part of Black History Month.
As well as the documentary, the exhibition uses photography, oral history recordings, music and poetry to explore what co-creator Groce describes as "those open, hidden sides" of Brixton's Coldharbour ward.
The idea for the project came about when Groce — a community organiser, poet and the son of Cherry Groce, whose shooting by a police officer in 1985 sparked the Brixton riots — was walking through Brixton with friend and film-maker Knowles.
"A walk that would have taken me about 10 minutes took more than hour because people kept stopping to talk to Michael," Knowles recalls. "Each of the people who'd stopped us had an incredible backstory, we realised that their stories needed to be both shared and preserved."
The structure of the film has echoes of their original meandering walk, but it is also a stroll through history. Starting in Brixton market we meet the Costello family, who have run a fruit-and-veg stall in the same spot for more than a century. We then move on to the dominoes club where, after a high-octane game, four old friends discuss how important this social space has been to them over the decades.
In Railton Road, activist Linda Bellos talks about the Windrush generation and Groce recites a poem, 'Fire Burns', about the riots. We eavesdrop on a conversation between a writer and a historian in the Express Café before dropping into Universal Roots Records, where members of the Nasty Rockers reminisce about the 'good old days' before bursting into some pitch-perfect dub.
The journey ends with Legs Eleven Sound System putting on a party, a throwback to the old "shebeen" days when unlicensed bars sprung up across Brixton to accommodate black residents who were not made to feel welcome in the local pubs and denied licenses for their own clubs.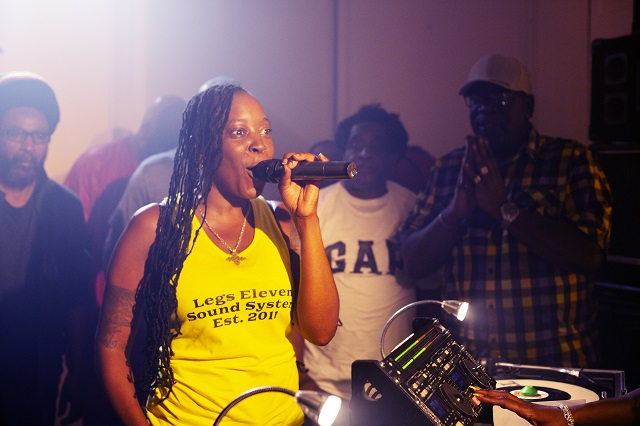 The intimate tour of places the viewer would not normally have access to, is the result of a participatory project spanning more than two years and involving more than twenty local participants who were involved in the production of the film and the exhibition.
"This was an amazing opportunity to meet people from all walks of life and creatively work on a project together that benefits the community as a whole," says production assistant, Michelle.
With the make-up of Brixton changing rapidly, this exhibition is a reminder of the importance of our history. "We need to record our history because our children and future generations need to know how it is we got to be here," says Linda Bellos. "After all, we didn't come here for the weather."
Coldharbour runs in Brixton Library until Sunday 27th October and then from November 14th to 16th at International House, Brixton.
Coldharbour is produced by the Independent Film Trust and Booted Rooted with support from the Heritage Lottery Fund and University of the Arts London. The Independent Film Trust (IFT) is a UK charity that supports the cause of independent film production. The IFT exists to empower those typically underrepresented in mainstream media and cinema to use film as a powerful tool for self-expression and social interaction.
VISIThttps://www.independentfilmtrust.org/coldharbour
Leave a Reply