Books | Review | 'Come What May' by Ahmed Masoud
Come What May, the latest novel by Palestinian author Ahmed Masoud, introduces us to the essential human story behind daily Palestinian issues and concerns, a story we rarely see in the press or on our TV screens, writes Amanda Huggins in her review.
Come What May is the fast-paced and engaging new novel from Palestinian author, Ahmed Masoud. Set in Gaza, where Masoud was born and raised, and where survival and death have been everyday concerns for decades, the novel examines how murder is investigated in the middle of such conflict.
In fact, when Zahra's husband is murdered there is no immediate investigation; he is written off as a statistic, one of the 2000 casualties of war. Zahra spends the following two years pursuing the truth – struggling at first to find anyone to take on the case, but eventually engaging the help of policeman Nouman El Taweel.
The truth they begin to uncover is rarely clear or simple, and the reader is quickly immersed in a world of lies, corruption, betrayal and deception.
Yet this isn't straightforward crime fiction or a standard murder-mystery, it is a multi-faceted novel about family, friendships, love, intra-Palestinian prejudices, class issues, and a woman's struggle to be taken seriously in an unequal and deeply conservative society which is isolated from the rest of the world.
Personal freedom is clearly just as important to Zahra as the everyday problems and issues caused by the occupation. She is defiant, a woman living alone against the wishes of her family in a society where this is not the norm, and her determination and resilience as she unravels the mystery – with the help and hindrance of a wide cast of fascinating and well-drawn characters – is the hook which reels the reader in and keeps them turning the pages. However, this is only one aspect of the novel, and all the other layers and facets are every bit as beguiling.
Masoud is a writer who understands the importance of sense of place, the way a city or landscape can shape and influence the world of those who live there in a multitude of ways. He writes with charm and eloquence about the city he loves; the street food, the people, the sights and smells, the details of everyday life under occupation, are an intrinsic part of the story.
Gaza lives and breathes in these pages, the city is a character in its own right, and we are there with Zahra and Nouman on the streets, smelling the scent of the orange groves, appreciating art and architecture, tasting the food.
Food is of course a hugely important part of Palestinian culture, and it is purposely woven through Masoud's novel in all its rich diversity – the spicy dishes, we are reminded, need a strong stomach.
In essence, Come What May introduces us to the essential human story behind daily Palestinian issues and concerns – the story we rarely see in the press or on our TV screens.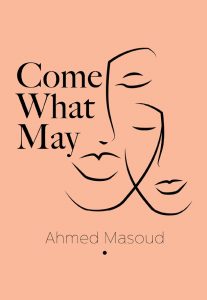 There is hope and humour as well as despair in this complex and nuanced tale, and at its heart there is also a wonderful love story – I defy any reader not to become invested in its outcome.
I found Come What May to be a truly captivating novel for so many reasons, full of empathy and humanity. I held my breath as I read the final pages – surely a winning result in itself!
Come What May is published by independent publisher, Victorina Press, who champion principles of bibliodiversity, and who recently won the Saboteur Award for Most Innovative Publisher. You can buy a copy here.
Come What May
Ahmed Masoud
Victorina Press
Paperback/softback, 221 pages
Published: 05 May 2022
Leave a Reply