The People in Between 'This is Kurdistan, not Iraq'
In the second of his ongoing series of travel essays for Ceasefire, Jason Smith recounts his short but unforgettable trip across Iraqi Kurdistan.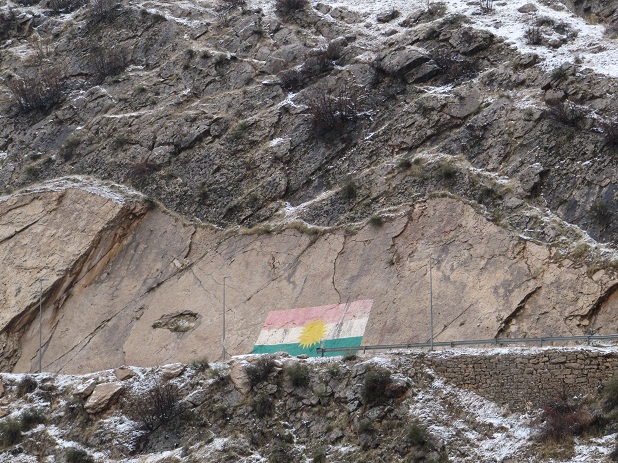 By Jason Smith
In the second of his ongoing series of people-based travel essays, Jason Smith tells of his short but unforgettable trip across Iraqi Kurdistan.
My short trip across the northern region of Iraq was supposed to be an interesting way to get from Turkey to Iran, but it opened my eyes to a world unfamiliar to me. Once again, it was the people I met along the way who form my most enduring memories.
I crossed the busy border from southern Turkey late in the day. Pedestrians aren't permitted here, and the Turkish taxi mafia are waiting to take you and your cash for the short hop from Silopi in southern Turkey to Zakho in what is officially northern Iraq.
The stamp in my passport said 'Iraq', my newly-exchanged money was printed in Baghdad, but it's not the Iraqi flag one sees waving from the hilltops, and it's not Arabic one suddenly hears in every café, bookshop and mobile phone store. No, this is Kurdistan.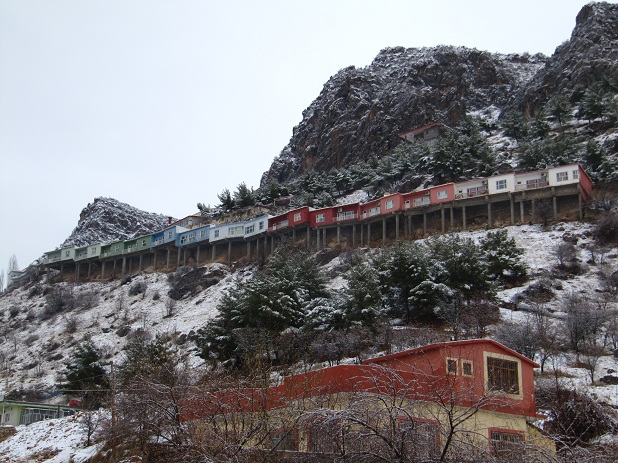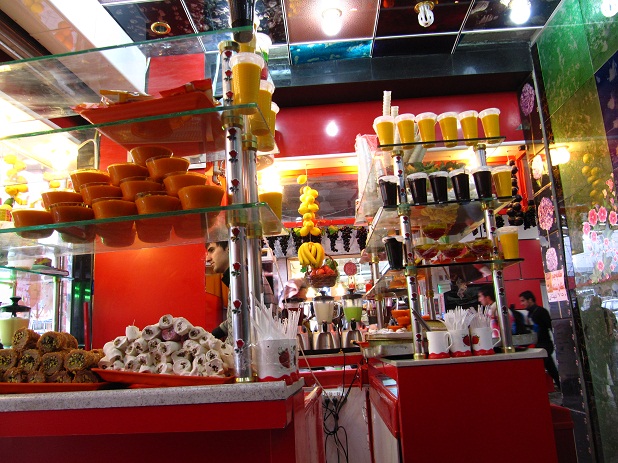 My first encounter with the locals was on my very first night in Dohuk (also spelt Duhok – no one seems to care) whilst out looking for a place to eat. A young teenage boy approached me and correctly guessed I was a tourist, offering to take me anywhere I wanted to go.
I am embarrassed to admit that I tend to make a snap judgement when being offered something that I haven't asked for, usually assuming that the offerer wants something in return, probably money. This is no doubt a result of both my upbringing in a money-driven world and of my experiences in other countries, such as Morocco (not that Morocco is a bad country – far from it. It's just that the 'faux guides', of Marrakesh and Fes in particular, force one to wear a slightly thicker barrier than normal and to develop a certain amount of savvy when interacting with strangers.)
I was thus rather abrupt with him, telling him I didn't need a guide. "I don't want to be your guide, I want to be your friend," he pleaded, tugging at my heart strings. I saw in his eyes then the sincerity of his words. I asked him where he had learnt his English. "When the Americans came, I showed them where to buy beer."
He took me to a local eatery, where the decoration consisted of tiled walls with the occasional political poster, the furniture was just simple plastic chairs and tables, but the food was a lavish affair of succulent vegetables, aromatic rice and oodles of steaming soup.
There was no need for opulent surroundings: the chattering of the men around me, commenting on the day's news in between mouthfuls of fresh bread, did more to invoke an atmospheric sense of the country than any carpeted and mood-lit establishment could. My new friend promised to meet me the next morning to show me about.
I felt rather bad when, after catching up on much needed sleep, he was still waiting for me outside the hotel at 11am. "Where have you been?" he asked. "We have a lot to see!" I spent the day taking in the light of the extraordinarily bright sweet shops, the eerie music of the abundant cd stores and the smell of tea floating on the wind from the windows of every house we passed. When it was time to leave he found the correct share taxi and negotiated a good price.
"This driver is a good man," he told me. I had no reason to doubt him.
The driver was indeed a good man, and I can't blame him for not knowing that the hotel in the particular village he dropped me in was no longer open. I stood in the snow, at a loss as to what to do. I heard the now familiar beat of Kurdish music emanating from a nearby cafe.
Upon entering all the men stood immediately to greet me and, realising my predicament, rushed over to help me. I was stuffed into the back of a car and driven to a friend's house, which doubled as the community gathering spot.
I whiled away the evening playing bingo, billiards and dominoes with all the village's men folk, immersed in a thick cloud of cigarette smoke and tea steam, being fed copious amounts of meat in bread.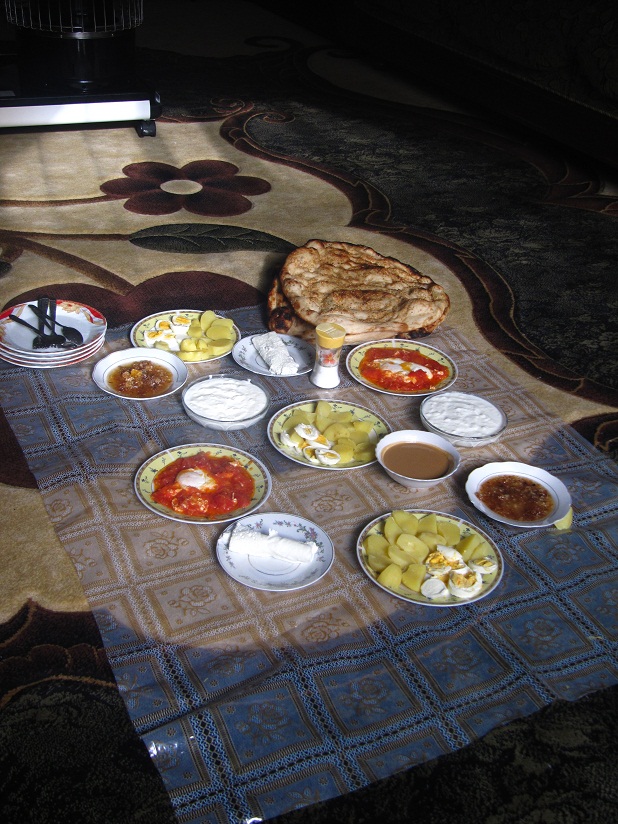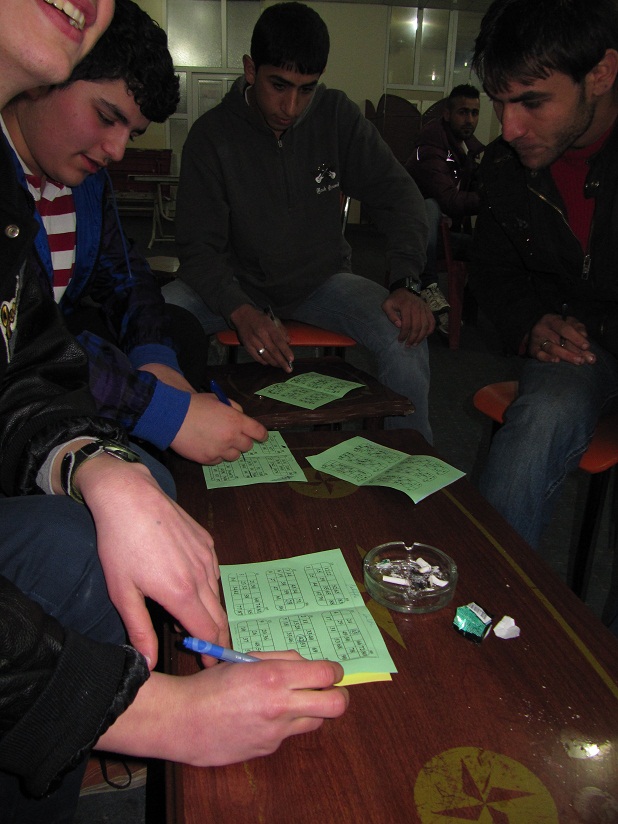 The owner's sixteen year old son, Amed, spoke phenomenally good English and spent all night translating for me. At the end he told me his father had invited me for breakfast the next morning. I didn't win the bingo and I had no chance of winning against the excited hand-banging dominoes players, but I felt I'd won something that evening.
I entered the Amed's warm home early the next morning and was ushered to sit on their living room floor, whereupon his mother began laying out the most sumptuous breakfast I've ever had the pleasure of consuming.
Dish after dish was presented, from luscious tomatoes to sweet yoghurt to perfectly poached eggs, all accompanied by bountiful amounts of fresh bread and tahini. I asked Amed about his family. He calmly told me that his grandfather had been killed by Saddam in front of the whole village. My hands trembled as we continued eating in silence.
With all the friendliness and welcome with which one is received In Kurdistan, it's easy to forget that here are a people who have been so callously repressed and persecuted, forced to endure unthinkable hardships.
Yet what shines through is not bitterness or resentment, but a pride like a flame given a new breath of air. When I spoke of Iraq's troubled past and present, people would stop me and say, "But this is Kurdistan, not Iraq."
The Kurdish goodbyes are as heartfelt as the hellos. The family waved me off after breakfast like a departing brother, together with a litre of tahini from the village factory (probably the best leaving present I have ever received – it lasted a good two months!)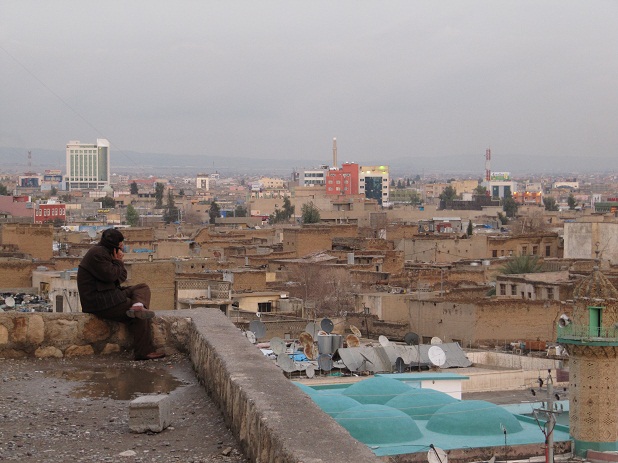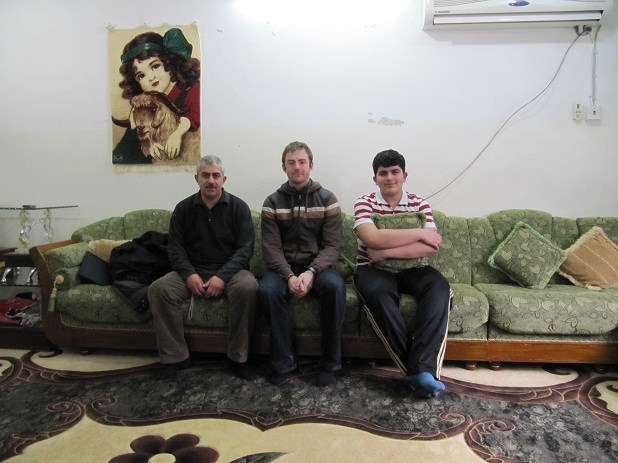 The farwell from the country was equally as meaningful. I took a taxi from Erbil to the Iranian border at Haji Omran, along the most treacherously icy road I've ever encountered. My thoughts were distracted by the driver's worryingly good knowledge of 90s British love songs and his insistence that we "don't bother going to the border today, let's go to my house and listen to music and meet my wife."
But leave I had to, and towards the end of the trip, as night was falling, he became increasingly concerned over whether we would make it in these conditions at all. I tried asking him to stop for the night, but he had made a promise to me and there was no way he was going to give up. "I hope my wife isn't worried for me," he kept repeating.
This was the first time I'd encountered a taxi driver not supremely confident in his abilities. "I don't want to die," he told me, his face creased in angst as he pressed it against the frozen windscreen. A fine way to inspire confidence.
I had to get out and push the taxi up the last hundred metres of ice, past the frozen lorries that had called it a day. The driver hugged me and wished me luck. I think he needed it more than I did – he still had to go back.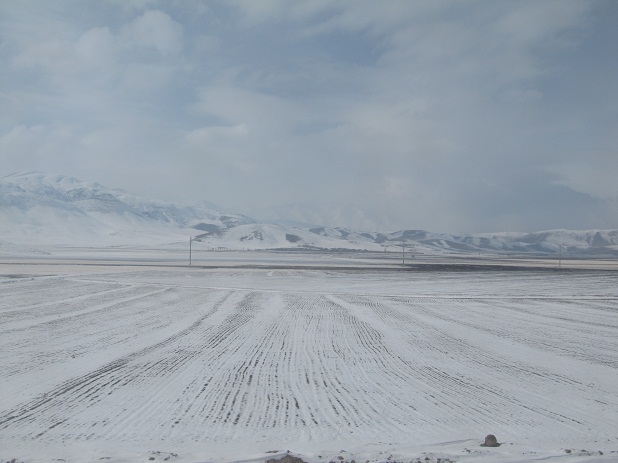 I clambered up through the snow towards the light of the customs hall. The guards were rather surprised to see me at that time of night and ushered me to sit down while they examined my passport.
It was a memorable end to a short traverse across an eye-opening region, and it was the people on the way who made it so. As I was passed along to the Iranian authorities, a guard took my hand, looked me in the eyes and said, "Thank you for coming to Kurdistan."
Jason Smith is a semi-permanent wanderer in the midst of yet another nomadic adventure around the world. Follow his progress at www.traveleyesopen.com.
1 Comment
Leave a Reply