Special Report | Palestinian Lives Matter: The killing of Eyad Hallaq and Israel's state racism
The killing on May 30th of Eyad Hallaq, an autistic Palestinian young man in Jerusalem, by Israeli police, has elicited enormous sympathy and outrage. It also provides a stark reminder that racist state violence remains a daily reality for Palestinians, Yousef Al-Helou reports.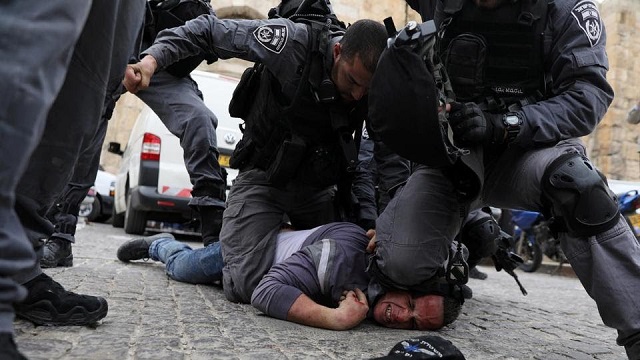 The tremendous outpouring of outrage and solidarity in the aftermath of Eyad Hallaq's killing is not because it was the first time an innocent and disabled Palestinian is shot dead by Israeli forces (far from it), but partly because it coincided with the cold murder days earlier of African-American George Floyd by a white police officer in Minneapolis, US.
The Hashtag #PalestinianLivesMatter was dedicated to the soul of Hallaq, whose killing sparked wide condemnations even from Israeli PM Benjamin Netanyahu and his defence minister Benny Gantz, American ambassador to Israel, David Friedman, and UN Special Coordinator for the Middle East Peace Process, Nickolay Mladenov. Netanyahu called it a "tragedy", while Gants issued an apology, both uncommon when it comes to lost Palestinian lives.
Hallaq, who was 32 years old and hails from the Wadi Al-Joz neighbourhood, was walking to his special needs school in the Old City of Jerusalem near the Lion's Gate, just dozen meters from the entrance to the Al-Aqsa Mosque Compound, when he was shot by ten live bullets to his torso as he lay panicking, urging the shooters to stop firing at him. He was gunned down under the pretext of carrying a pistol, but an investigation revealed he was not.
His murder happened in front of his female caretaker. This incident sent shockwaves and drew angry reactions. This led to demonstrations and sit-ins in both Jaffa and occupied Jerusalem, with Israeli peace and human rights activists calling for an end to systematic attacks and racist policies against Palestinians.
Drawing the comparison between Hallaq and George's death is valid for one simple reason: both were victims of police cruelty because of their ethnicity. George was black, Hallaq was a brown Arab, a Palestinian, which made him a justified target and a 'threat' in the eyes of Israel. The four American officers involved in George's murder were fired and the officer who kneeled his neck, suffocating him to death, has been indicted and charged with murder. The kneeling technique is very familiar to Palestinians.
The two Israeli officers suspected of Hallaq'a killing are still are under interrogation. After being questioned under caution, one of the officers was released under restrictive conditions while the other was placed under house arrest. In the initial interrogation of the two officers, they claimed they "suspected Hallaq to be an armed lone-wolf terrorist".
Israeli lawyers representing the officer suspected of opening fire said, "Our client fired because he felt his life was in danger, based on information that had been given to him by the competent authorities, the behaviour of his commander, suspicious indications in the field and a movement that looked like preparation for drawing a weapon."
In the eyes of Israel, Palestinians are suspects until they prove their innocence. Members of Eyad's family were forced to deny that their son was in possession of a toy gun  – as if a toy gun would have been reason enough to take his life – at the time of the incident, pointing out he was not capable of harming anyone,. Another justification for targeting Hallaq was that he was suspected of being a "terrorist" because he was wearing gloves, even though he was wearing them in line with Covid-19 precaution measures.
The investigation might take months or even years to reach a verdict, and if history is any guide, they might very well be cleared of any wrongdoing. Had Hallaq been a disabled Jewish Israeli, the reaction would have been much different. But when it comes to Palestinians, their blood is cheap, their lives do not matter, and they are just numbers. The excuse would always be "security".
Ahmed Tibi, an Arab lawmaker who visited the Hallaq family, said he hopes Israel's Internal Investigations Department will not cover up the crime as it usually does. "This requires an independent investigation, potentially by an international body, considering that the incident took place in an occupied territory," he said.
Unsurprisingly, Hallaq's family, like many others who lost their loved ones, have no faith in the Israeli judicial system. Israel is known for its deep-rooted culture of impunity. In fact, systematic impunity has become the norm in Israeli political culture, a norm that is paid for by the Palestinian people. According to B'Tselem – the Israeli information centre for human rights in the occupied territories over the last 10 years – Israeli security forces have killed 3,408 Palestinians in the occupied Palestinian territories and within Israel between April 2011 and May 2020.
Israelis responsible for spilling Palestinian blood are rarely held accountable for their crimes and human rights violations against Palestinians. A high-profile example of this impunity is the killing of Abdel Fattah al-Sharif in March 2016 in Hebron, in the West Bank. He was shot as he lay on the floor, severely wounded and bleeding, by an Israeli soldier, Elor Azaria. The shooting at the time was filmed and broadcast widely. Azaria was convicted of manslaughter and later sentenced to 18 months in prison, but ended up serving only nine months. There are many other examples of innocent Palestinians – including children – who were maimed without accountability. Many of those innocent Palestinians killed could have been arrested easily, but a green light is given under the excuse of neutralising "terrorists".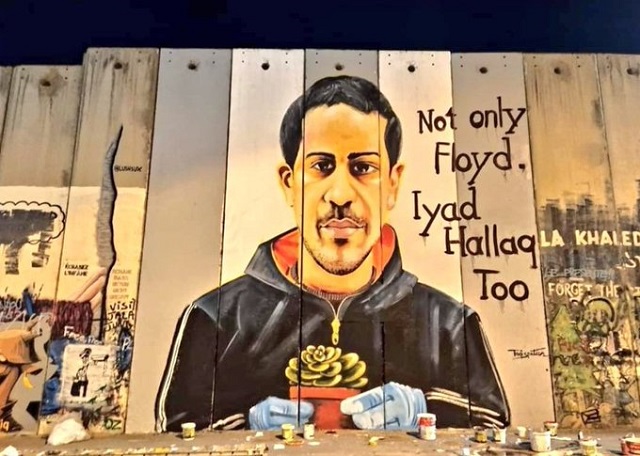 There is an overwhelming documentary record of the discriminatory laws imposed against Palestinians. These stories are documented by Israeli human rights groups such as Gisha, B'Tselem Adalah and others. Many others have been covered by Israeli journalists such as Haaretz's Gideon Levy, who dedicated a piece to Hallaq's murder in which he wrote "Palestinian disabled were not killed for being disabled; they were killed for being Palestinian".
Under Israel's prolonged military occupation and colonial rule, Palestinians have endured decades of racism, mistreatment, dehumanisation and acts of enslavement, living under a de-facto state of Apartheid. These discrimination policies, segregation along ethnic lines, the military siege on civilian populations, and blanket measures of collective punishment are all forms of racism. The inequality between Israelis and Palestinians reflects this starkly: Palestinians are not even allowed to use certain roads and highways on their own land because they are reserved for Israeli citizens only.
Hallaq was not the first and will not be the last to be murdered by Israeli fire, until and unless Israelis change how they deal with the Palestinians – their fellow human beings – currently under their military occupation, and accept what the Palestinians are asking for: equal rights for all.
Of course, Israel's racialised police violence extends to its African-origin Jewish community. Let us not forget the mass demonstrations that were organized by black Ethiopian Jews in July 2019 to protest police brutality and the killing of 18-year old Solomon Teka in the city of Haifa, triggering nationwide protests against state racism. Yet Palestinians continue to endure racial discrimination of a colonial settler rule. In Hebron, for instance, settlers walk freely under the protection of the army, while Palestinians cannot cross a road or reach certain areas of their own city, including places of worship, without official authorisation.
While Hallaq's killing did not lead to the global mobilization that George's did, it was at least encouraging to see demonstrations taking place, with Israelis and Arab Palestinians carrying side-by-side photos of Eyad and George. Online solidarity messages filled Facebook and Twitter. Murals were painted, placards were raised, as well and many other forms of solidarity. George Floyd's family will not rest until justice is served, but at least his rights as an American citizen are officially protected. Hallaq's family, however, know they will not receive justice because, as Palestinians, they have no rights whatsoever under Israeli's 5-decade military rule. All they can do, is pray for their son's soul.
Leave a Reply