Opera Donizetti's The Elixir of Love (ENO)
In his latest review, Ceasefire's classical and opera critic, Paul Guest, gives his verdict on a production of Donizetti's The Elixir of Love at the English National Opera.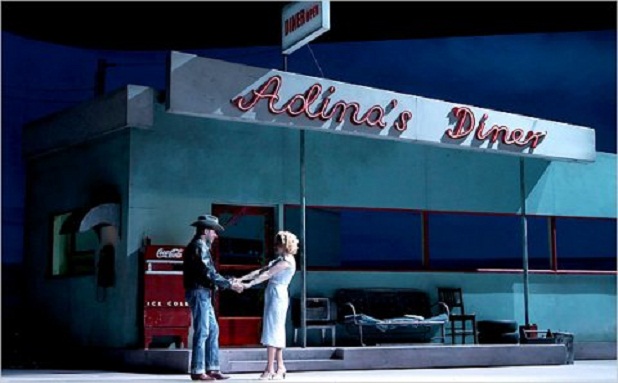 By Paul Guest
The Elixir of Love (Donizetti)
English National Opera
Ben Johnson, Sarah Tynan, Benedict Nelson and Andrew Shore.
Rory MacDonald, conductor.
Jonathan Miller, original director.
Elaine Tyler Hall, revival director.

Opening the English National Opera's 2011/12 season: Jonathan Miller's production of 'The Elixir of Love'. A hugely enjoyable evening from start to finish, Miller sets this timeless classic in a 1950s American diner. This setting, though decidedly odd, translates perfectly well into this time frame with an incredibly witty libretto by Kelly O'Rourke, who keeps up a thoroughly American twang throughout her text, adding to the high comedy kept in shape by revival director Elaine Tyler Hall.
The cast, too, is brilliant: consisting pretty much entirely of young singers and a young conductor to boot, they pull off this production with charismatic panache. Sarah Tynan sings the flirtatious, sexy Adina, with dramatic perfection, as she struts around her diner teasing our poor Nemorino, the sweet voiced Ben Johnson who drinks the "Elixir" from the crafty secondhand salesman, Dr Dulcamara, sung by Andrew Shore, who reprises the role with humorous colour, daddy dancing and his trusty moustache.
The arrogant sergeant, jock-like Belcore, Benedict Nelson sang with vigorous whip-ass. Johnson possessed the romantic qualities and gorgeous colour needed for the sweet and longing aria 'Una furtive lagrima' – an operatic favourite, displayed here in all of its finery.
I was initially concerned with the "Broadway" feel of this production, possibly comparing it with the infamous operatic newbie "Anna Nicole" – but with all of the production's "theatricalities", the theatre itself never seemed to wonder far from the score, which remained central to this production.
Rory MacDonald, the young conductor, conjured up Donizetti's magic in the pit, giving the production exquisite musical taste, with the help of the English National Opera's orchestra. The chorus, too, was as good as any.
Until 8th October – www.eno.org
Paul Guest is Ceasefire's Classical Music and Opera critic. He also contributes to MUSO magazine, WIRED, Classical Music Magazine, and is the resident interviewer at Opera Britannia.
Leave a Reply