North African Dispatches The "War on Terror"'s new frontier?
In this week's 'North African Dispatches' Kateb Salim looks at the emergence, and remarkably-swift growth, of 'Al Qaeda in the Islamic Maghreb' (AQIM), highlighting the context surrounding the phenomenon, including US attempts to extend its 'war on terror' to the region. The months to come, he argues, might herald some crucial developments.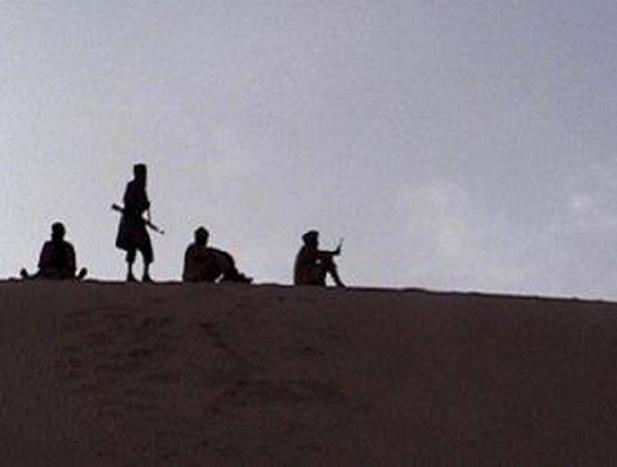 By Kateb Salim
This week, I thought I'd explore a new regional phenomenon testing the Maghreb's security cooperation: AQIM. Recent events suggest North African elites are all aghast at the rise to prominence of 'Al Qaeda in the Islamic Maghreb', and with good reason. Since as early as 2007, this new organization (the latest reincarnation of the former Algerian terrorist group GSPC), has taken its previous fight in Algeria's mountainous region of Kabylia to the arid Sahel Region.
More than anything, this new group seems capable of destabilizing armed forces in the region, due to a number of factors. Firstly, as its name suggests, AQIM is a self-styled local branch of the global Al Qaeda network (itself a subject of great debate), and is therefore ostensibly under the direct sponsorship and guidance of Osama Bin Laden. What are its objectives? Despite its 'borrowed' religious narrative, it seems the organization has no true political agenda. More than anything, predatory rapacity has thus far characterized its activities.
Indeed, the organization has demonstrated an impressive operating capacity, using "taxation" as well as drugs and arms trafficking cartels in the region to anchor its financial objectives. In 2009, it used a set of shock methods which helped it establish itself as a formidable threat to regional security. First, it adopted the kidnapping of European and Canadian tourists, aid workers and even diplomats to attract worldwide attention. Second, it has executed several of these hostages and has not hesitated to assassinate targeted members of Mauritania's military establishment.
In doing so, AQIM has been able to command considerable ransom money, thus further financing its activities. Those hostages that have been released have been lucky to have received the financial assistance of their respective states (e.g. Spain paid for the release of two human aid workers) despite protests from the Algerian and French governments.
I argue that, more than anything, the lack of a united front on military and political responses has led states of the Sahel to a precarious standstill. This, in conjunction with poor communication with their European counterparts, will only further embolden an AQIM capable of playing states against one another. A perfect example of these policy disputes emerged at last month's security summit in Algiers between invited countries and the host nation.
The Algerian government made it clear to its counterparts in the region that, after over a decade of internal civil insurgency, it sees its own, well-tested solutions to the AQIM problem as the most effective. These solutions include military interventions carried out by regional states and an uncompromising stance as to the paying of ransoms which it sees as fuelling terrorism rather than combating it.
This view, however, contrasts with Mauritania's, which believes the problem cannot simply be solved regionally. For instance, the Mauritanian military participated in various interventions outside its borders. Amongst these, Mauritania and France undertook, in April of 2010, a joint offensive to root out terrorist targets in the Malian desert (without permission from the Malian authorities).
For the most part, this attempt to 'smoke out' AQIM (ah Bush terminology how we miss thee) failed to achieve most of its objectives. This stance, Nouakchott argued, is largely due to the material and tactical limitations of their own armed forces. This however has succeeded in further irritating the military establishment in Algeria. In an attempt to explain Algiers' growing impatience, a recent declaration to the press by Algerian premier Ahmed Ouyahia revealed a more complex situation than had been suggested. He strongly reiterated Algeria's opposition to the presence of foreign military personnel in the region, even under the pretext of "maintaining security".
I cannot help but wonder whether or not these conflicting policy positions are the reflection of an unspoken concern over possible American military interventions and/or growing influence in the region. The scars of the War of terror have yet to heal in most Arab and Muslim states, and it seems North Africa is no exception. Prior to the Bush Administration's departure, the creation of an African Command (or AfriCom) had been agreed to to protect American interests in Africa.
Since then, this new listening outpost has become the basis for increased American military presence in Africa. Its creation inevitably signals a new era of American influence over a region it has thus far considered insignificant to its geostrategic priorities. Perhaps it's only rational that this correlation between Washington's shift in strategy and the rise of AQIM has caused states such as Algeria to pre-empt or prevent any possible overreach by the Pentagon to bring the War on Terror to the Maghreb.
Only time will tell whether or not such considerations prove true or not, in the meanwhile, readers are warned to keep a close eye on the ongoing transformations caused by these new developments in the region's geopolitical landscape.

Kateb Salim writes weekly on African and Maghreb affairs for Ceasefire. His interests include politics, current affairs and Real Madrid FC.
His column appears every Wednesday.
5 Comments
Leave a Reply