Comment | Michael Gove's Dickensian plot against Muslim educationists
Michael Gove's virulent campaign against Muslim educationists - recently evidenced by the Trojan Horse plot that wasn't - shouldn't come as a surprise to anyone who's been paying attention to his record, argues Yvonne Ridley.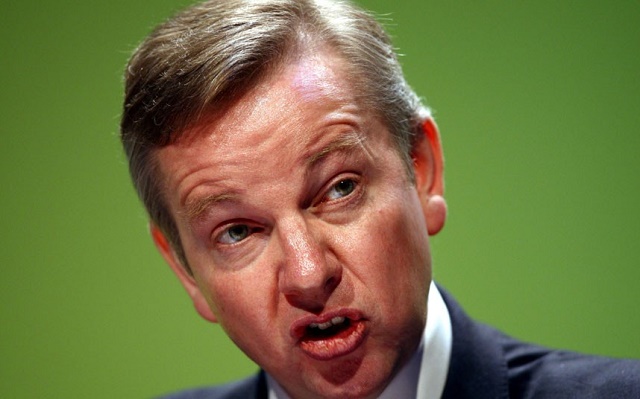 Michael Gove is an oily little character who could come straight from the pages of a Dickensian novel; a sort of Uriah Heep, if you like, in my own very 'umble opinion. And just like that antagonist in 'David Copperfield', you don't have to look very far to see the slimy, cloying hand of Gove all over the so-called 'Trojan Horse' affair in Birmingham.
Heep was motivated purely by greed but it is Gove's blind ambition to become leader of the Conservative Party that will lead to his downfall, because his attention to detail is clearly lacking.
During his many lunches and suppers with Rupert Murdoch (his old boss when he worked as a journalist at the Times, where his wife is still employed) Gove had, no doubt, plenty of opportunities to ingratiate himself further with the Dirty Digger by floating his political goals. Indeed, at the height of their love-in, Murdoch offered to build an academy school on some derelict land in Newham near City Airport. This was back in 2010 when the owner of News International was still describing himself in a speech as 'the saviour of British education', thanks to his company's "adoption of new academies here in London".
During their intimate lunches Gove may have even have discussed his determination to undermine Muslim schools. With the speed of a rat up a drainpipe, it's hardly surprising, therefore, that he seized on the 'Trojan Horse plot' in Birmingham to accelerate his crusade against the Islamic faith schools. He even brought in the former head of Counter Terrorism at Scotland Yard, Peter Clarke (another recipient of Murdoch's working lunches), to lead the investigation into the so-called plot by Islamists to take over schools in Birmingham. This move was roundly condemned by the local police and politicians because of Clarke's links to counter terrorism and therefore extremism.
I have to say, having examined the Trojan Horse letter and investigated the origins of discontent in some education circles in Birmingham, that it doesn't take a genius to work out its origins or the motivation of the author. A recent meeting of Birmingham City Council also exposed the plot as a hoax.
However, such an inconvenient truth was not going to stop Gove, or his attack-dog Clarke's investigation. And so just to create a flurry of excitement, four former teaching assistants were arrested as part of the alleged Islamist plot. They will, of course, receive apologies and compensation some years down the line when people will, again, just associate the Trojan Horse with Troy and not Adderley Primary School in Saltley.
You see, the plot is a hoax. If I wanted to be vulgar I would say it is the sort of wet dream that Gove could only have fantasised about as he sought to undermine Islamic education throughout the UK. We were indeed told by Gove, via the media, that the Islamic extremist takeover wasn't just happening in Birmingham but it had spread beyond its original borders and into Bradford, possibly Leeds and beyond.
In fact, once the horse had bolted quite a few people got caught in the fall out, including the founder of an independent Muslim school in Leicester who has had a visit from the 'man from the Sun' and other rabid reporters from Fleet Street.
Ibrahim Hewitt, was "revealed" to be an Islamic hardliner, which sent ripples of laughter through the Muslim community among those who know the genial convert. By the time the press had finished with Hewitt he was a stone-throwing, woman-hating, homophobic extremist.
This is where I declare a personal interest (something Gove hasn't done but I will out him shortly). I've known Ibrahim Hewitt since I was a journalist on the Sunday Sun in Newcastle, long before I even thought about converting to Islam. He is a kind, caring individual who, when he's not devoting his life to kids' education, is supporting kids in Palestine. This is where it does get interesting.
An unsuspecting Hewitt was sucked into the Trojan Horse plot by the media, "outed" as the chair of Interpal which was designated as a "terrorist entity" by the loons in the George W Bush administration on behalf of various Friends of Israel. The Trojan Horse letter must have been heavenly manna for Gove who was more interested with the opportunity that it presented than the reasons for its manifestation. You need to check Hansard, the parliamentary record, on February 4, 2008 to see the bigger picture, for it is in these wonderful pages of record that we find the then opposition spokesman for education outlining his neo-con crusade or vision.
This is what Michael Gove said in Parliament during a clash with the then Secretary of State Ed Balls:
Michael Gove (Surrey Heath) (Con): Last week, the Department for Children, Schools and Families] gave the Association of Muslim Schools, a group of independent Islamic faith schools, a new right to establish its own separate inspection arrangements, and according to its own website, the association has also received £100,000 in Government funding. But the association's deputy chair, Mr. Ibrahim Hewitt, the head of the Al Aqsa school in Leicester, is on record as saying that "the word integration doesn't even belong in a true democracy". He has also called "political zionism a threat to world peace", and said of "zionist control of the media" that there is no smoke without fire. He has objected to Holocaust memorial day, and he is the UK chairman of Interpal, an organisation under investigation by the Charity Commission following a "Panorama" examination of its links with Hamas. Against that background, does the Secretary of State not think that we need to be more, rather than less, rigorous in policing the growth of separatist Islamism in education?
Ed Balls: Of course we do, and that is why the inspectorate the hon. Gentleman mentions will itself be inspected by Ofsted and come under the tough rules in the Bill now before the House. It is revealing that when we published our children's plan in December, the hon. Gentleman did not make a single reference to any of the issues raised in it, and also that, although he is now publishing his own children's plan, he does not raise the issue of children's policy in the House. That shows what his priorities are.
Michael Gove: I am disappointed by the Secretary of State's partisan tone on this serious issue. We have faced the problems that I have described before. The King Fahad academy, which the hon. Member for Liverpool, Riverside (Mrs. Ellman) referred to, has used textbooks that describe Christians and Jews as pigs and monkeys, and Ofsted has acknowledged that it did not study the details of all the textbooks concerned. Indeed, of 606 visits by inspectors to Muslim faith schools, only 94 have been made public. The Chairman of the Children, Schools and Families Committee has pointed out that we just do not know what is being taught in many Muslim schools. What steps will the Secretary of State take to ensure that we have proper inspections by independent figures who are fluent in the relevant languages and aware of the ideological challenge posed by separatist Islamism?
Ed Balls: That is what our legislation is doing, and the Ofsted oversight of all inspection is the right way to achieve it. We cannot have different rules for different schools; they must all come under one legislative framework. On the instances raised of particular problems in recent months, we have taken action, and so has Ofsted; where action needed to be taken, it was taken. That is what independent inspection is all about. As I have said, it is very revealing that on the day that the hon. Gentleman publishes a flimsy document on children's policy, he and his colleagues have made no reference to it whatever.
And there you have it; there is a plot after all but far from it being an expose of Muslim infiltration the evidence I've just supplied reveals a right-wing time bomb six years in the making.
What Gove failed to mention was that the inspectorate which was established at the time, Bridge Schools Inspectorate, was set up by the Association of Muslim Schools and the Christian Schools' Trust to inspect independent Christian and Muslim schools. It is not the AMS acting alone. As Ed Balls tells Gove, Ofsted inspects BSI inspections. The report from Gove's own favourite head of Ofsted, Sir Michael Wilshaw (Her Majesty's Chief Inspector), for 2012/13 can be read here.
In the name of fairness and even-handedness I did ask Ibrahim Hewitt what he meant by the "interaction" comment and he said that Gove quoted him out of context. The original quote was taken from a French academic who pointed out that genuine democracies aren't fixated on "minorities" merging with the majority; live and let live is key.
He told me: "In my original use of the quote I mentioned that 'interaction' is a much better word as Muslims need to get involved in their local communities. Gove is now leading the assault on Muslim involvement in education." Hewitt also added that his "objection" to Holocaust Memorial Day was in the belief that having a Genocide Day to commemorate all genocide would be more inclusive and comprehensive.
Gove has strong pro-Israel credentials; instead of hiding them he should have mentioned this in the context of his criticism of anti-Zionist Hewitt and his work with the heroic charity Interpal. Again I declare an interest. I have helped to raise funds for Interpal sound in the knowledge that it is one of the few charities I trust to spend the money on the projects it advertises.
It is alarming that there are indeed extremists meddling with our children's education, but not those we are being currently urged to condemn. They are led by the "ideologically obsessed zealot" of a Secretary of State for Education who this week pushed through £400 million of cuts for funding of extra school places in order to plug a financial black hole in his pet Free School project. Yes, none other than Michael Gove himself was branded a zealot by his parliamentary colleagues.
The Education Secretary's decision to strip cash from the budget that pays for new schools and building expansions to help meet the £800 million shortfall in his flagship education programme is nothing short of lunacy according to critics of Gove, who are increasing in number.
Uriah Heep came to a sticky end while most of those he blighted did get justice. I sincerely hope that the victims who've been swept up in the Trojan Horse maelstrom get justice too.
6 Comments
Leave a Reply