Comment | Kenya torture settlement: the UK owes victims of imperial crimes far more than compensation
As the Foreign Office finally agrees to financially compensate the survivors of its Kenyan torture campaign, an official apology and admission of culpability remain necessary, argues Peter Tatchell.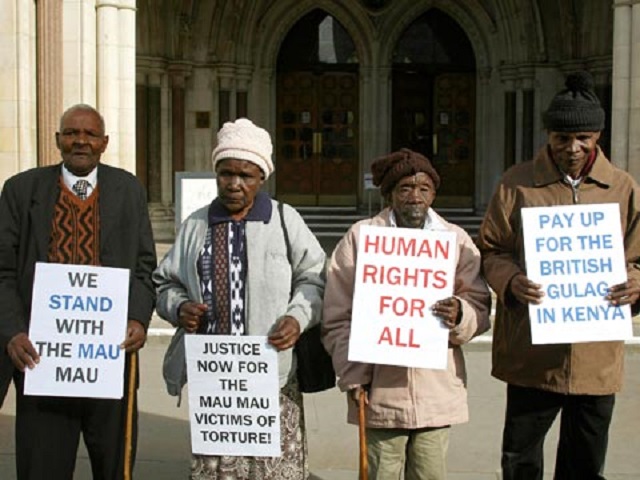 Education Secretary, Michael Gove MP, has ordered a revamp of the way British history is taught in schools. He wants lessons to "celebrate the distinguished role of these islands in the history of the world."
Distinguished role? This sounds decidedly less credible after the recent revelations about colonial-era human rights abuses in Kenya – and the belated admission of responsibility for these crimes by the UK government.
After six decades of denials and stonewalling, the Foreign Office has finally agreed to compensate Kenyans who were tortured and sexually abused by British forces during the 1950s independence struggle.
This change of heart follows the government's loss of a succession of court cases bought by the victims. Foreign Office officials are currently holding confidential talks with the claimant's London-based solicitors, Leigh Day, with a view to settling their long-standing legal case.
The maltreatment of Kenyan nationalists occurred with the full knowledge and connivance of the colonial authorities, according to recently revealed official papers that were secretly archived at Britain's top security Government Communications Centre at Hanslope Park in Buckinghamshire.
During the 1950s, in excess of 70,000 detainees were interned without trial in quasi concentration camps on mere suspicion of support for the Kenya Land and Freedom Army (Mau Mau) uprising. Evidence was often flimsy or non-existent. The general approach seemed to be: if in doubt, lock them up. For the colonial authorities, the Mau Mau risked sparking a wider anti-imperial rebellion. They posed an existential threat to the Empire and had to be suppressed at all costs. The colonisers weren't fussy about the methods, so long as British rule was sustained.
Detainees were routinely subjected to beatings, starvation and forced labour. Medical treatment was frequently withheld; effectively condemning hundreds of prisoners to death. Many were manacled night and day for years. Some victims were burned alive.
A popular interrogation method was stamping on a detainee's throat and forcing mud into his mouth, together with threats to beat him unconscious. Deaths that resulted from these brutal techniques were sometimes blamed on 'drinking too much water.'
Many male detainees were subjected to obscene sexual abuse; including being stripped naked and then raped, castrated and forcibly sodomised with truncheons and sticks by British colonial police, soldiers and prison warders.
Sexual sadism was used as a weapon of war, to deliberately humiliate, degrade and dehumanise men who supported Kenyan self-rule. These abuses manipulated sexual shame and pandered to homophobic prejudice. They played on the fear of demasculinisation; seeking to undermine the victim's sense of manhood in order to break them mentally and physically.
Hundreds of Kenyans died from the abuses inflicted upon them.
One of the men abused was Hussein Onyango Obama, the grandfather of President Barack Obama. According to his widow, British soldiers forced pins into his buttocks and fingernails and crushed his testicles.
A Nairobi judge, Arthur Cram, in 1954 compared the methods employed to those of the Gestapo. The colony's attorney general, Eric Griffith-Jones, also privately conceded that the abuses were 'distressingly reminiscent of conditions in Nazi Germany or Communist Russia'. These opinions were conveyed to the Foreign Office, which did nothing – apart from ordering a cover up.
Despite long-standing evidence of grotesque, widespread abuses, successive British governments refused to acknowledge these crimes or compensate the victims. As recently as last December the Foreign Office was contesting a UK high court ruling that gave three elderly Kenyans the right to seek compensation for the abuses they suffered at the hands of the British during the eight-year anti-colonial insurgency, from 1952-60.
This has prompted allegations of double-standards. Critics have upbraided the UK government for condemning torture in Syria and Zimbabwe but opposing redress for Kenyans who suffered similar torture at the hands of the British colonial administration. Utter hypocrisy, they said.
There are also concerns that the UK authorities appear to have cynically dragged out legal proceedings in the hope that most of the Kenyan claimants would die before a settlement is agreed; thereby cutting the eventual compensation bill.
The idea that no one knew what was happening at the time, and that the events in 1950s Kenya have remained hidden and unknown for the last six decades, is not credible.
My 1985 book, Democratic Defence, was, among other things, a critique of British colonial policy. When researching it I had no difficulty in finding documentary evidence of atrocities in Kenya, as this short example from chapter 4 – An Anti-Democratic Army – illustrates:
On 24 April 1954, in the war against the Kenyan nationalists, the British security forces mounted "Operation Anvil" to screen the entire African population of Nairobi in a dragnet for supporters of the pro-independence Land and Freedom Army. On that one day, over 16,000 suspects were carted off to prison camps; a further 62,000 were detained without trial at various points during the war. Conditions in the camps were appalling – 350 prisoners died from maltreatment in 1954 alone. Hard labour, severe beatings, long spells in solitary confinement and darkness and deprivation of food, water and medical attention were commonplace. Rape and castration were also inflicted on detainees. At the notorious Hola Camp, 11 detainees were beaten to death by prison officers in 1959 after refusing to do forced labour in protest at the barbaric conditions. No one was ever prosecuted for their murder.
It is shocking that for six decades the UK government knew about these brutalities but kept the records hidden until 2011 and refused to compensate the survivors. Even now, the settlement being negotiated is, as far as we know, only about financial recompense – and does not yet involve an agreed admission of UK culpability or an apology.
On a positive note: the likely payments to thousands of Kenyans will hopefully lead to similar redress for the victims of Britain's other bloody colonial wars in Malaya, Aden, Cyprus and the north of Ireland, where detention without trial, torture and extra-judicial killings also took place.
The severe maltreatment of nationalists in these ex-colonies during the struggle for self-rule has been alleged by Amnesty International, the European Commission of Human Rights, the International Red Cross and by some whistle-blowing ex-soldiers who witnessed the officially-sanctioned brutalities first-hand.
Malayan nationalist victims of Britain's ruthless counter-insurgency methods in the late 1940s and 1950s are already in the process of bringing a legal action against the UK government. The violent suppression of their claim for independence was particularly reprehensible because the Malayan nationalists were our wartime allies and helped us defeat Japanese militarism.
May justice soon prevail for all the victims of empire. Better late than never.
Leave a Reply