Irish Times A Monthly Round-Up
In this month's edition of his 'Irish Times' column, our Political Editor, Omayr Ghani, provides a round-up of events including last week's bombing, a new Irish government formed, Kousa Mousa accused over IRA links and much more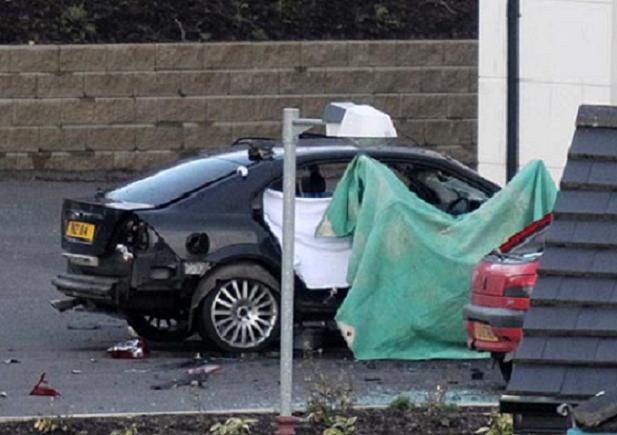 Policeman Killed
A policeman was killed last Saturday after an under-car booby trap device exploded near his home in Omagh, Co. Tyrone. Though it is undoubtedly the work of republican paramilitaries no group has yet claimed responsibility. Though this is the first time a member of the security forces has been killed since March 2009 (when two British soldiers and a police officer lost their lives to republican gunmen) it follows two years of resurgent activity by such groups.
On 21 November 2009 and 8 January 2010 Óglaigh Na hÉireann (an offshoot of the IRA founded in 2005) placed similar devices underneath the passenger seat of the car of the girlfriend of a PSNI (Police Service of Northern Ireland) member and the drivers' seat of the car of Police Constable Peader Heffron (who in addition to his regular police work was also an Irish language specialist for the PSNI and captain of its Gaelic sports' team) respectively. Whilst the first attack exploded without its target in the car; the second severely wounded PC Heffron and was the closest republican paramilitaries had come to killing a member of the security forces in the past two years until last Saturday.
In early August 2010 the Real IRA placed similar devices underneath the cars of two members of the PSNI and a third was placed underneath the car of an British Army Major but all three bombs fell off prematurely due to technical problems with the magnets used to attach the devices. Though there have been countless bomb and gun attacks since then, with this past week being especially eventful in this regard, this is the first time an under-car device has been used since the failed attempts last August.
David Cameron called the attack "wicked" and US secretary of State Hillary Clinton said "The U.S. Government strongly condemns the appalling murder of the police officer in Omagh, Northern Ireland today"
An arms cache has since been found in Coalisland, county Tyrone and 26 year old Brian Carron, who lives nearby, is being questioned as well as a man fitting the description of Brian Arthurs; a former leader of the IRA's Tyrone Brigade who spoke out against the Sinn Fein leadership last November.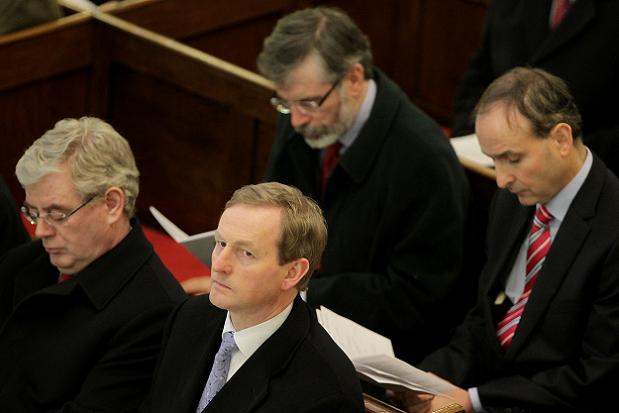 New Irish Government Formed
Following February's Dáil (The Irish Parliament's 128 seat lower house) elections in which the ruling Fianna Fáil party dropped from 77 TD's to 20, Sinn Fein more than trebled its representation to 14 seats and the newly formed United Left Alliance won 5 seats; Fine Gael and the Irish Labour party have formed a coalition government. Despite seismic shifts in the make-up of the new opposition benches the right wing Fine Gael party being in coalition government with Labour has been a depressingly familiar constant for the 17 of the past 78 years in which Fianna Fail hasn't been in power. Both parties are committed to the widely unpopular IMF bail out deal and pledge to continue using austerity measures against the Irish people to pay back debts racked by financial institutions.
Ireland's new Taioseach (rPrime Ministe,) Fine Gael's Enda Kenny (a man who, true to his party's fascist roots, once used the n word to describe Congo's independence hero Patrice Lumumba.) is the second oldest person to occupy that position. While The Tánaiste ( Deputy Prime Minister) is the Labour Party's Eamon Gilmore who like many in the party was originally part of the Official IRA  (the majority faction in the 1969 split which created the Provisional IRA) linked Workers' Party before leaving to form a new party called the Democratic Left which eventually merged with Labour. With 37 seats won February's election results were the best ever in the Labour Party's 99 year history.
The Taioseach and Tánaiste have already clashed publicly over the findings of a report into campaign financing.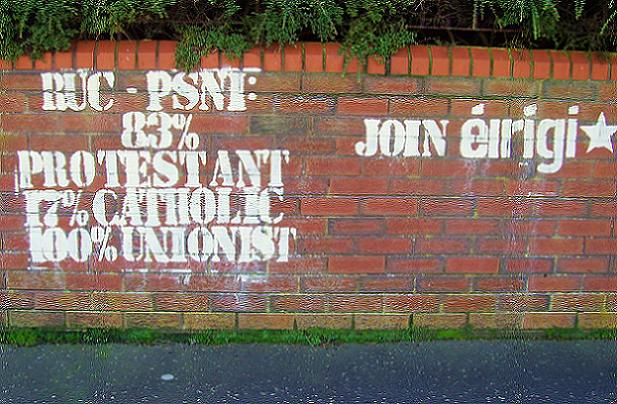 PSNI ends 50:50 recruitment
The government decided last Monday to end the Police Service of Northern Ireland's 10 year long programme of recruiting Catholics and Protestants on a 50:50 basis. This was initially recommended by the Good Friday Agreement linked "Patten Report" in order to redress a deep sectarian imbalance within the force that facilitated its predecessor, the Royal Ulster Constabulary's collusion with loyalist death squads and widespread human rights abuses against Catholic children. Despite making up over 45% of the population prior to the introduction of 50:50 recruitment Catholics made up just 8.3% of the RUC.
The policy together with a voluntary redundancy scheme in which senior officers were given over half a billion pounds (in addition to immunity from prosecution) in exchange for going into early retirement has led to the PSNI now being 29.3% Catholic. Ending 50:50 recruitment means that it will likely be a few generations, if ever, before the PSNI, even in numerical terms, becomes representative of the community it afflicts as a disproportionately low and falling number of Catholics choose to apply.
The falling rate of Catholics applying has followed a surge in stop-and-searches in Catholic areas. Such is the resentment towards the PSNI in some quarters that those who do join are sometimes disowned by their own families.
Kousa Accused
Recently defected Libyan Foreign Minister Mousa Kousa has been accused in British court documents of overseeing weapons transfers to the IRA. After American air strikes on Libya from British bases in 1986, which killed Gaddafi's adopted daughter Libya sent 4 large ships carrying 1000's of AK47's, millions of rounds of ammunition and tones of Semtex to the IRA. This came to an end when the Irish authorities intercepted the fourth ship but still had a significant effect on the IRA's military capabilities; in 1992 a bomb attack on the Baltic exchange in London's financial district using Semtex imported from Libya caused more economic damage than every previous bomb during the conflict combined.
Mr. Kousa is currently under MI6 guard at a safe house and is being ordered to ring 15 key Libyan government officials to try to persuade them to defect. Though there have been calls for the former diplomat to be tried over his role in supporting the IRA a government official has suggested "He may face justice in his country of origin" like "Tariq Aziz".
Cricket Victory
Ireland defeated England for the first time in ODI cricket in the group stages of the 2011 Cricket World Cup on March 2 after completing the highest successful run chase (329) in World Cup history with five balls to spare. Star batsman Kevin O'Brien also entered the record books by scoring the fastest hundred in World Cup History; smashing the previous record of 63 balls by achieving a ton in just 50. It was also the sixth fastest in One Day International cricketing history; six balls away from second place and thirteen balls away from Shahid Afridi's 100 off 37 against Sri Lanka in 1996.
Though Ireland didn't progress past the group stages the result meant the team, which unlike its football counterpart represents both sides of the border, finished above the former test side Zimbabwe. Despite this (and the Netherland's close match with England) The International Cricket Council has announced that the next world cup would only consist of the 10 current and former test playing sides denying Ireland, or any other up-and-coming cricketing side the chance to qualify.
While cricket has long been popular in Ireland in the Garrison towns of Ballinasloe and Kilkenny where it was first introduced in the 1830's; its growth in the country was hampered by a ban by the influential Gaelic Athletic Authority on its members (which include practically anyone who plays Gaelic sports) playing or even watched "foreign sports" that existed from the 1880's right up until 1971 (the ban once resulted in a former Irish President being expelled for watching a football match).
Since Ireland's 1993 introduction into the International Cricket Council, however, it has enjoyed a steady progression in the world rankings especially in the last six years coming runners-up in the 2005 ICC Trophy (a tournament for affiliate members) and winning the competition in 2009 as well as ODI victories against 4 test playing sides. This has come despite the defection of two of their best players Ed Joyce and Eoin Morgan, to England.
Prison Service in trouble again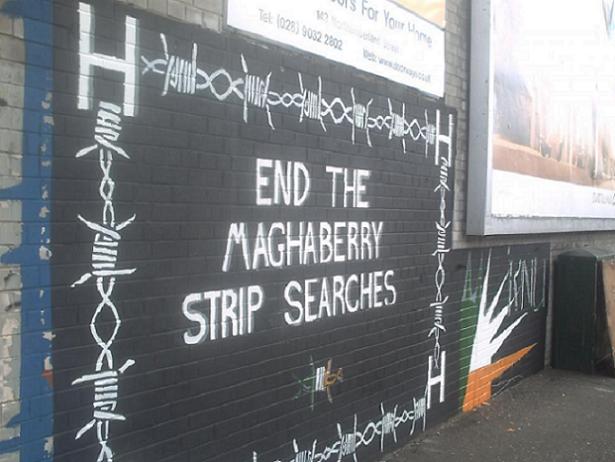 A note containing personal information about Prison Governor Steve Rodford that was found in the cell of Maghaberry prisoner Brendan McConville and scared Rodford into resigning and moving to England has been found to have been planted in McConville's cell by a Prison Officer. The revelation comes six months after an inquiry into the murder of an inmate in a Northern Irish prison suggested the service goes through a root-and-branch reform (like the old RUC the Northern Irish Prison Service is still 91% protestant) and three months after another report found widespread mistreatment of prisoners and described Maghaberry as one of the worst performing prisons in the UK despite its abnormally high staff-to-prisoner ratio (1.1:1 as opposed to 0.47:1 in the rest of the UK.)
Long running protests by Inmates secured a deal in which Prisoner Officers pledged to end controlled movement (when prison guards surround inmates whenever they're not in their cells) and regular, degrading strip searches. Since then this deal has been broken and protests have continues.
Garda Threatens Rape
A female campaigner protesting against Shell's inland gas refinery in Erris, Co. Mayo was threatened with rape by two garda (Irish policemen) on March 31.
After a brief discussion between two gardai about the Nationality of the protester one of the two exclaims "Well whatever we'll get fucking immigration on her… she'll be deported" to which the other replies "and raped" before they both chuckle. The first garda immediately understands that his colleague is threatening to rape the protester (despite many other possible inferences from the comment; suggesting these sorts of remarks are made often) and warns, "I wouldn't go that far yet… she was living in that crusty camp you could get all sorts."
During questioning the second garda directly threatens the woman "give me your name and address or I'll rape you" a third unidentified garda then joins in "Hold it there, give me your name and address there, I'll rape you" before the second one again intones "or I'll definitely rape you."
A protest at Belmullet Gardai Station is scheduled today.
Since the incident another tape has emerged of a Garda making sexual threats against a protester's wife in 2006. Since the residents of Erris first found out about Shell's plans to build a refinery on their land their protests have been med with extreme violence by both private security contractors and Gardai. Gardai protect the site despite the Irish government having no ownership Ireland's €500 plus oil and gas reserves and the tax revenue accrued from Oil and Gas companies in Ireland is the lowest in the world (in addition to having among the laxest regulation) . The refinery, if built, will also pollute lakes in nearby conservation areas leading to widespread, but as yet unheeded, calls for Shell to move its operation offshore.
Mcgeough Convicted
Gerry Mcgeough, the Republican who was arrested after standing against Sinn Fein in the 2007 assembly elections, has been convicted for the wounding of an armed British soldier in 1981 and sentenced for 20 years thus becoming the first person to be convicted for Historical Crimes since the Good Friday Agreement.
Despite Sinn Fein's silence during the trial Sinn Fein MP for Fermanagh and South Tyrone gave a character reference for Mcgeough's appeal stating that he no threat to the "peace" process.
The conviction comes as the MoD finally apologize, but refuse to charge anyone responsible, for the sniping dead of 12 year old Majella O'Hare on her way to congregation by a British paratrooper. Defence Secretary Liam Fox conceded the Army account of the murder at the time was "unlikely."
Omayr Ghani is Ceasefire's Political Editor.
5 Comments
Leave a Reply