Comment | Idle No More: Native Canadians' anti-colonial struggle must be waged in Britain too
On October 7, indigenous communities and supporters are taking to the streets across Canada and globally with a day of action to assert their indigenous sovereignty, and participation across the UK is called for as Britain's colonial legacy continues.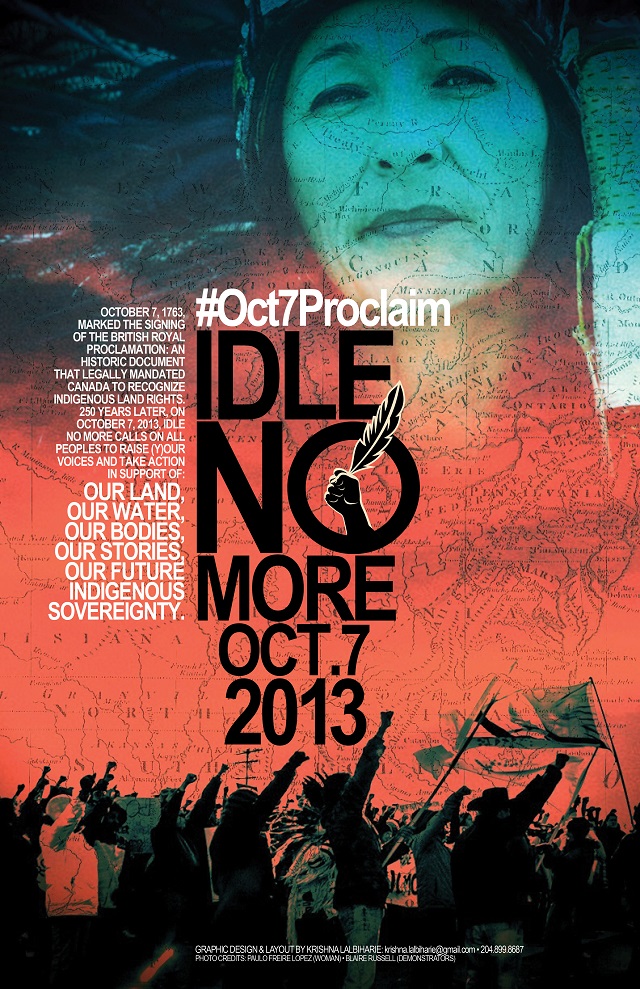 A historic day of action is being organised by Idle No More, an indigenous movement that emerged this past December and quickly snowballed into a widespread grassroots movement. One major focus of Idle No More is climate justice, as one of the most regressive energy projects on the planet, the Alberta tar sands, continues to expand its pipeline tentacles across the fragile earth.
Companies like British Petroleum, RBS, HSBC and Shell are heavily invested in the tar sands, and there are plans to have dirty oil from the tar sands transported to Britain. The U.S.-based company Valero recently purchased a refinery in Wales to add to their tar sand investments, and Canada is engaged in a high-powered tar sands lobbying effort across Europe.
The Crooked Crown in Canada
The Idle No More day of action takes place on the 250th anniversary of the British Royal Proclamation, which consolidated Britain's imperial reach in North America. October 7 also marks the arrival of the United Nations Special Rapporteur on the Rights of Indigenous Peoples for his official visit to Canada.
The country was recently shamed after the Conservative government, under Prime Minister Stephen Harper, rejected calls for a UN inquiry into violence against native women, only to have the arrogance to support a UK-led resolution at the latest UN General Assembly calling for an end to gender violence in conflict. How a country can end gender violence abroad while ignoring what occurs in its own backyard is a question that will go unanswered under the current Harper regime.
Some questioned the logic of protesting in the UK when the struggle for indigenous rights and sovereignty should be fought within Canada, but to suggest the Crown is merely a symbolic role in Canada today is false.
Governor General Michaëlle Jean, who served as representative of the Queen, kept the incumbent Conservative government in power when it was on the brink of collapse in 2008. This was hardly a symbolic act. It is entirely conceivable that Bill C-45, one of the principal pieces of legislation people are fighting, would not exist were it not for a decision taken by the Queen's representative.
It is in this context that one of the four original women behind Idle No More delivered a petition to the Crown in London on January 28 calling on the crown to respect treaty relations and revoke Bill C-45. And it is in this context that anti-colonial struggle in Britain is warranted.
Supporting Indigenous Struggles
It is a troubling irony that anti-colonial discourse is muted in Britain despite its violent and widespread colonial legacy, while former colonies and indigenous communities grapple with the effects of British colonialism on a daily basis. Out of sight, out of mind, the saying goes.
But the consequences of colonialism are very real for the indigenous communities. Water contamination and environmental degradation, malnutrition and inadequate housing are among the problems that communities are fighting with incredible resilience.
UK-based events are emerging in support of Idle No More, with an action planned on Oct. 7 in Sheffield to raised awareness about the movement. The UK Tar Sands Action Network continues to do inspiring work in keeping dirty oil off the continent, and other events are likely to take place soon.
But perhaps the best solidarity is simply listening to indigenous communities. Colonial powers and settlers have silenced indigenous voices by force and these voices continue to be suppressed and marginalised today, so it is unsurprising that an indigenous movement would emerge to have their voices heard. It is high time that people listen.
5 Comments
Leave a Reply