Capturing Gaza Breaking the siege
Last week, Palestinians marched in their thousands to commemorate the 63rd anniversary of their national catastrophe, the Nakba. Ceasefire's Hama Waqum, who had just arrived in Gaza with the Vik2Gaza Convoy, reports on how a people besieged are finally breaking free.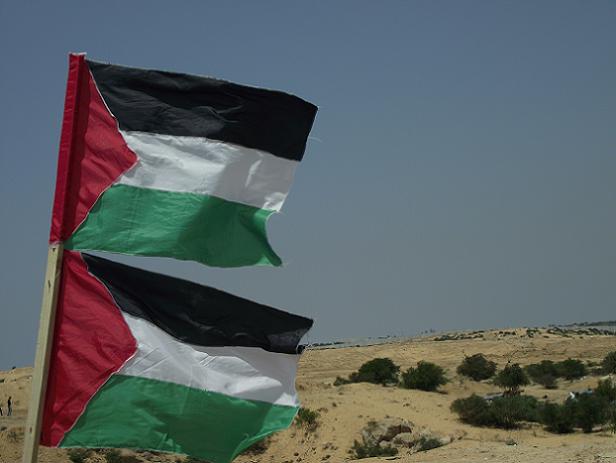 By Hama Waqum
"How do you like Gaza?"
I wanted to give them the most groundbreaking answer they had ever heard. I naively thought that nobody could possibly have ever felt the way I did (and do) about being here and I needed an answer to reflect that. So I took a deep breath and responded:
"I don't really know." Oh Lord, did I really just say that? Of all the answers I could have given…
"I mean, um… I can't explain how it is to be here," I try to reclaim some character. "I've been dreaming of coming here for so long, I don't even know enough words to transmit what is going on in here" I add, pointing to my sternum. I pretend to have recovered some credibility at least.
Two months ago, I left my job, home and family thousands of miles away and began my quest to get to Gaza. That day was my third in Gaza City but I still kept forgetting that I was actually there. Even as we crossed from Egyptian to Palestinian Rafah, I couldn't absorb that the convoy with which I had entered Gaza- Vik2Gaza– had been successful in getting in.
So there I stood, fruitlessly attempting to talk my way out of my own ineloquence. Fortunately, my audience understood.
"It's ok, I get it," she said, putting a hand on my arm. That was how the morning of the 63rd Nakba anniversary began.
Nakba demonstration
The Vik2Gaza convoy was thought up almost immediately after Italian human rights activist Vittorio Arrigoni was killed. The Nakba day would also mark one month since his death.
We spent that day, firstly in the port -from which Vittorio frequently accompanied fishermen out to sea, documenting human rights violations- and later on at the Erez Crossing between Gaza and Israel.
As we arrived in Beit Hanoun, a town in the north of Gaza and the closest to Israel, our group struggled to stay together as we were separated by countless screeching ambulances. As we joined a group of middle-aged Palestinian women wearing headbands that read "We are returning", Gaza finally began to feel real.
We hear the roar of a drone overhead and I look up expectantly, but as we all follow the machine with our eyes, it finishes strutting its taunt and buggers off.
Restricted by the large size of our group, we were prevented from getting right up to the border so some of us scaled a hill nearby. From the top, the chaos was clearly visible. People were running back and forth manically and directly in front of us, at a distance, was a looming tower which looked like an enormous nail, jabbed into the earth.
"That's where they were shooting us from," one Gazan exclaimed at me, pointing to the tower. Then I spanned the horizon and spied a gargantuan tank that obscured an entire field. It looked like a flat supersized Megatron.
That day one person was killed, and around 60 were injured by machine gun fire and shelling. The protesters were unarmed. One of my friends came back from the protest with somebody's blood all over her shirt.
Censorship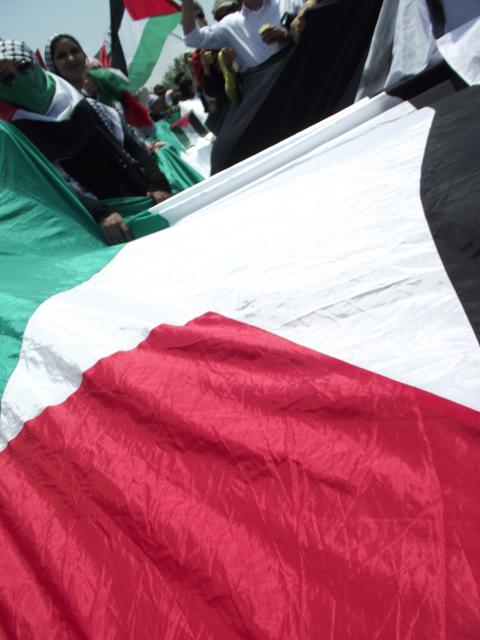 The night of the Nakba I was talking with a group of university students. As ever in Gaza, the blockade is never too far from any conversation, regardless of how banal it starts out.
The students were discussing how they would love to get their hands on a few of the latest books, including one by Noam Chomsky. But the blockade prevents a large number of books from reaching the Palestinian audience. It was a conversation that was repeated when I visited a local university library.
"Of course many books are forbidden," the university representative told me. If students want bootleg books they either wait for the rare occasion when a friend escapes the siege for work or study and returns with illicit books, or they resort to trying to circumvent the educational censorship with the help of tunnels. For the average 20-year-old, waiting for a friend to return with books is the only real option.
Besieged
"We don't need food; we need freedom," one girl declared bravely, in front of the whole convoy. Although most food does get through here, one way or another, it is unaffordable for poorer families, who rely on assistance from humanitarian agencies. Nevertheless, the girl was right, far more damaging than the worry of affordable food was the topic that constantly surfaces when you talk to Gazans; 'we are not free'. You get a taste for this frustration- though it is by no means at all comparable- when trying to break the siege. It is a gamble and you have no control over whether you will be allowed to enter Gaza or not.
When at the border between Gaza and Egypt, one guard captured the frustration that we had been feeling:
"You know that desperation you feel, to be able to get into Gaza, to feel limited and restricted about which border you can cross? You have felt it for a few days; we have felt it for sixty-three years."
Who are we to slice apart the globe- Gaza or otherwise- with lines drawn by pens? Now we must attempt to restitch the damage, with pens, convoys and determination.
Vik2Gaza broke the siege for just one week. But just as the delegation crossed back into Egypt, a Malaysian flotilla arrived and already more convoys are planned this summer from Italy, the USA, Turkey and South Africa.
Each convoy reaffirms that solidarity cannot be frightened off and that Vittorio's friends, supporters and comrades will continue to break the siege and support Gazans striving for freedom, until they are winners. "A winner is a dreamer who never gives up."
Hama Waqum is a British writer and activist currently based in Gaza.
2 Comments
Leave a Reply