Special Report | France: Why I can no longer stay silent on my country's Islamophobia
Zaynab Kahina reports from a historic "Stop Islamophobia" demonstration in France, the biggest anti-racism march the country has seen in almost 40 years.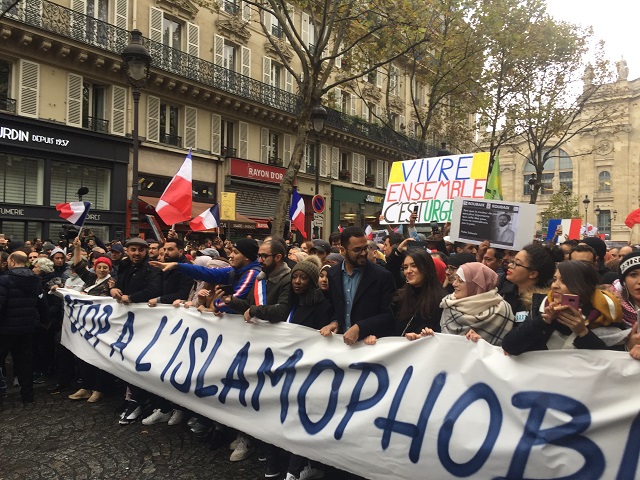 Last weekend, I cancelled my London plans and took the Eurostar to Paris to join tens of thousands of people on Sunday to march against Islamophobia.
It was the biggest anti-racist march France had seen since 1983, and the first one ever against islamophobia.
I went because, as a French person, I cannot sit by and watch as my country descends into an ever-increasing spiral of hatred, racism and violence.
I went because, as a child of North African immigrants, I cannot look away as hate speech is ever-more normalised and acts of aggression are legitimised.
I went because, as a woman, I cannot stay silent while women's right to choose is denied by both the left and the right, and feminism is manipulated and muddied into racist arguments.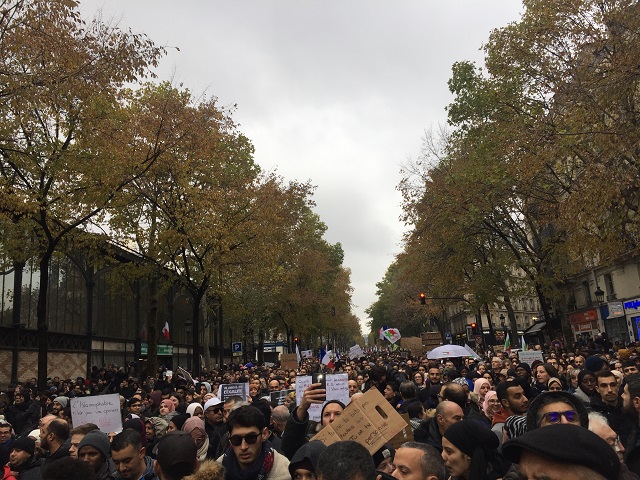 As a child growing up in the South of France, I witnessed Islamophobia up-close, in many of its insidious forms: from the micro aggressions in the classroom to the ubiquitous racism of the police. French society has been increasingly divided beneath cloak on suspicion, hostility and mistrust.
As perceived Muslims, we represent the internal enemy. In the media we are subjects for debate and derision. For neighbours, our trivial traditions, language and clothing become threats, even an incitement for violence.
'Laicité,' the principle of separation of Church and State which is meant to protect the practice of all religions, is used to discriminate against Muslims. It is the weapon brandished by those who want to ban the hijab, silence opposition to hate speech and justify discriminatory laws.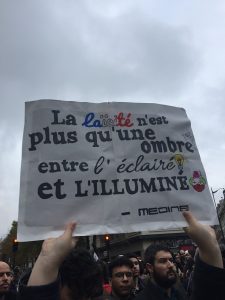 Indeed, on Thursday, the Minister of Education added even this weekend's march to the long list of "threats to laicité". On this fertile ground, the French-born theory of the "great replacement" took root and spread its poisonous seeds.
Last month, Emmanuel Macron described Islamism as a "hydra" of which the "entire nation" must be vigilant. His minister of interior, Christophe Castaner, gave us a glimpse of what this vigilance might look like in practice when he called on people to report those who have beards, or who "rigorously practice religion, especially during Ramadan".
In the subsequent weeks, a woman wearing a hijab was racially abused by a politician in front of her crying son, and the Minister of Education described the hijab as "not desirable in our society". Two weeks ago, an 84-year-old man shot two Muslim men and attempted to burn down a mosque in Bayonne.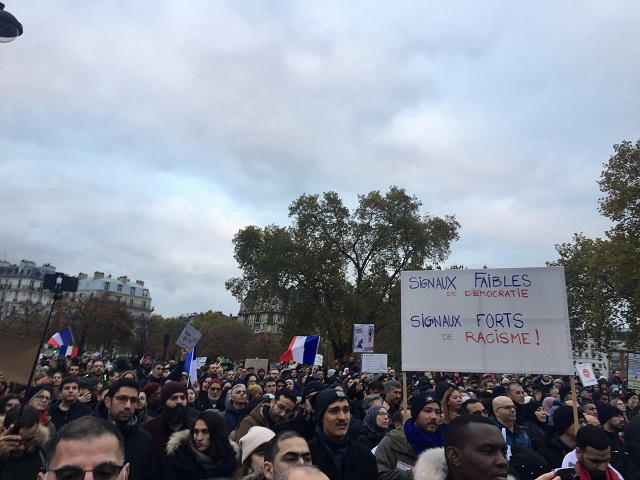 Despite the smear campaign in the mainstream media against the march, calling us "Islamists", and death threats against one of the organisers, more than 20,000 people of us gathered and marched.
What struck me about those marching was the diversity of people there. As well as grassroots Muslim movements, unions, leftist parties, the human rights league, Jewish organizations, queer activists, some Gilets Jaunes, there were thousands of ordinary people, many of whom were marching for the first time.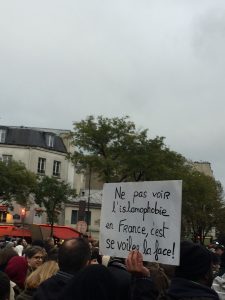 One Muslim woman at the march told me "I've never been on a demonstration before, but I've had enough. I've lived in Paris for 32 two years and things in France are getting worse and worse." Another woman, speaking from the platform, told the crowd, "We are not here today to defend Muslims. We are here to defend the society in which we want to live."
The march ended at the Place de la Nation, and as the sun dipped below the Paris skyline, the crowd began singing with one voice a rousing chorus of La Marseillaise. "Arise, children of the Motherland, the day of glory has arrived".
At that moment it felt that perhaps the healing had begun. That we had the energy to stand together for our dignity and equality. The energy to defeat the real hydra that stalks France. A multi-headed hydra of made up of the unexamined racism, unacknowledged Islamophobia and historical amnesia that are embedded deep in French society.
Leave a Reply