Blog | Extradition: Talha Ahsan and Babar Ahmad [Video]
An exceptionally moving and informative film, 'Extradition', directed by Turab Shah, tells the tale of Babar Ahmed and Talha Ahsan who have been kept in prison without trial, and face extradition to the US, a country they have never set foot in.
By Hicham Yezza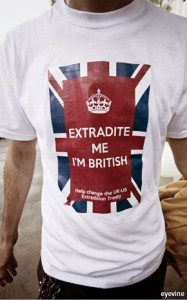 This could be our last chance to save Babar and Talha. Act today, don't delay before it's too late. Every second counts.
1. Email the DPP and your MP today. If you've written once, write again.
2. Get every member of your family to do the same.
3. Ensure one friend per day minimum to do the same.
4. Get 10 members of your constituency to write an open letter to your MP in the local paper.
5. Arrange a delegation to visit your MP.
6. Write to every national paper which has covered the case calling fo a UK trial.
Full details at http://tinyurl.com/9oyl88z
http://freebabarahmad.com/the-story/latest-news/item/463-urgent-alert-support…
Leave a Reply