Special Report | Gezi Park: 'This is a clean revolution'
It is the repeated failure of the Erdoğan administration to engage with groups such as The Taksim Platform, consisting of ordinary people calling for dialogue with their rulers, that has pushed citizens over the edge this weekend.
By Latifa Akay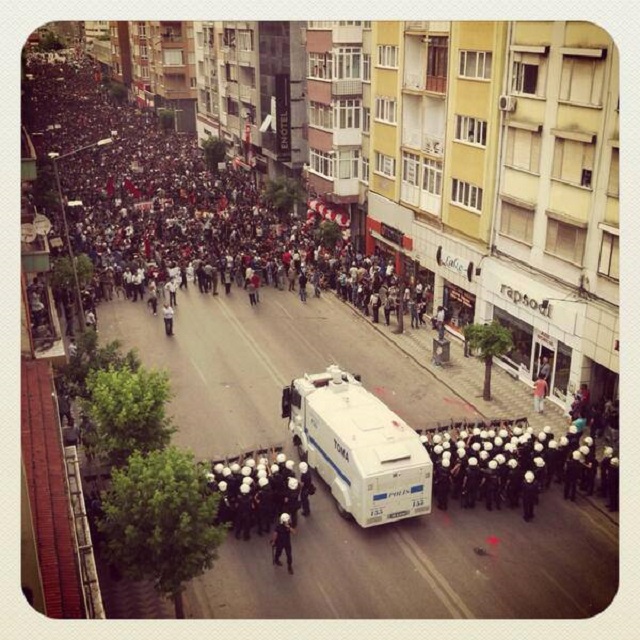 I remember the morning, last September, when I left Istanbul to move to London. Though I was running late, I asked the taxi driver to drop me off a little early so I could walk through the greenery of one of the city's infrequent leafy retreats – Taksim Gezi Park – for what I had a nagging feeling may well be the last time.
Gezi Park had, at that stage, already been earmarked for demolition. Sinister 'X' symbols marked the trunks of seven-decade old Sycamore trees in the latest of Prime Minister Erdoğan's grand urban regeneration strategies, characterised most prominently by a lack of transparency and indifference to public opinion.
Over the past few days the small green, formerly a welcome tonic to Istanbul's relentless flow, has been transformed into an unlikely battlefield. In a turn of events described by philosopher Noam Chomsky on Saturday as 'reminiscent of some of the most shameful moments of Turkish history', a peaceful occupation of Gezi Park erupted into some of the worst scenes of rioting in Turkey over the past decade, when police subjected sleeping demonstrators to a rude awakening in the early hours of Friday morning.
This was only to be the beginning and rioting intensified throughout the day despite damning statements released by both Amnesty International and Human Rights Watch condemning the excessive use of force and tear gas by the police. By Saturday afternoon Taksim, an area more commonly associated with gastronomic delights than gas masks, resembled nothing short of a war zone. Footage of helicopters swooping low over the historic rooftops and protesters fleeing in a haze of gas, smoke and destruction, are a far cry from the image of democracy and tolerance the government has worked hard to cultivate over recent years.
With international condemnation growing, Erdoğan – in his refusal to back down from his plan to cut down a few trees – has, ironically, severely damaged his own reputation, succeeding in doing precisely what his opponents had failed to achieve in a decade of trying.
The Interior Ministry announced it had arrested 939 people at demonstrations across the country on Saturday and newsfeeds on social networks were saturated with calls for lawyers to represent those detained, many of whom responded to offer their services pro bono. It has been the kindness of strangers that has kept those affected on their feet this weekend, from grocery store owners leaving boxes of water and juice outside their stores to the countless incidences of home-owners opening their doors day and night to offer cups of tea and shelter to those seeking refuge.
Indeed the adverse conditions have facilitated the forging of somewhat unlikely unions, one Tweet declaring that Erdoğan's 'chemical sprays' had united fans of Galatasaray, Beşiktas and Fenerbahçe – Istanbul's zealously supported football teams – for the first time in history.
Guessing over 'Gezi,' has left international audiences more confused than ever as to the status of the enigma that is Turkey. On the one hand it has been painted as a model for post-revolutionary Arab governments to emulate. On the other, liberal Turks argue that the country's secularity is under threat in light of the ruling Justice and Development Party [AKP]'s increasingly conservative policies.
To attempt to simplify this situation to a crude 'Islamist' vs 'Secularist' narrative would be misguided. Prime Minister Erdoğan has in recent years departed from the pro-democratic credentials that had earned his party the support of both conservatives and liberals alike when it came to power in 2002. During his first two terms in office, Turkey developed in an unprecedented manner, marking a sharp contrast to the corruption and instability of the preceding decades.
Yet in recent years, apparently confident as to his party's support among the broader public and within the state apparatus, the Turkish prime minister has demonstrated on more than one occasion that he has no qualms about flouting fundamental principles of a functioning democracy in a manner not unlike the authoritarian tendencies of many of the Turkish leaders who preceded him. The issue at hand is not one of party politics or religion. It is one of the violation of fundamental rights and freedoms of Muslims and non-Muslims alike.
Those protesting this weekend have not been 'pillagers,' 'marginal' or 'extremists' – as Erdoğan branded them at various points of the weekend. In fact, the majority of demonstrators have made an active effort to prove such accusations wrong, cleaning up the streets, steering clear of violence and caring for wounded cats and dogs.
As is the case in every protest, spoiler elements were present, however such factions have been in the minority and demonstrators have included students, civil, servants and activists from all backgrounds as well as furious mothers banging pots and pans on their gas-infused balconies and headscarfed girls long tired of their alienation from education and workplaces. Contrary to claims that rioting is limited to secular strongholds, unrest has also been reported in more conservative residential districts of Istanbul such as Fatih. In a climate where citizens increasingly feel their voices count for nothing, the lack of transparency and discussion surrounding re-designations of public space represents for many a direct attack on the basic right to civic life.
While concerns about authoritarian state control of news media have now been aired for some time, the predominant silence of the Turkish media on Friday and Saturday is perhaps the most telling sign yet of the degree to which this control may extend. Indeed speculation that national television channels were under orders not to broadcast scenes of police violence was confirmed when live coverage of Taksim began on Saturday afternoon only after the police had withdrawn from the square.
Despite the susceptibility of social media networks to the dissemination of inaccurate information, protesters have displayed an encouraging willingness to rectify mistakes such as the mass sharing of a photograph of thousands Istanbulites pouring across the Bosporous Bridge which was actually taken during the Avrasya Marathon held last October. An article highlighting errors in widely-circulated material was published in an online magazine and widely shared by activists on Sunday morning.
It is unfortunate that the desire of the majority of protesters to ensure the accuracy of their information – and, in doing, so uphold the credibility of their cause – is not shared by the ruling elite. Speaking to the Al Jazeera news channel on Saturday, Erdoğan's chief advisor Ibrahim Kalin scoffed at allegations of excessive police force, preferring to view them as operating in self defence against 'marginal groups.'
What began as a protest over the protection of a public space has developed into an overspill of latent anger and deep-rooted grievances against the government ranging from the arbitrary detainment of journalists and students to unwanted interventions in the daily lives of citizens. These have included the recent warning against public displays of affection or the forcible removal of all outdoor seating at venues in Taksim two summers ago, as well as intimidation of the news media and haphazard and reckless urban development plans which have seen historical and cultural structures such as the Emek Theatre and the Haydarpaşa station readily sacrificed for mundane commercial ventures.
Erdoğan's advisor Kalın was right to state in his interview with Al Jazeera that the Prime Minister's announcement two weeks ago to curtail the hours in which alcohol can be purchased merely brings Turkey in line with the standards of many Western countries. But the problem is the manner in which Erdoğan's announcement was made. Instead of justifying his reasoning in civic terms, using the explanation Kalin chose to share with Al-Jazeera, Erdoğan referred to the 'protection of new generations from un-Islamic habits,' instantly jarring with those who live a more secular lifestyle. Pacification and negotiation in place of provocation and unnecessary rhetoric would go a long way in keeping accusations of authoritarianism at bay.
Working as a journalist in Istanbul last year, I regularly attended the meetings of 'The Taksim Platform,' a collective made up of concerned citizens from all walks of life calling upon Istanbul city officials to serve their constituents in a more transparent and democratic way. In all my encounters with this group I was struck by the dignity and patience of their endeavours; they did not point fingers, nor were they aggressive in their demands. Instead they called simply for a more considered approach to evaluate the future of Taksim Square, underlining the reality that the plans were made in complete isolation from groups who have the expertise to evaluate the potential effects on the urban fabric of the area.
It is the repeated failure of the Erdoğan administration to engage with groups such as The Taksim Platform, consisting of ordinary people calling for dialogue with their rulers, that has pushed citizens over the edge this weekend.
With the global spotlight trained upon Turkey, a less obstinate leader may have sought to appease his constituents. Yet Erdoğan opted to do the opposite at the height of the violence on Saturday afternoon, tweeting confidently that he could mobilise a million pro-government supporters in Taksim Square.
One would have thought that the international media coverage of the heavy police crackdown on Labour Day last month would have discouraged the Turkish administration from employing such tactics again in a hurry. This has not been the case. The result is that – on an international level, as well as a national one – the Prime Minister's credibility is being called into question.
At daybreak on Sunday, weary protesters armed with shovels and brushes set about cleaning Gezi Park and the surrounding Square area. 'Ours is a clean revolution,' read one sign. Clashes may have paused, but uncertainty remains as to what the next step will be. Civil unrest is certainly not a new phenomenon in Turkey. But this weekend it has manifested as a palpable threat to an administration which has grown complacent and careless in its use of power.
The slogan 'Taksim belongs to us all' has become symbolic for 'Turkey belongs to us all'. Whether this movement will maintain its momentum and spread beyond the secular strongholds of the country's biggest cities remains to be seen.
2 Comments
Leave a Reply