Comment | Democracy and Process: The Real Power of Occupy LSX
Writing from Occupy LSX, Ian Chamberlain argues the real power of the movement is the new world of possibilities it has created, built on consensus, cooperation and a rejection of the corporate-guided, party-political approach that has dominated the country for generations.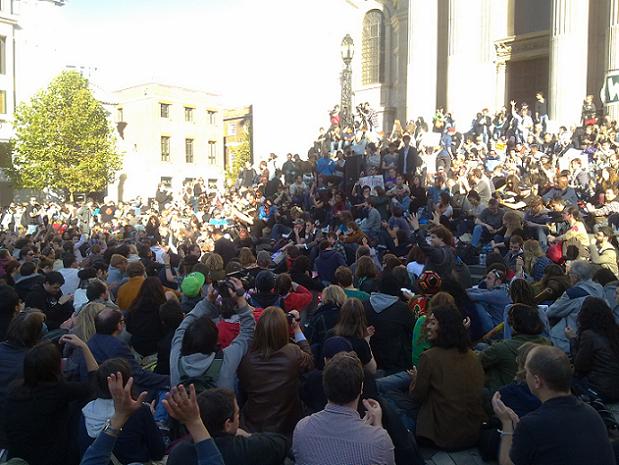 I now know that I'm hardly alone in thinking, and feeling, that for too long the views and needs of ordinary people have been ignored by our "democracy." The sense of powerlessness that I experienced after I lost my job, when I saw so many opportunities disappear – such as going back to college or university to re-train, as fees tripled beyond my reach and as I struggled to find enough work to pay the rent – I experienced this as an individual, but now I see it throughout my South London community.
I needed an antidote to this powerlessness, and I have found one.
I have found an inclusive space where it feels safe to express opinions, where people are actively listened to, where common experiences are discovered regardless of party labels and diverse identities. But more than that – people soon get bored of talking shops – this is a space where beliefs and ideas result in action. This is the real power of Occupy LSX.
At Occupy, decisions are made by consensus. That doesn't mean that everyone has to agree on everything, but that participants have agreed to use a set of tools which produces decisions that more accurately reflect the will of the camp than voting would have.
This combination of diversity and process produced an 'Initial Statement' on the 16th October which seems to have chimed with the 99% not just in the camp, but across Britain.
When decisions are made through voting, people vote for their favourite option, but more often this feels like voting for the least terrible one; that's certainly many people's experience of the electoral system, where options are reduced to a choice between one set of corporately-funded policies or other.
Noam Chomsky has talked about commercial newspapers as a business-to-business product. The paper's primary product is access to its audience which it sells to other businesses in the form of advertising. A newspapers' output is modified slightly to appeal to the lifestyle sensibilities of readers, whether they are liberal or conservative, educated or uneducated. But primarily the output of newspapers reflects the priorities of its biggest customer: big business. The customer is always right, especially the one spending most on advertising.
The same can be said of political parties. Their product is the sale of electoral support for corporately sponsored policy options. Businesses pay the political party most likely to implement corporate-friendly policies and win the election. From the electorate's point of view, party politics has been reduced to salesmanship, with little participation from citizens.
So how refreshing to come to the Occupation and discover that when a proposal is made, it's because someone really believes in it, that the proposer feels it would be good for the community and environment, were we to implement it. But we don't have to take their word for it, participants can reject or modify proposals to better reflect the interests of all.
We gather at the general assembly twice a day. When a proposal is made, people indicate their support by waving their hands in the air. If people express their disagreement with other hand signals, the assumption isn't necessarily that they oppose the proposal. The follow question is often in mind: how can the proposal be modified to elicit the support of those who disagree?
Outside the camp, if someone proposed the NHS principle of "free at the point of use" and then said this would be provided by a market of private institutions, many would vote against it. But many wouldn't vote against it either. not because the NHS' principle wasn't valued, but because of how the proposal suggested it should be implemented. The power of consensus is the way we see the nuance in people's views; participants don't just select preferred options, they can suggest modifications to allow for broader support.
The history of consensus is long and varied. In Britain, Quakers have used consensus in their business meetings since the 17th century, which reflects their non-hierarchical methods and emphasis on equality. Today it is popular amongst activists who attempt to create something of the future, a more horizontal world, in the present.
Of course, many activists would admit that in the past these methods seemed to lack a relevance to the wider public. It felt like a hard sell – something fluffy and unrealistic – to a population whose ability to make decisions about their economic lives was travelling in the opposite direction: the decreasing power of trades unions to negotiate better conditions for workers and the flat-lining of wages, increasing working hours, along with a narrowing of political arguments within the party-political sphere.
However, what has characterised the experience at Occupy LSX is the appetite of participants to find new ways of interacting, starting with a rejection of "experts" claiming to provide all the answers, and opting instead to engage with ideas on their own merits. This appetite has come from within individuals rather than a forced political ideology. Paul Mason in his BBC article on the Occupation (16/10/11) summarised a truth first articulated by sociologist Manuel Castells: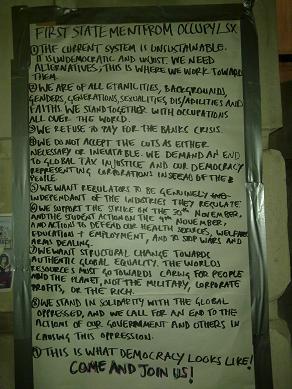 "the more autonomous and rebellious a person's attitudes are, the more they use the internet; the more they use the internet, the more autonomous their lifestyle becomes."
People use the internet not only to talk, but to propose ideas which yield results, whether its organizing an event or producing Open Source software. The real-world results which come out of these new processes energises people to continue to participate. The activity at Occupy LSX is its offline equivalent and is the opposite of purists sitting in a room talking endlessly while fewer people return to follow-up meetings because of boredom.
People keep visiting and engaging because they see the consequences of a working democratic process. In doing so, they discover power in collective action, one which inspires optimism in its ability to effect wider and more fundamental changes during these gloomy times of economic collapse.
It seems that we no longer have to persuade people of the need for a different kind of politics. The sense of irrelevance of the major political parties whilst they continue to talk among themselves, alongside a mindset of collaboration and co-operation which has taken form on the internet with the horizontal tools of social networking, the democratic deficit of the world around us is a stark comparison.
People, in their masses, are discovering new ways of transforming their personal and economic lives and are attempting to build a very different sort of community.
5 Comments
Leave a Reply