Music | The Coup: Interview and Performance [Video]
After more than two decades at the forefront of political Hip Hop, The Coup's first UK tour has seen them deliver memorable performances. Ceasefire interview frontman Boots Riley and review the band's first ever London gig.
By Usayd Younis, Nidal Hajaj and Adam Elliott-Cooper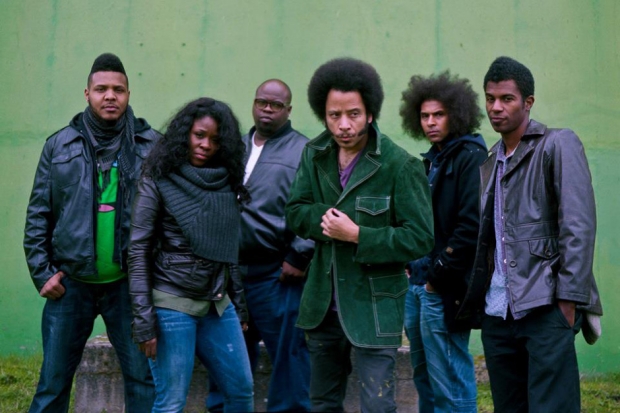 I haven't watched a Hip Hop group performing with a live band since I saw The Roots four years ago, and I've been to quite a few shows since then. As soon as the stage was set I knew it was going to be a great show. A guitarist, bassist, keyboard player and drummer set the scene with some fantastic sounds, quickly followed by Silk-E and finally, the MC: Boots Riley.
Boots has a fantastic presence. Almost at one with the microphone, he practically glides across the stage. Combined with live funk beats, you feel nothing but compelled to move your body along.
The Coup do not immediately rub their politics in your face, but they aren't playing around either. Beneath the awesome sounds lie a bed of lyrics that challenge an unequal society. Take, for instance, the song 'Me and Jesus the Pimp in a '79 Granada Last Night', which later became the inspiration for a book.
In between tracks Boots simplifies and condenses the band's message into a single pithy line: "We think the people should democratically control the wealth created by their labour."
Performing a range of songs, including material from their newly-released 'Sorry to Bother You,' The Coup keep the audience moving. Boots performs two semi-acapellas, and though he doesn't deliver speeches per se, the words he does share with his audience are hard-hitting and unambiguous in their directness: "Music helps you to engage with the moment. The best way to engage is to change the world around you."
Considering they've been around since the early nineties, I remain amazed that this was the The Coup's first ever UK tour and, after such fantastic performances, countless thousands – devotees and newly-converted alike – will be no doubt be hoping it won't be their last.
1 Comment
Leave a Reply