Music | Review – The Coup: Sorry to Bother You
As 2012 slows to an end, this week sees the timely release of "Sorry to Bother You", the new album by US Hip-hop band The Coup fronted by activist Boots Riley. Usayd Younis and Sara Shah find a release that merges clever social commentary, punk rebellion and funky beats to create a timeless and unique sound.
By Usayd Younis and Sara Shah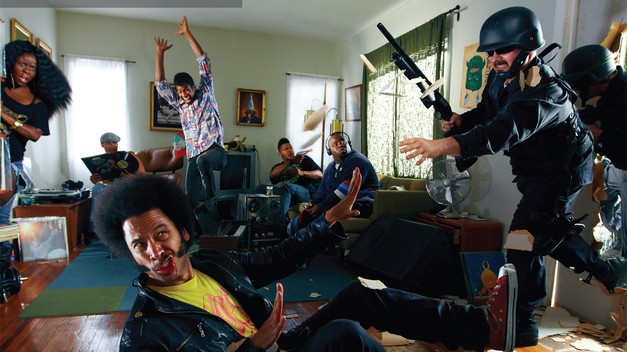 Album cover for 'Sorry to Bother You'
This Tuesday US Hip Hop group The Coup release their sixth album 'Sorry to Bother You', long awaited after their last release 'Pick a Bigger Weapon' in 2006. The group consists of it's founder, MC, songwriter and activist Boots Riley, alongside DJ Pam the Funkstress and a full live band.
Since receiving my copy I've lost count of how many times I've listened to it. The album is addictive. It features Das Racist, Killer Mike, Jolie Holland, amongst many others. It's clever, angry and hilarious. Unconventional recording techniques fused with Boots' poetic political commentary have the listener caught between dancing and rioting. In his own words: "It's our best work. I'm getting to a different place in songwriting, one that I've been striving for a while to reach. I'm excited for folks to get it and live with this music."
True to form, The Coup continue to express radical ideas, aggressive lyrics criticizing capitalism, police brutality and US politics. The album explodes into lead track 'Magic Clap', a contagious anthem mirroring the albums influence of mid-seventies punk, smooth Motown roots and a relentless beat. Ending with the line "When we slap back, it's the magic clap", Boots explains: "It's about everything that leads up to that moment when people decide to fight back, when thought leads to action." Heavily involved in the 2011 Occupy movement in the band's hometown of Oakland, Boots claimed that the strike was "just a warning…like us flashing our guns and saying, 'This is the power that we have.' We're going to shut the city down, we're going to close the port, and from there, we're moving on."
Challenging instutitonalised schooling, the album's second track 'Strange Arithmetic' systematically exposes the hypocrisy of so-called education. Using the theme of different school subjects, the song highlights the contrast between the issues young people face and those that they learn. "In geography class its borders, mountains and rivers / but they'll never show the line between the takers and givers." The song encourages teachers to use their position of influence to be instruments of change, "Teachers, stand up, you need to tell us how to flip this system".
Against the backdrop of the US elections, The Coup deliver energetic bursts with the song 'Guillotine', which screams resistance against the ruling class ("No, you can't out- vote'em!") and points to more direct citizen involvement. As Boots explains, "None of the progressive changes we've had over the last century came from electing the right politician. If you have a militant mass movement that is able to physically stop profits at production and distribution sites, you can make any politician do what you want. Politicians are puppets; we're going after the puppetmasters."
Since their debut in 1991 The Coup have consistently made music which is intrinsically linked to grassroots struggle. Unlike many other Hip Hop groups of their time, they've managed to stay true to both message and delivery, with each album introducing something new and potent to the mix. 'Sorry to Bother You' was intended to be a call for action. This may be the sound track for the revolution in a rhythm not heard before.
5 Comments
Leave a Reply