Music | Review: Brother Ali (XOYO)
In anticipation of the release of his new album "Mourning in America and Dreaming in Color", US Hip-hop artist Brother Ali is currently on a UK tour. Ceasefire's Usayd Younis went to see him perform in London.
By Usayd Younis
» Check out our review of Brother Ali's new album "Mourning in America and Dreaming in Color"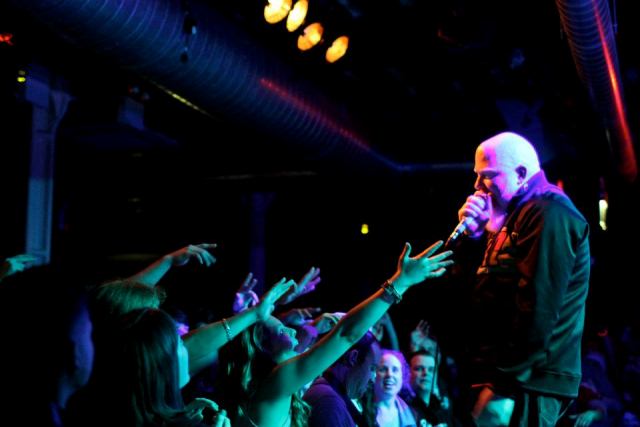 Brother Ali performs at XOYO London, 11th May (Photo: Daniel Yang)
Brother Ali is a Hip Hop artist from Minneapolis, USA, commonly introduced with the words 'big, bald and albino'. His tour in Europe showcases a refined Ali as he introduces his fifth album "Mourning in America and Dreaming in Color" to be released this August. I attended his show at XOYO in London, which he opened with his latest free song 'Not A Day Goes By':
Being a 'Muslim rapper' is hardly uncommon and carries a whole host of stereotypes. Yet Brother Ali has a refreshing approach in expressing his faith as one part of who he is. Seemingly more open and accepting than ever, Ali booms down the mic "Whether you're Muslim…or a Lesbian, these just define one aspect of us as human beings." Similar to others, his trip to Islam's holy site Mecca inspired an internal reform, visualised by little more than a thin white beard which drops from his chin.
First time I shed a tear at a hip hop gig when @BrotherAli was doing an acapella about his father and Eyedea passing.

— Illya S (@Illcutz) May 10, 2012
A previously unheard a capella on his progression through life was incredibly raw and touching. The audience were taken aback by the complete openness that Ali displayed in his words, speaking of his grandfather's suicide and father's death in a gripping rhyme which silenced all.
Beyond that, my favourite part of the night was Ali's pause to, as he put it, 'preach', on the ills of our exploitative reality. This was carried through to unexpected performances of songs from his new album which carry a thread of revolutionary ideals and a much needed realisation of the global struggle: "The [August] uprisings you had here to Occupy to the revolutions in the Arab world – they are all linked."
"I want to leave a better world for my son than what was left for me," he says emphatically as he enters another track. After a fantastic mixture of performances from all of his works (including the notorious 'Uncle Sam Goddamn'), Ali ended on the closing track from the album 'Us':
"I started rhyming just to be somebody
found out that I already was
cause can't nobody be free unless we're all free
there's no me and no you its just us."
On promoting the new album, which he claims is his 'best yet', Ali emphasised his wish for people to find a way to the content – regardless of how. Watch out for the drop on August 13th.
You can download Brother Ali's latest mixtape "The Bite Marked Heart EP" for free here.
Click here to read the exclusive Ceasefire review of Brother Ali's new album "Mourning in America and Dreaming in Color."
1 Comment
Leave a Reply