Music | Review: Brother Ali – 'Mourning in America and Dreaming in Color'
At his last London performance, US hip-hop artist Brother Ali announced his intention to address some 'real issues' in his next release. 'Mourning in America and Dreaming in Color', released next week, is a step beyond real, Usayd Younis discovers.
By Usayd Younis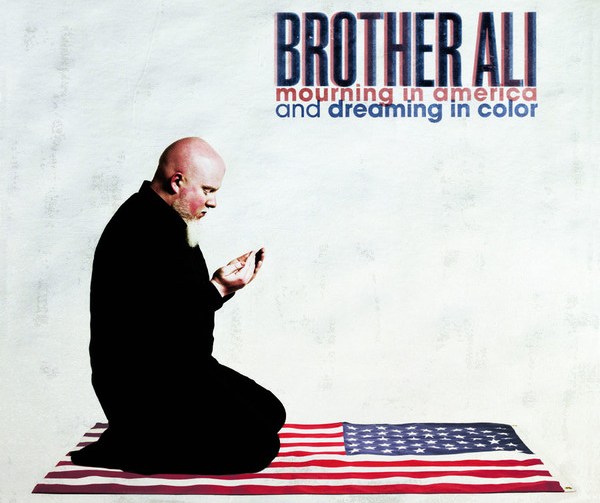 Mourning in America Dreaming in Color is Brother Ali's fourth studio album
Brother Ali announced at his last performance in London that he was going to be addressing some real issues in his next album. Mourning in America and Dreaming in Color is a step beyond real. With the perfect blend of speaks, beats and rhymes this is a favourite for 2012.
The album starts with 'Letter to my Countrymen.' In the form of an address to the listener it may come as a surprise that Ali first takes a seemingly patriotic stance. Of course Ali turns the idea on its head:
"What does it mean to be American?
I think the struggle to be free is our inheritance 
And if I say it how it really is, we know our lily skin still give us privilege."
With a background of the global Occupy movement and crippling conditions in the so-called first world I see it as a cry aimed at reclaiming the place we call home. This introduction urges the individual to embark on more than just a 14-track journey; and ends with the moving words of Dr. Cornel West: "You don't wana be just well adjusted to injustice and well adapted to indifference. You wana be a person of integrity who leaves a mark on the world."
The tempo ups a beat as what is becoming an 'Ali tune' kicks in. "They just wana get you in the system stick you in the prison…Tell me what's moral about these conditions?" An exemplary flow is found throughout this album and the excellent production by Jake One makes it difficult to fault.
Some argue that Ali doesn't use enough 'complex' language in his songs. I see him as someone who defines his own style. I've seen a phenomenal progression from his early mixtapes to this album in both beats and rhymes. Touring with his new band, 'Blank Tape Beloved', which includes horn players, drums and bass, can only take this music to another level.
You know an artist is about to say something when they begin and end a track with audio snippets of Malcolm X:  'Mourning in America' does exactly that. "When innocent people perish there's a very thin line between a soldier and a terrorist." The song is already a hit on YouTube having racked up more than 100,000 views in the days after it launched.
I wasn't surprised to find Amir Sulaiman, featuring his well known poem 'Danger', at the end of one of my favourite tracks, 'Gather Round'. In fact, the two Muslim artists both recently undertook spiritual journeys to Islam's holy site, Mecca, and already featured together on a track together with upcoming artist Quadeer Lateef.
The song, which makes both Biblical and Quranic references, oozes resonance. Ali declares a shift in his perspective in his insistence that there is a path towards change:
"'Couple years ago I made a statement: 'Can't figure single goddamn way to change it'
As of late I made adjustments to my language
Numbers are the only thing that people gain strength in."
"Survival can seem the impossible feat
But you roll up your sleeves and you sow all your seeds.."
'Fajr', named after the dawn Islamic prayer, ends with the morning call to prayer which translates to "prayer is better than sleep". This song takes on a heavy beat and crazy flow with trance-like properties. The only way this song could be better is if there was no chorus at all and Ali spat the entire thing in one go.
People are often confused by the titles of albums. 14 tracks later Mourning in America and Dreaming in Color makes perfect sense. This is an album of struggles and hopes, failures and successes. Most importantly Brother Ali has turned a page in musical and lyrical content.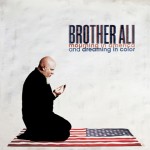 The only thing more real than an artist who addresses the problems of the world through their own experience is one who does it well.
Mourning in America and Dreaming in Color
Artist: Brother Ali
Release: 18th September 2012
Label: Rhymesayers
Leave a Reply