Politics | Why is the British Establishment Handing Over a Parliamentary Seat to a Despot's Niece?
The Labour Party's decision to field as one of its General Election candidates a member and supporter of a political dynasty with an atrocious record of human rights violations in Bangladesh is a scandal.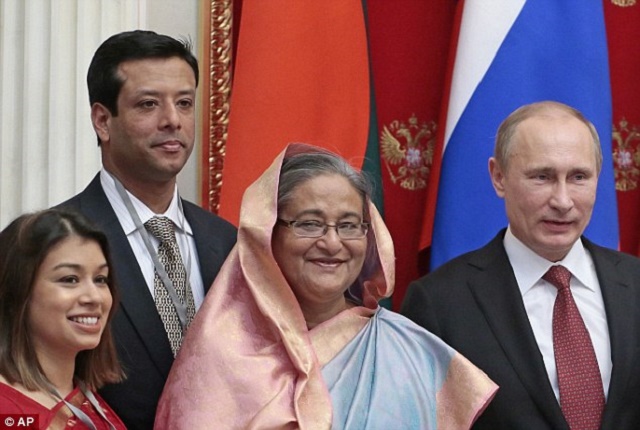 In recent weeks, the parliamentary race for the bellwether seat of Hampstead and Kilburn has hit the headlines. Crossing the London boroughs of Brent and Camden, with a multiethnic, urban southern profile, and the more affluent north, the area's dynamics and tensions speak to a generally Labour-Conservative polarity.
Voters here are in the unenviable position of having to choose between the ex-extremist counter-extremist Maajid Nawaz, the untested conservative Simon Marcus and Labour's Tulip Siddiq, who has spoken on behalf of her aunt Sheikh Hasina's brutal government in Bangladesh. The Green Party have fielded Greenham Common veteran Dr Rebecca Johnson as their candidate.
Out of these contenders, Tulip Siddiq looks set to be anointed as the MP. An old Lord Ashcroft's poll gives her a double digit lead over the Tories, and her campaign is backed by the influential centre-left elite. Given the recent car crash that has been Maajid Nawaz recently, and the relative quietness of the Marcus campaign, Siddiq's gilded rise presents a dynastic face of the Labour Party many had hoped to have seen the back of.
Election media coverage is seldom neutral, and Tulip's campaign has been accompanied by glowing pieces in the Independent and Evening Standard, as well as by supportive north London blogs like Richard Osley's and the Ham & igh. What they seem to share is an unwillingness, or incapacity, to explore the transnational and dynastic aspect of this story with any degree of depth or scrutiny. It was only the Daily Mail, perhaps on instruction from CCHQ, that focused on Tulip's questionable links to Vladimir Putin.
In this context, it is legitimate to ask whether the Labour PPC's previous campaigning for and representation of her aunt's repressive regime makes her fit to be a British member of Parliament, especially against the backdrop of her aunt's party's most recent rigging of mayoral elections last week.
Britain and Bangladesh Connected
Efforts to hold transnational elites accountable are difficult, but necessary. However, exclusivist political alliances and dismissive attitudes from an institutionally ill-informed political establishment confounds this process. To illustrate this point, the  Labour MP Jim Fitzpatrick has likened the British Labour Party and the Bangladesh Awami League as sister parties. A relationship which has reached its apotheosis with the rise of Tulip Siddiq at a time of unprecedented autocracy in Bangladesh.
In the absence of electoral accountability in Bangladesh, and ongoing British support for Sheikh Hasina's autocratic regime, Siddiq's family connections merit some scrutiny. She represents the third generation of a dynasty starting with Sheikh Mujib, her maternal grandfather, whose election victory in 1970 precipitated a constitutional crisis on the subcontinent, whose violent resolution led to the formation of Bangladesh. Military officers eventually assassinated Mujib in 1975 after a period of famine and unpopular one-party rule.
Tulip insists that her focus is this country, not Bangladesh. But a scan through now deleted blogs, and records of appearances with the Hasina family, reveal otherwise. Take the infamous photograph with Hasina and Putin. When it was first revealed, her spirited defence was reported in the Ham & High, where she (or at least the paper) insisted that the photo was taken during a visit to "see her family in Bangladesh'. She now concedes that the photo was indeed taken in Moscow, but that she was merely tagging along. In the Evening Standard she boasted of bending Putin's ear over gay rights. Interestingly, the hundreds of deaths at the hands of Bangladeshi law enforcement agencies did not appear to draw Tulip's attention when she met with their lead perpetrator, her aunt.
Tulip makes light of her official photograph with Bangladeshi PM Hasina and Vladmir Putin in Simon Usborne's Independent newspaper, claiming it was a two-second affair, separate from the Bangladesh government delegation that she was not prepared for. This seems rather implausible when read against Alun Hill's rolling footage of the official signing of a controversial nuclear power deal and arms loan, followed by photography in front of the national flags.
For his part, Tulip Siddiq's paternal uncle, General Tariq Siddiqi, is currently Sheikh Hasina's full time security advisor, who allegedly acted as Hasina's emissary to military high ups inviting a coup before the 1996 elections. He was promoted by and played the role of military advisor in her previous regime, and is widely believed to have 'restructured' the current armed forces, shoring up support with valuable plots of land.  Of note to the British taxpayer is the Bangladesh government's purchase of FinFisher electronic surveillance technologies from when it was owned by UK-based concern. In many respects Bangladesh is a surveillance state under dictatorship, and its agencies operate a full-suite of imported, state-of-the-art technologies to protect that state of arrangements. The public in Bangladesh are aware of this and so reluctant to speak openly about the situation there.
At a Bengali-language press conference, with her mother, following her parliamentary nomination, Tulip Siddiq ridiculed suggestions of dynastic politics and praised her aunt. But the deleted blog posts on her website detail her role as the ruling Awami League spokesperson after a mass killing of border guard officers. The Labour party's unwillingness to conduct proper and timely due diligence of this connection, and its machining of gender and ethnicity markers, are interesting to observe and compare with the well resourced and racialising media, political and litigious campaign they have waged against Tower Hamlet's Lutfur Rahman.
Does UK policy towards Bangladesh matter?
Bangladesh matters to the UK, economically as well as politically. Connections include a quarter billion pounds of the UK's annual international development spend, a much larger remittance economy, a young half-million strong Bangladeshi-heritage community and the purchase  of 20 million Ready-Made Garments per year. The safety and rights of Bangladeshis is not an abstract issue disconnected from everyday politics, economics and life in the UK, and vice versa.
The extent of human rights violations by the Bangladesh state is unbearable for its victims, their families and dependents. They have virtually no access to justice from the sitting regime nor the safety to speak, be heard and organise. The political dynasty, of which the Labour PPC is an active cross-border party and supporter, enforces its writ with disappearances, mass detention, torture and suppression of opposition activists, with cadres and security forces that operate with impunity, and a Stasi 2.0-esque control over press and public discourse.
The Bangladesh Awami League has had its glory and gory moments, as has its principal opponent, the Bangladesh Nationalist Party. Today there is no more Cold War, and at present the Awami League is favoured by the EU, USA, India and Russia, for its proclaimed secular liberal credentials, media savviness and greater organisation. However, its ideology is highly racialised, taking form in opposition to racial chauvinism from the Pakistani state. Its mode of social control has been called fascistic by opponents and liberal commentators alike.
While the League's nationalist, Islamist political opponents and the community-based seminaries have borne the brunt of their violence and dehumanising rhetoric, minorities have increasingly found themselves under attack and their bodies, property and institutions used in a shameless game of political blackmail.
The callousness of state crimes committed in recent years has created a whole new set of grievances and schisms for future generations to resolve. A vivid example of this was the massacre of unarmed, largely rural madrassa students protesting in Dhaka on 5-6 May 2013, and the surveillance, kidnap and financial persecution of persons from human rights group Odhikar, reporting on it. Such violations beg for more than casual dismissal from the Labour party, its PPC and their liberal-left propagandists.
It is quite extraordinary that the Labour party elite and other champagne socialists are coming out in support of someone who's an advocate of a government with so much actual blood on its hands, a party which has subsumed its own armed militia into the Bangladesh's security forces, and a party that pursues its opponents in the most ruthless and vindictive way. Compare and contrast this attitude to the experience of another British Bangladeshi politician, Lutfur Rahman, the Mayor of Tower Hamlets, turfed out of the Labour Party, accused of entryism and having the support of so-called Islamists who – they forget to tell you – are bearing the brunt of the Awami League's brutality.
Meanwhile, at the international level, lawyers on behalf of the International Coalition for Freedoms of Rights have requested that the International Criminal Court open a preliminary investigation into members of the Awami League Government for Crimes against Humanity, naming Hasina, her son Joy, key ministers and security heads amongst the responsible parties.
As such, by selecting Tulip Siddiq, Labour have strengthened the hand of an abusive autocrat, and by electing her, Hampstead and Kilburn's voters will be confirming the favour. Voters throughout Bangladesh were denied a credible general election in January 2014 and seem scheduled to be denied that right again until at least 2019, when the next UK Parliament will be five years old and Bangladeshi opposition parties will likely have bled and been brutalised more. Tulip is known to be close to Ed Milliband, no doubt through many of her own talents and efforts, but also the confidence of Ed's section of the party and support of its rising BAME figures. Their judgement is seriously called into question here.
Whatever the result on the 7th May, the electoral and moral costs of Labour's own goal in Hampstead and Kilburn, amongst other myopia, will haunt them significantly throughout the electorate.
5 Comments
Leave a Reply