Special Report | 'Black Guy with an Afro' | Policing at the Trayvon Martin Solidarity Demo
Last month, in the wake of George Zimmerman's acquittal, activists gathered in Central London to demand justice for Trayvon Martin, as well as for those who have died at the hands of the police in the UK. Reporting for Ceasefire on the protest, Corine Dhondee reflects on the extraordinary police response to it.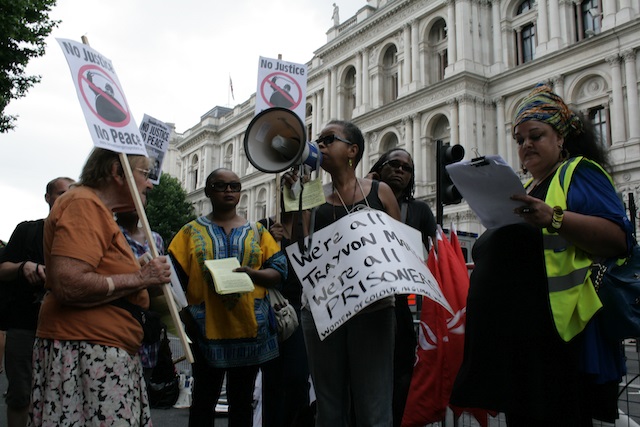 On Saturday 27th July 2013, a crowd of people gathered outside the US Embassy. The grey summer afternoon did not dampen their support for Trayvon Martin, or those who have died in UK police custody. In the solemnity of the moment, placards with a picture of the slain teenager and the words Remember Trayvon Martin were handed out. Dotted among the crowd were other placards bearing an image of a crossed-out caricatured police officer wielding a baton alongside the words No Justice No Peace.
Speeches and spoken-word by artists and activists from the UK, US and South Africa helped to articulate the frustration of women and men who responded with resilient cheers and applause. The activists told stories of human degradation at the hands of the police and the state. The response was one imbued with the dignity of human compassion and emotion and was always followed by the call: 'What do we want?' and the response 'Justice!'; again the call, 'When do we want it?' and the final response 'Now!'.
As the rally moved towards Downing Street, neither the embedded police officers nor the convoy of six police vans deterred protesters. Instead their voices were lifted, calling out the names of those who have died either in police custody or after contact with the police: Joy Gardner, Ian Tomlinson, Roger Sylvester… to the call came the response 'Justice!'. The death of Trayvon Martin and the subsequent acquittal of George Zimmerman struck a chord with us, bringing to mind similar stories of judicial injustice in the UK, and underlining the need for political change.
David Oluwale
David Oluwale was almost twenty years old in 1949 when he stowed away on a cargo ship from Lagos, Nigeria, bound for the UK in the hope of starting a new life. In 1969 his beaten and swollen body was hauled from the dark waters of River Aire in Leeds. It wasn't until 1971 that the murder of Oluwale was brought to court and with it, a deeply distressing tale of years of racial abuse and violence at the hands of at least two police officers: Inspector Geoffrey Ellerker and Sergeant Kenneth Kitching.
In court, racist terms used by the officers were not referred to, while the physical aggression they employed was portrayed as 'soft violence'. The judge stated that Oluwale was a 'dirty, filthy vagrant'. It is possible to surmise that the court's impression of Oluwale was one of a troublemaker and as such his life was worth less than that of others. Dehumanising the victim, creating them into a demonic human being has become a normalised practice. It enables the accused to justify their actions by putting the victim on trial.
The officers were jailed for a series of assaults on Oluwale, but under the direction of Judge Hinchcliffe they were found not guilty of manslaughter; Ellerker was sentenced to three years in prison, and Kitching received twenty-seven months. One of the prosecuting counsel, Donald Herrod, wrote that the full truth was not being told and that there was a scarcely-concealed conspiracy to protect the two officers on trial.
Ian Tomlinson
Forty-four years after the death of David Oluwale, the government and courts have continued to protect police officers. The very public case of Ian Tomlinson, who on 1st April 2009 died after contact with PC Simon Harwood, provoked a public outcry. The haunting footage of Tomlinson walking alone, his hands in his pockets, his head down, past a group of Territorial Support Group police, before being violently struck by PC Simon Harwood and falling to the ground is still fresh in the minds of those rallied to his cause. Tomlinson was able to get up off the ground, but a few minutes later he collapsed, dying shortly afterwards.
In 2011, two years after the death of Tomlinson, a journalist from the Guardian newspaper, Paul Lewis, reported from the inquest. On the first day the senior judge, Peter Thornton QC, told the jury that neither PC Simon Harwood or the Met were 'on trial'. If Harwood was not on trial, who was? Was this a show trial intended to satisfy public opinion, rather than ensure justice? This would not be the only time that the jury were reminded that PC Harwood's legal status was very different to that of ordinary citizens.
On day four a police officer who had spoken to Tomlinson seconds before he was struck by PC Harwood said it was clear he was not a demonstrator and he 'posed no threat'. PC Kerry Smith also said she was 'shocked by the forcefulness of the push'; she expected to see blood after witnessing Tomlinson propelled to the ground. On day five the coroner told PC Harwood that he was 'under no obligation to answer any questions that he believed might incriminate himself'. At the time of the inquest Harwood had been suspended on full pay and was facing a disciplinary proceeding after the inquest.
After a trial lasting four weeks the jury found PC Simon Harwood not guilty of manslaughter. An inquest jury had earlier returned an unlawful killing verdict, finding that Tomlinson died of internal bleeding in the abdomen after being struck with a baton and pushed to the ground. A Metropolitan Police disciplinary panel later sacked PC Harwood after he was found guilty of gross misconduct. The panel decided not to consider whether or not the officer's actions caused or contributed to Tomlinson's death. Tomlinson's widow walked out of the hearing, calling it a 'whitewash'. Other members of the family left the hearing stating it was proof of a cover up from day one.
On 5th August 2013, the Metropolitan Police apologised to the family of Tomlinson and reached an out of court settlement. Deputy Assistant Commissioner Maxine de Brunner took full responsibility for the actions of PC Harwood, stating that she 'accepted the findings of the inquest that Mr Tomlinson was unlawfully killed. He was complying with police instructions to leave Royal Exchange Buildings. He posed 'no threat'. Ian Tomlinson's widow stated, 'the apology is as close as we are going to get to justice'. The apology for the unlawful killing came four years after Tomlinson's death and two years after an inquest jury found PC Harwood guilty of the unlawful killing.
Of the many cases of deaths in custody or after police contact, the Tomlinson case is different in two regards. The first is the very public accounts following his death that included amateur footage collated and put online by The Guardian, as well as eyewitness accounts from people such as Lucy Apps – a third year medical student who tried to assist him after he collapsed and was later interviewed on BBC Radio. Hence the Tomlinson family was not left isolated by the media in the battle for justice, as the public were able to witness first-hand what happened to Tomlinson. The second is that the police and the media could not manufacture Tomlinson as a violent criminal. At first the Metropolitan Police released the statement, 'officers had come under a hail of missiles as they tried to go to his assistance'. Witnesses who spoke to The Guardian repeatedly questioned this version of events.
In 2013 Jules Carey commented in The Guardian, 'within 48 hours of this death, the City of London police's major incident room had received a significant body of evidence that indicated Tomlinson had been violently assaulted by a police officer, and that his injuries could have caused or contributed to his death'. He continued, 'written in the lead investigators log was the following, he records a decision to ensure that attention of media is managed in a positive and appropriate way … Safeguard the position of the force and partner agencies in relation to level of information released'.
The management of information led to a four-year battle for justice, one in which Tomlinson was painted as a drunk with a heart attack waiting to happen. But the attempt to 'safeguard the position of the force' could not contend with images and stories that would corroborate the language later used by numerous police officers: 'Tomlinson didn't pose a threat'. Furthermore the Tomlinson case gave insight into the workings of the judicial system when a police officer goes on trial. The question remains: how can black as well as working class white families obtain justice when the system they rely on works in favour of the police and other arms of the state?
Roger Sylvester
Records show that since 1969, not one police officer has been convicted of a death in custody. Figures from 1969 on deaths in custody differ, and the most accurate figure is from data collected in 1990 states that there were 1,433 deaths, either in police custody or following police contact. In 2012, the Bureau for Investigative Journalism reported that 'the number of people who have died after being forcibly restrained in police custody is higher than official figures suggest'. After the broadcast of a joint investigation by the Bureau and the BBC that heavily criticized an official IPCC report and its data on deaths in custody cases, the IPCC was to conduct a root and branch review of the way it deals with Deaths in Custody cases. It was stated that the IPCC had adopted a narrow definition of 'police custody' that failed to include cases in 'restraint-related' deaths in the decade to 2009 that included Roger Sylvester's death.
On 11th January 2009, Roger Sylvester, aged thirty, was restrained by eight police officers outside his home in Tottenham. They were responding to a call from his neighbours and when they arrived at his home they found him naked and banging on his door. He was taken to St. Anne's psychiatric hospital where six police officers handcuffed and held him down for 20 minutes in a padded cell. Roger collapsed and stopped breathing; he was then resuscitated but was in a coma. He never regained consciousness.
In 2003, a jury returned a verdict of unlawful killing against eight police officers stating that he died of brain damage and cardiac arrest. The verdict was overturned in the High Court in 2004. The BBC reported the judge stating, 'he would not order another inquest, and said no jury in any criminal case would be likely to convict any officer of manslaughter'. The judge continued, 'justice is impartial. Of course there must be justice for Roger, but there must also be justice for police officers'. The case led to a review of techniques by the Metropolitan Police that led to changes in training. Any force used by police must be 'lawful, proportionate and necessary,' according to guidelines by the Association of Chief Police Officers. Yet two more cases of death of individuals with mental health problems were not on IPCC data for deaths in custody. Giles Freeman died in 2002; the jury found that he had died as a result of restraint and excessive activity while suffering a psychotic episode. Simon Bosworth died in 2008; the jury returned a narrative verdict and the IPCC found there was insufficient evidence to substantiate any criminal or misconduct proceedings against Cambridgeshire police officers.
Joy Gardner
In the UK, race and class play a central role in how black people are treated by the police and other arms of the state. For those who have not read the notes on Joy Gardner's death, a police officer stated, 'she was a big black woman'. Hence in July 1993, six officers, five men and a woman, were needed to restrain her because she had overstayed her welcome. This involved breaking down her front door in the early hours of the morning, wrapping 13ft of tape around her head, handcuffing her, and putting a body belt on her – the body belt was a leather contraption used for pinning the arms, which has chains and handcuffs fitted. The brutal assault on Gardner happened in front of her five-year-old son. The Home Office pathologist who conducted the official post-mortem examination at the Whittington Hospital, where Gardner was later put onto on a life-support machine, stated that the cause of death was hypoxia. Gardner suffocated to death.
In 1999 Heather Mills for The Guardian wrote, 'Three years ago, three police officers from the Alien Deportation Group were tried for manslaughter. They were acquitted after telling a jury that Joy Gardner was the most violent woman they had ever dealt with and that the treatment she received was standard practice'. Of course it is difficult to know conclusively what happened to Gardner: there isn't any public footage, there are only the officers' statements. Perhaps the officers were the violent ones, perhaps Gardner was trying to protect her son. In the documentary Justice Denied Gardner's sister related how an officer said Gardner threw one of them across the room. There is only one eye-witness account told to Gardner's sister by her five-year-old son who said the officers sat on his mother. Other information painted a lurid image of Gardner as a deviant, who had hit her husband and was, according to the Home Office, difficult to find. Yet violent murderers have not been treated with the same amount of aggression that Gardner was subjected to. The image of Gardner as a violent monster worked to justify the police's violent treatment of her. Instead of being a victim of police violence, she became the perpetrator.
Media Silence
The linking of blackness to violence is a longstanding racist trope that has been used to legitimize repression of black individuals, communities and populations. It is a discourse that reshapes itself in policy, academia, media and culture to suit the interests of those in power. In the 1980s it was the 'sus' law that allowed the police to arrest a 'suspected person' without warrant and saw Black people's doors broken down, arrests and Black deaths. After the 1985 Broadwater Farm Estate riots in Tottenham, a documentary The People's Account by CEDDO, a Black film collective, about the Broadwater Farm riots from the communities perspective was made. It never aired on television.
The reason given for not screening the documentary by The Independent Broadcasting Authority (IBA) was that they 'objected to the description of the police as racist, lawless terrorists, and to the description of the riot as a legitimate act of self-defense'. The IBA demanded editorial changes and when the filmmakers refused, the programme was pulled from the schedules, never to be shown on British television'.
Not only do the courts conspire to protect the police, but so too does the media. Rather then allowing the work to be screened, so the public can make individual assessments, we instead see our media consumption controlled and our individuality devalued in the desire to maintain an imagined identity of Blackness that in turn is recognized by the collective consciousness as a true representation of a mass group of people. In this context choice and truth become a devalued and meaningless concept in the hands of systems of power such as the media and the state.
Mark Duggan
After the riots in 2011, which saw the death of Mark Duggan after contact with police officers, shops were burnt and looted. The first images of Duggan that emerged in tabloids such as The Daily Mail portrayed him as a crack cocaine dealer who ruled with violence and fear, and linked him to a 'gang' that allegedly killed PC Keith Blakelock. The article drew heavily on the PC Blakelock case to paint an image of Duggan as being part of a criminal subculture suggesting that growing up on Broadwater Farm Estate was evidence of criminal behaviour. According to initial reports sent to journalists by the Metropolitan Police, Mark Duggan was armed and dangerous at the time of his death. The Telegraph reported that Mark Duggan was shot by police with a gun in his hand as he got out of a mini-cab.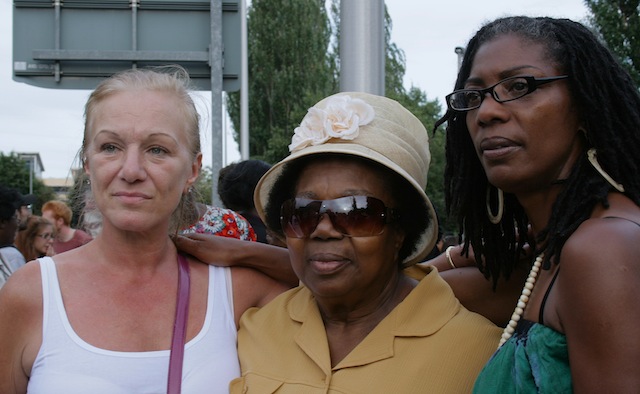 Mark Duggan's aunt, Joy Gardner's mum and Sean Rigg's sister.
But further scrutiny counters this information: a gun found 14ft from Duggan's body did not have his fingerprints on it. Instead, a 30-year-old man, Kevin Hutchinson-Foster, was found guilty after a retrial of supplying the firearm found at the scene of Mark Duggan's killing, and was sentenced to 11 years' imprisonment. Hutchinson-Foster's fingerprints were on the gun that was supposed to have been held and fired by Mark Duggan. In the report, Media and the riots – a call for action, National Union of Journalists' president, Donnacha DeLong, is quoted as saying: 'One of the worst parts of the post-riots coverage was where the content of newspapers came directly from the police.' According to City University London lecturer Marc Wadsworth it was 'lazy journalism… to rely on what the police was feeding them, what politicians were telling them.'
Tottenham youth neither believed the narrative of events offered by the media, nor accepted the disproportionate police stop, search, arrest and other police tactics as justified. The tension built up over years of injustice came to ahead three days after Duggan's death when buildings were attacked and shops looted. The unrest spread across London and to other parts of the UK. John Pilger called it an insurrection, meaning an act of instant open revolt against civil authority. David Cameron cited the unrest as being a sign of a broken society: schools, parenting, families, addiction, and communities were all identified as being the problem. Instead of investigating the police, a spotlight was shone onto the morals and values of working class communities.
On August 2nd 2013, the IPCC found no evidence of any criminal offence by the police. According to Vikram Dodd from The Guardian, 'none of the eleven firearms officers at the scene of the Duggan shooting who were asked to attend interview have answered oral questions from the IPCC, instead supplying written answers. All initially refused to attend an interview, and only the officer, named V53, who shot Duggan, later attended. V53 has said his substantive account of the shooting was compiled three days later, with he and his colleagues spending more than eight hours sitting in a room together writing their statements.' Furthermore, Theresa May stated when speaking about police undercover work that, 'members of the public cannot know the details of the police undercover operations but we need to have this assurance that this work is done properly, in accordance with a procedure that ensures ethical lines are respected.'
Theresa May's speech will give little comfort to families whose members have died after contact with a covert police operation. Consequently the truth behind Duggan's death may never be known. Yet it is in the public interest to know not only how far our democracy has been eroded, but to remove from the police force those who are a danger to the public. The account of how the IPCC has treated the officers in a case littered with false information illustrates again the powers of the police to, as prosecuting counsel Donald Herrod wrote forty-four years ago after the death of David Oluwale, conceal the truth in an attempt to protect serving police officers whilst demonizing citizens.
Despite changing their stories in 2011, David Cameron and Boris Johnson were part of a Bullingdon Club party during their student days at Oxford that smashed up a restaurant. Nick Clegg committed arson when he was young, burning down a green house of a professor that had his life's work in it, for which he was given community service. Would all three have the same profession and lifestyle if they were Black or white and working class?
During the riots, the myth that Black youths were the problem was again disseminated through media outlets in the UK. David Starkey caused outrage when he said, 'The whites have become black. A particular sort of violent, destructive, nihilistic, gangster culture has become the fashion' citing Enoch Powell's River of Blood speech suggesting that in one sense it was absolutely right. There were a number of public criticisms of Starkey's racist views but according to an academic for those watching the coverage in the Home Counties an opinion was reshaping itself about the dangerous Black youth subculture. In the aftermath of the riots a different picture began to form, one that showed that diverse ethnic groups were involved. For example in London 39% of the rioters were Black and 29% white, while in the West Midlands 30% were Black and 34% were white, in Merseyside 13% percent were Black and 72% were white and in Greater Manchester 10% were Black and 76% were white. The figures given are the top two from the BBCs riots report. Yet by the time comprehensive reports were published the problem was defined as being one of Blackness, gangs and youth.
The state introduced twenty-four hour courts to fast track those arrested through the justice system. I visited the courts to witness what took place. On one occasion I saw a young Black person tried by a judge, who according to The Guardian's Reading the Riots, had been given blanket guidance on what sentences should be given. The young person had severe learning disabilities, but this was not the concern of the judge. The injustice of the state's response to the 2011 riots can be linked to a problem of what happens when blackness intersected with class. This is consistent with the racial doctrine of fear that marks black communities out as dangerous.
In Tottenham four weeks after the riots, the community was on lock-down, fearing police reprisals in the form of dawn raids, young people being arrested, and a intensity of stop and search. Today we see Black youth disproportionately stopped and searched. The latest figures by the Equality and Human Rights Commission show that black people are twenty-eight more times likely to be stopped and searched than white people. This is in addition to the anti-terrorism laws that can also be employed to repress other racialised groups who are, or are considered to be, Muslim.
In 2011 a police officer, when questioned by a friend of mine as to why he was stopping and searching more Black youth on their way to Notting Hill Carnival answered, 'because they are more violent'. In 2012, Doreen Lawrence stated that recent allegations of racism at Scotland Yard show little has changed since it was called 'institutionally racist' after the death of her son Stephen Lawrence in 1993. Whilst most recently the revelations of police spying on the Lawrence Family led to Doreen Lawrence stating, 'There are still elements of racism within the police… and I don't think all the lessons have been learned'. Both Doreen and Neville Lawrence have called for an independent enquiry into police spying allegations believing that the police cannot investigate themselves.
Most recently in the case of Jimmy Mubenga the coroner found 'pervasive' racist attitudes among deportation guards. On July 9th 2013 the inquest jury of seven men and three women returned a majority verdict that Jimmy Mubenga was unlawfully killed during a deportation in October 2010. During the case witnesses gave different accounts to that of the guards who said that Mubenga had lunged at them and had continued to fight them. A statement by Rosa Da Silva, a passenger sitting nearby was read in court; 'I could not see the black man's face because the security men had pushed his head forward but the man was screaming out,' she said. 'The security men was standing over him and trying to push him down or keep him down'. She continued, 'The black man was screaming out. It was muffled but I could hear him say, help, help, I can't breathe. You are killing me.' The actions by G4S guards went on for fifteen minutes until Mubenga fell silent. The account of violence at the hands of G4S guards brings sharply into focus the case of Joy Gardner, but unlike Mubenga there were no witnesses who could give statements as to Gardner's death.
The coroner's highly critical report sets out recommendations on avoiding future deaths. The campaign group Inquest, hoped that the Home Office would respond to the report accordingly. In this case G4S guards were on trial, not police officers. The isolation of 'endemic racism' within the case by the coroner reflects concerns raised in the 1999 Macpherson report which found the police to be 'institutionally racist' and which gave seventy recommendations on improving police attitudes to racism. In 2012 a key member of the Macpherson panel Dr. Stone stated, 'The police really haven't moved on when it comes to racism at all.' 'After all that effort that everybody put in, somehow nothing has really changed.' The system is deeply flawed but it does not work in isolation, racism does not flourish alone, it flourishes within an environment that is actively harmful, one in which normative racism has become a staple intake and is reflected by the language of State actors, the policies used by the State and media representation. As a consequence for the majority of Britons who recognise racism as being wrong, 'anti-racism has become a dead dogma'.
'Black Man with an Afro'
Our modest protest walked along the quiet, wealthy residential streets in Central London. It was only when we came close to Trafalgar Square that tourists began to dilute the tension between the protesters and the imbedded police and those on our tail. As we passed Trafalgar Square voices raised again, this time the words, 'Zimmerman do your time, being Black is not a crime!' filtered along the street. A few passers-by joined us, wanting to know more about the protest. At Downing Street there were more speeches before the rally wound down. Before long, we were informed that the fascist English Volunteer Force (EVF) were making their way towards us.
The small crowd, now about fifty, was a mixture of young children, teenagers, adults and pensioners, so my friends and I decided to see what threat the EVF posed to our group. Fascists scare me: I'm the skin colour they don't want to see, but I also don't want to see others assaulted. Our plan was to then go back and let the others know what trouble was on the way, so they could make an informed choice as to whether to stand their ground or leave.
The fascists, mostly middle-aged men, were grouped at Old Palace Yard, flying flags and watched by twenty police and just over a hundred bewildered tourists. Five anti-fascists stood on a wall shouting at them. We walked past the anti-fascists and stopped to watch what was happening. Across the road two young black guys on an afternoon bike ride stopped as they came closer to the fascists. They got off their bikes and assessed the situation. They were not the only ones worrying about where they ought to go when unexpectedly confronted with the fascists. A group of young tourists were ushered out of harms way by their tour leader. I took out my camera and started to take photos. A police officer then asked my Black male friend what he was doing there. He then asked my white male friend if he knew him. As he turned he said to me: 'Are you with them?'
On the opposite side of the road are forty to fifty fascists, with approximately twenty police surrounding them who are 'protecting the peace'. In front of them are tourists, passersby and us: one black guy, one white guy and one black woman taking photographs. What happened next? Two police officers chased our black male friend. My white male friend and I caught up with them once the police had cornered him. The officers asked the same questions but this time with more aggression, 'Why are you here, what is your name?' It was only when our white male friend interjected stating that he didn't have to answer that one officer started to verbally id both of them on camcorder. 'Black male, 5ft with Afro… White male, 6ft…', etc. Under their breath the officers said 'obstructing the police', then as quickly as they had started they stopped and walked away.
Call me naïve, but I still believe in justice and humanity, regardless of the high incidence of racist policing in the UK and elsewhere. I wasn't expecting my friend to suddenly be chased and cornered. The incident scared us; we didn't know what had happened or why, and we felt vulnerable. The only reason we could give for the police's intimidation was racism. It was ironic, as we had just left the Trayvon Martin rally. In front of us were fascists and yet the police chose to chase my friend who to them was simply a black male with an Afro.
As Ambalavaner Sivanandan wrote in the introduction to Deadly Silence – Black Deaths in Police Custody, 'in the UK the policing of Black people does not have a good press. The media leads the public to believe that the police and State can do no wrong. The public silence surrounding racism is compounded by the police, State and media silence. We must continue to break that silence'. Too many lives have been lost whilst young lives have been marked, families are left grieving unable to find justice for the death of their loved ones whilst others are left wondering about the future of their children. The misuse of power has left us with the word justice. Often we find that it is empty of its inherent meaning and value. Yet still we strive for justice, we hope through the dark shadows that linger, we come together, we protest, we share our stories, our fears, our experiences, we put into action our politics and our desire for a greater future and in doing so we hold onto one of our greatest powers and that is to 'refuse our consent.'
Newham Monitoring Project has links to a number of organizations and groups working for justice http://www.nmp.org.uk/p/useful-links.html
Names have not been used in this article.
Photographs by Corine Dhondee.
1 Comment
Leave a Reply