Special Report "This building is listed" The Anti-Cuts movement finds a new home
Three days ago, 11 Bedford Square, a Grade I listed building in central London, was occupied as an 'Anti-Cuts Space'. Ceasefire Associate Editor Usayd Younis reports.
Breaking: The Anti-Cuts Space has been forcibly evicted. Follow Twitter for updates.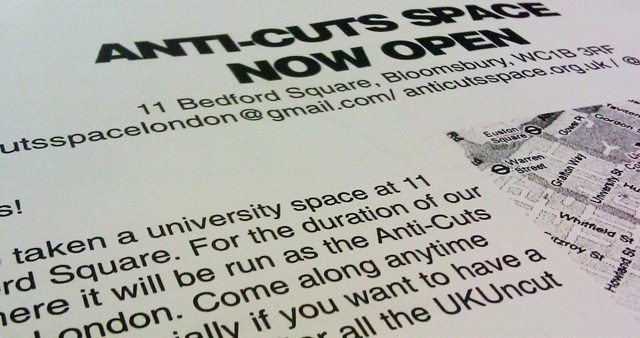 "Britain must prepare for a rebirth of the only thing that works — direct action." – John Pilger
11 Bedford Square is a four storey University house within easy walking distance from many central London Universities. Now, this Royal Holloway centre's rooms and facilities have been given a higher purpose. The 'Anti-Cuts Space' was opened on Friday night after the spontaneous occupation of this Grade I listed building.
There is a crucial difference setting this apart from previous occupations – inclusivity. As one participant described, it is "a convergence centre for anti-cuts groups and any individuals who wish to participate in a broad anti-cuts movement." Many participants have experience from the student-led occupations last winter, seeing this as an extension and widening of them. The involvement of groups from outside the student movement is therefore seen as a natural progression.
This move is explained by the UCL Occupation, who have decided to combine energies with the new centre: "The student movement kick-started by the storming of Millbank last November is now, as a matter of urgency, linking up with community anti-cuts groups, trade unionists, school students, and vital campaigns to save public services such as the NHS. The cuts harm us all and therefore the fight to defeat them must involve us all."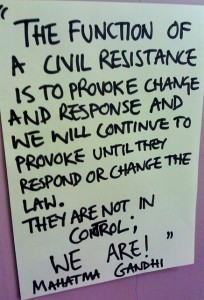 Another participant explained that they want it to be "a non-factional, non-sectarian space," offering concerns that some could attempt to make claims for ownership. De-hierarchical discussions encourage previous lessons to be quickly shared, preventing the new occupation from having to start from scratch. Instead, they facilitate for the movement to continue and organically grow.
It's not always smooth sailing. The first advertised meeting was interrupted by Royal Holloway's Registrar Simon Higman – a man whose previous role at Southampton University resulted in firing 200 members of staff. His appeal to the group about the 'conditions of security' (sanctioned by himself) and 'promises' of entry to the building quickly turned to personal intervention in blockading the door. In a liberated space, adjourning meetings to deal with what turn out to be acts of questionable legality on the part of the University is not entirely unusual.
While actions continue across the country and solidarity builds with movements abroad, there is recognition of a slow start after the Christmas break. One student put it quite simply: "However hard the students try – they can't reclaim their time. We're still functioning on the days set [by the institution]." With exams and assignment deadlines looming, the widening of the 'student movement' couldn't come at a better time.
"March 26th" or the "March for the Alternative" (amongst other titles) is the day that everyone is working towards. With national coordination across all students, anti-cuts groups and trade unions, this day is predicted to be the UK's awakening. Expectations from tools like 'Sukey' and those directed at the wider movement are now higher than ever. With this in mind, the Anti-Cuts Space couldn't come at a more appropriate time. "We can never win in isolation, but everything is possible if we recognize our collective strength. Occupy everywhere. Link up. Find each other. Resist."
Usayd Younis is Ceasefire associate editor.
2 Comments
Leave a Reply