Beautiful Transgressions Who Cares?
Whose problem is it when a mother finds herself unable to take part in political resistance because she can't find childcare provision? In her new column, Sara Motta argues that a strong, inclusive movement cannot be built and sustained if we allow obstacles to female participation to be systematically ignored or trivialised.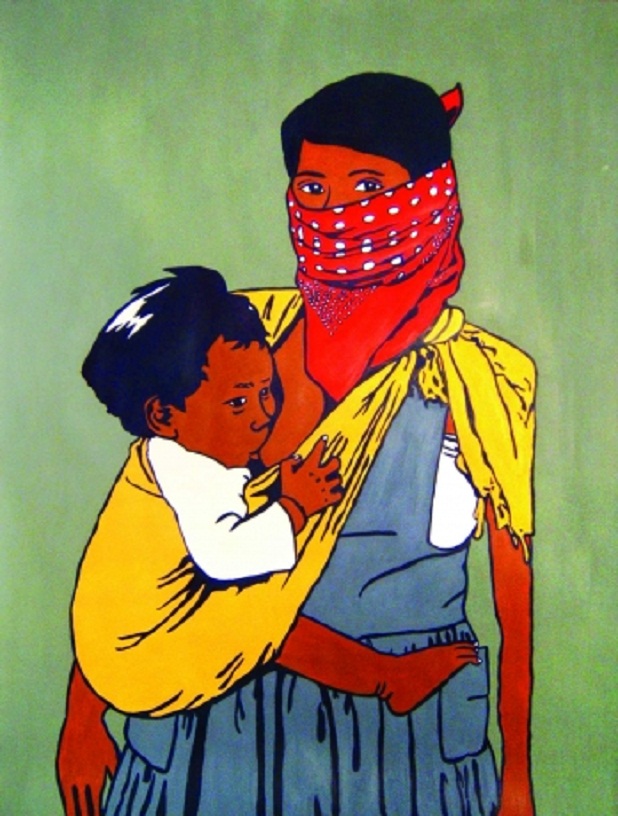 By Sara Motta
Last week, at a meeting to organise a gathering about how resistance against public spending cuts and growing unemployment can be strategised, I raised a question about childcare, to ensure inclusivity.
I was met with responses that ranged from viewing the issue as a logistical question to be dealt with at the end of the meeting (along with sleeping and food), to a debate about whether this was something that necessitated collective responsibility, to a comment that people who have children will somehow just arrange for them to be looked after for the weekend.
I felt a deep pit in my stomach. For yet again, I had to explain why this is an important political issue, not merely a problem of organisational logistics, but a fundamental question about inclusion and voice. This time, I couldn't do it. I instead went to another room, to get some space and hide my tears. At the end of the discussion it was agreed that childcare would be an item for logistical planning to be included in our feedback of our meeting.
I wish to continue this discussion here, however, and begin from my experience as 'the mother in the room who asked the question about childcare'. I want to begin from my personal experience and political learning as a means to explore and give voice to one aspect of the female experience of capitalism and of how this impacts upon questions of how we constitute political struggle and community.
If we want to build inclusive communities of resistance, then discussions like these need to be taken seriously. The question of how children are cared for, who cares for them, and when and where they do, is a political question that goes to the heart of our assumptions about what politics and resistance are, what we value in political struggle and the types of alternatives we seek to create.
The assumption that childcare is not a political issue often permeates the political spaces that I find myself in. This is largely because it is imagined that political action involves putting pressure on the state to change particular policies, and/or building movements that seek to challenge corporate power and elite politics through forms of direct action. Struggles against capitalism thus centre on fights over wages and against exploitation and/or attempts to change and challenge capitalist consumption and distribution.
This is a 'politics of the outside' which views power as something located in structures of the state and market or in the mainstream ideas of 'others'. It is a politics of the public in which power is viewed as an object to be won, controlled or destroyed – not as social relationships that need to be subverted and transgressed.
Most problematic in this understanding and practice of politics is the silencing and exclusion of that which is considered to be private and the domestic. The domestic sphere is often regarded as outside of capitalism and thus secondary to struggles against power and domination. Yet, as autonomist Marxist feminists demonstrated over 30 years ago, it is precisely through the wage that the exploitation of the non-wage labourer is organised.
Non-waged labour occurs in the domestic sphere. It is the work of producing the most important of commodities for capital – the wage labourer – and producing subjects that are disciplined to the dictates and demands of the market. As Mariarosa Dalla Costa and Selma James argue, it is the work 'of giving birth to, raising, disciplining, and servicing the worker for production.' It involves emotional, psychological and physical labour – washing, cooking, bathing, cleaning, educating, caring for sick children.
This work has been historically constituted as 'women's work' and continues to be overwhelmingly feminised. It is organised through the individualisation and privatisation of social reproduction through the separation of the family unit from the community, the home from the workplace and the private from the public.
The realities of social reproduction become isolation from others and exhaustion from work that never ends. Yet the carer's experience, struggle and labour are often normalised, invisibilised and not viewed as politically relevant.
These conditions have been intensified by the violence of neoliberalism that has broken collective solidarities and cultures and eroded public services in health, education and housing. Such violence has been accompanied by the breakdown of survival strategies for working class families with increasing labour precarity.
Many women now shoulder a double burden of low-paid and uncertain paid work combined with domestic work. Thus, not only do carers face isolation, exhaustion and loneliness, but increasing material poverty as well. The realities of the domestic sphere are becoming ever more psychologically, emotionally and socially de-humanised.
Yet if the domestic sphere is a site of accumulation and exploitation then this also means that these everyday relationships, practices and beliefs are sites of resistance. If at the centre of the everyday social factory is the woman in the home producing labour power as a commodity then a pivot of resistance is her struggle not to reproduce this role and to transgress the individualized and atomized family.
A key political question then becomes 'how we reproduce our communities and ourselves in ways that resist and subvert the creation of the waged labourer and the separations of capitalism'?
Time and autonomy are essential to the success of any such resistance. The demands of housework and paid work remove time to think, to reflect and to be. They take away time to develop intellectual, political and social autonomy. They undercut the ability to be a social and political agent. To have time means to work less and to open up possibilities for re-constructing political creativity, subjectivity and community.
When we do not take the question of childcare seriously as a political question, therefore, we undercut our ability to build inclusive communities of resistance. When we view such questions as private and individual ones, we mirror the relationships, understandings and practices of capitalism.
We deny women and children access to community, collectivity, political learning and practice. We reinforce the exclusion, silencing and invisibilisation of these aspects of the woman's experience of capitalist isolation and alienation. As Silvia Federici argues 'We go to demonstrations, we build events, and this becomes the peak of our struggle. The analysis of how we reproduce these movements, how we reproduce ourselves is not at the center of movement organizing. It has to be.'
How might we begin to take these questions and problematics seriously and build inclusive forms of politics that can subvert and transgress the capitalist social relations that are reproduced in our political practice?
One way is to begin from women's experiences. Yet in order to create these possibilities, women, mothers and carers who are used to being silenced by the everyday grind of poverty and by the non-stop exhaustion of working and caring need space to speak and be heard.
Another way is to listen and learn from the traditions of feminist critique and struggle which demonstrated that the domestic sphere is a site of exploitation and accumulation and is therefore a site of resistance.
Our political building cannot centre its attention on resistance as a momentary act, a meeting, a march. It needs to take seriously the building of our community and its reproduction in ways that overcome the divisions, separations and exclusions of capitalism.
Sara Motta is a mother, radical educator and writer.
12 Comments
Leave a Reply