Elliot Murphy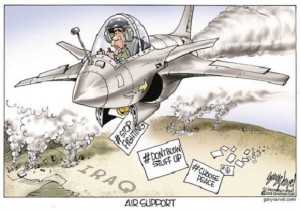 Once again, the spectre of war and destruction is hovering across Iraq and, once again, the mainstream media is acting as an uncritical supporter of Western intervention.
Elliot Murphy reviews a compelling and often disturbing account of how class identification and cultural tags shape people's self-image and their image of others.

As debate intensifies around reactions to Margaret Thatcher's death, Ceasefire's Elliot Murphy presents a damning portrait of her political record at home and abroad.

Elliot Murphy reviews Richard Seymour's "enjoyable and relentless attack" on Christopher Hitchens,one of the most influential and controversial polemicists of the past three decades.

As the marketisation of universities accelerates, maintaining forms of education which value the pursuit of knowledge as an end in itself has become a crucial and necessary challenge. Elliot Murphy revisits a classic study by Jonathan Rose that explores the pre-war culture of self-education amongst the British working classes.

As Britain prepares to host next year's G8 summit, grassroots movements are stepping up their opposition. Elliot Murphy argues the capitalist orthodoxies enshrined by the world's richest countries are unsustainable and unethical.

Elliot Murphy provides an unsettling account of the latest developments in Somalia, and warns against Western calls for foreign intervention.

Sultan Qaboos, Oman's ruler since 1970, is the world's longest surviving autocrat and Britain's closest ally in the Gulf. Elliot Murphy takes a look at the history and politics behind a very discreet, and troubling, relationship.