July, 2014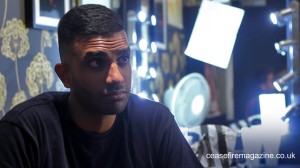 Over the past few years, Aamer Rahman has gained a reputation as one of the sharpest and most politically outspoken comedians working today, He spoke to Ceasefire while on his recent UK tour.
Israel claims its latest onslaught against the population of Gaza is a response to Hamas rocket-fire, targeted at "terrorists" and motivated to "restore quiet." However, an analysis of the IDF's public relations points and war doctrines as well as the historical context of the events, shows the root cause of the crisis to be Israel's decades-long programme of violent settler colonialism.

Amrit Wilson reports on the extraordinary case of Sanaz Raji, a tale of persecution and injustice that has highlighted the deep-set and dark prejudices at the heart of British higher education.

On the occasion of Nelson Mandela International Day, marked today for the first time since his death, Roger Bromley revisits the Mandela legacy through the lens of a powerful new documentary, 'Mandela, The Myth and Me'.

The marked contrast between the BBC's reporting of the deaths of Palestinian and Israeli children this past month has been an eloquent symbol of its wider failings.

As Israel launches another bombing campaign against the population of Gaza, mainstream discourse is yet again painting the situation as a conflict between equals. This is not evidence of 'neutrality' but a de-facto show of support for the oppressor, writes Mohammed Suliman.