New in Ceasefire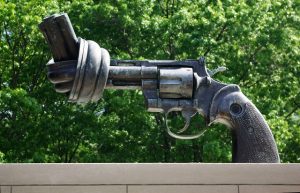 The dichotomy between violence and non-violence is not a moral or logical one, but rather is rooted in differences of power that can be challenged and transformed through diversity of tactics, argues Nora Ziegler.
James Baldwin's critique of American life remains one of the preeminent interventions of the Civil Rights movement. In the wake of the Trump era and the rise of BLM, Baldwin's radical vision is more relevant than ever, writes Zwan Mahmod.

Last week's Mail Online article about Muslim "no-go-areas" is the latest episode in the UK media's chronic demonisation and misrepresentation of British Muslim communities, a trend which shows no signs of abating, writes Hamza Ali Shah.

This week the Biden administration has approved $735 million worth of arms sales to Israel, a reminder of how crucial US military support is to Israel's brutal occupation of the Palestinians. This isn't just failing to build peace, it is actively working against it, writes Andrew Smith.

Israel routinely claims it 'humanely' warns Palestinians before it bombs their homes. For us Palestinians from Gaza, the PR spin around this 'roof knocking' hides a much uglier reality, write Malaka Shwaikh and Shaymaa Ziara.

As Jews, we need to be the loudest voices leading the call for Palestinian liberation, I know my Holocaust refugee grandmother would have demanded nothing less, writes Mike Friedberg.

As Palestinian civilians continue to resist Israel's ongoing military occupation, world governments and media must confront their own complicity in Israel's persistent violations of international law, writes Jasmine K. Gani.

Time and again, successive UK governments have put arms sales ahead of the rights and lives of Palestinians. That long and shameful policy must stop, writes Dana Aboul-Jabine.

Today marks the 40th anniversary of the death of Bobby Sands after 66 days on hunger strike in a British prison. Roger Bromley explores the ways in which Sands's writings, and those of his fellow prisoners, became a principal resource for the building of Irish identity and solidarity.

Jamel had lived in the UK for half his life when he unexpectedly found himself on a plane to Ghana. His story, Galatea Scotti writes, shows how the emotional and material repercussions of involuntary returns can be deep and traumatic, not only for individuals but entire communities.